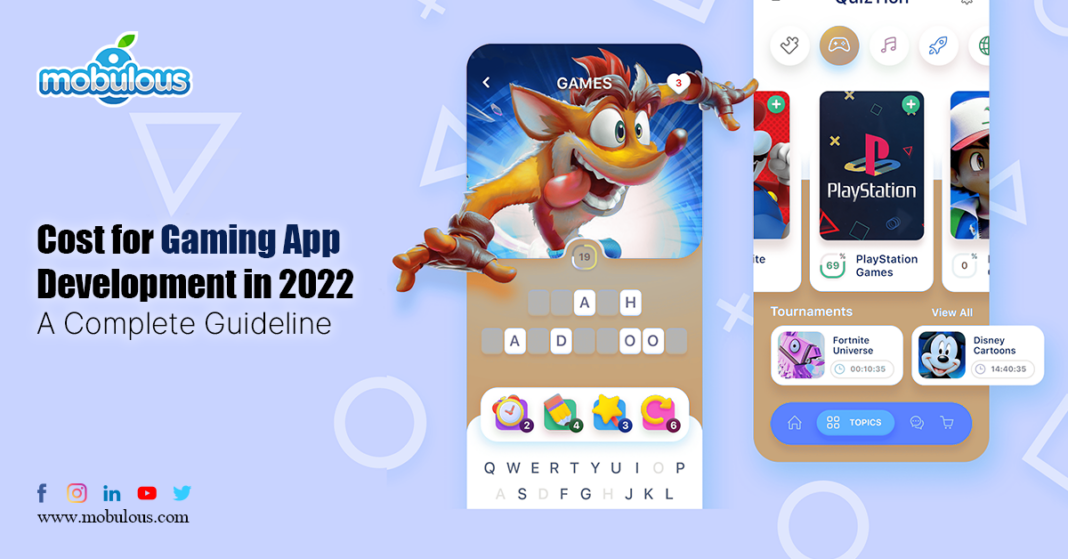 Cost To Develop A Gaming App- A Complete Guideline 2022.
Are you looking to create a gaming app in 2022? Do you have a fantastic gaming app development idea but don't know the cost to develop the gaming app? This blog will discuss everything related to gaming app development costs. 
In the modern era, the mobile gaming industry is booming. If we believe the report, Mobile gaming income will reach 10.73 billion US dollars in 2020, and by 2023, it is anticipated to exceed $100 billion. 
Advanced and emerging technologies such as Augmented Reality and Virtual Reality have greatly helped the gaming industry. No wonder mobile gaming apps are the most downloaded apps. Play Store and App Store have flooded with numerous gaming apps, but there are still lots of space for gaming apps. 
So, how much will it cost to develop the app? Well, the cost of gaming app development is not fixed as numerous factors are involved.
Number Speaks Louder Than Words – Gaming App Development
Some Essential Market Stats About Mobile Gaming App Market-
More than 203 million people in the US play mobile games.

More than half of all game income worldwide is generated by mobile gaming.

More than 72% of American mobile phone users play games on their devices.

In 2023, the mobile gaming industry would be anticipated to total $106.4 billion.

Forty-nine percent of mobile players make purchases for their games. 
These stats indicate the great demand for mobile gaming apps. If you are planning to invest in mobile gaming apps, it will result in significant benefits. 
Before We Discuss The Cost For Gaming App Development, Let's Know Various Process That Makes A Perfect Gaming App-
You must adhere to a proper and detailed process when planning to launch a new business or any app development process. If you don't adequately prepare for the development of your game app, you can't get the desirable results. 
Therefore, you must adhere to the following guidelines if you want your company strategy to succeed.
Your gaming idea is crucial for your success. The gaming app mainly revolves around three factors- story, plot, and characters. You must focus on these three factors and decide on an engaging story, plot, and characters for your mobile gaming app. 
We advise hiring the best iOS app development company to help you select the best story, plot, and characters. The company will also help you in knowing the cost of iOS gaming app development.
Creating engaging gaming concepts
Creating engaging gaming design is a vast process. In this phase, numerous things such as target users, game levels, and game environment are planned.  
You must focus entirely on this phase, which is considered the most critical. If you make any mistake in this phase, you have to face numerous bugs and glitches on your mobile gaming app.  
The gaming design requires an expert top mobile app development team.  
Deciding on different game genres
Once you complete the above phase, you must work on gaming app development. Gaming app development is considered the most critical and expensive phase. 
Numerous gaming app categories are available, such as social gaming apps, casual gaming apps, or simulation apps. The cost mainly depends on your selection of the gaming app.
Let's explore some of the top genres of gaming apps-
# Social gaming app– As straightforward as the name, these gaming apps are used by numerous players on various social media platforms. Most of the time, these social media game applications are created using SDKs (Software Development Kits) that social media networks give. 
 # Casual 2D games– These are straightforward game applications with 2-D visuals and specific music.
It's a concept for a low-cost game app.
Although these free 2-D games are also highly user-friendly and will provide you an excellent opportunity to advance 
# Mini games– Mini-games are simple games that don't require specific skills. For instance, ping pong.
# Business gaming apps– Most businesses are creating mobile games to interact, motivate creativity, and provide every worker with a great work environment.
These gaming apps are created for multiple groups of people and have an exciting storyline, graphics, soundtrack, animation, and cross-platform compatibility. 
If we talk about the most crucial task in gaming app development, then it must be testing. If you don't do this process carefully, there are high chances that glitches and bugs will occur while playing. 
We suggest you properly test the app to provide your users with the most fantastic experience. 
Advertisement and Promotion
The last process is the advertisement and promotion of the gaming app. You must advertise your app correctly before the launch. With advertising, you can attract desirable users to your app. 
You can promote your app on various social media channels to get considerable users and revenue. 
Factors Affecting The Mobile Gaming App Development Costs-
Gaming app development cost depends mainly on three major factors- 
The app's design is the most crucial factor affecting the mobile gaming app development costs. If the design is advanced and complex, the rate will be higher. 
However, if the design is simple, the rate will be lower. 
The gaming genre affects the mobile gaming app development costs. If you decide on an advanced gaming genre for your app, the price will be higher. 
Advertisement requires lots of money. You must market or advertise your gaming app across many platforms.
The majority of individuals do not think about this additional expense.  
You must connect to the top Android app development company to know the cost for Android gaming app development. 
So, Are you all ready to develop your gaming app?
No wonder gaming app development is a challenging task but also, at the same time, interesting too. 
Working in a field you love is among the most lovely things you can do. If this is the case, you are far more likely to be eager to study, budget, and plan more if you intend to create mobile game app items. In light of this, we hope that you partner with a gaming app development firm that will be able to fully realize your vision while also taking success-related methods and upgrades into account.
We are a top mobile app development company that promises complete success no less than that. Our team will help you develop the best gaming app and know the exact price for gaming mobile app development.