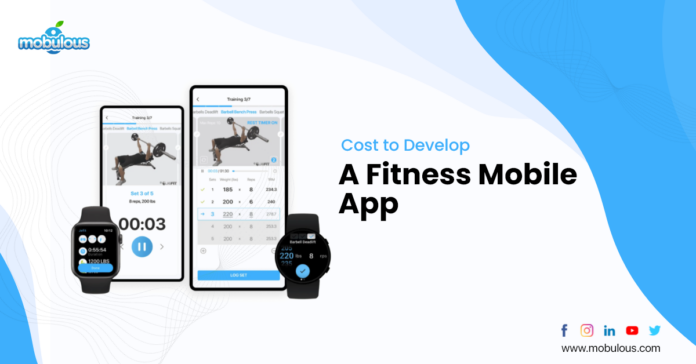 Cost To Develop A Fitness Mobile App- A Complete Guidelines 2022.
Do you want to create a fitness mobile app that makes you star in the competitive market? Do you have a fantastic app idea but don't know how much a fitness app costs to develop? This blog will discuss the cost estimation guide for creating a fitness app here.
Fitness mobile apps have become so much popular in the modern era. If we believe the report, the fitness app market will reach $13 billion in the next three years.
People use fitness apps to adhere to their fitness schedule, which allows them to customize their routines, access dietary programs, and receive professional fitness advice.
This blog will discuss the cost of developing a fitness mobile app and many more.
Cost To Develop A Fitness App – Stats and Numbers are More Powerful Than Words
The size of the worldwide fitness app market was estimated at USD 1.1 billion in 2021, and it is anticipated to increase at a CAGR of 17.6 percent from 2022 to 2030.
Fitness apps were placed number 13 in terms of 2019 fitness trends, according to research released by the American College of Sports Medicine (ACSM).
From 2019 to 2020, the market for fitness apps grew by 48.8%.
The fitness app revenue category will reach US$16,596.42m in 2022 if we use global statistics.
With 96.0 percent of users utilizing just one of these applications, health and fitness apps have the best user retention rates out of all categories.
These stats indicate the tremendous demand for fitness apps globally. If you are interested in creating a fitness app, we will suggest you should not wait.
Fitness App Monetization Models-
The primary reason behind creating an app is to generate money. So, before making a fitness app, you must know all the factors that affect app development costs and the monetization models that help you generate revenue from the app.
Here are some monetization strategies to make money-
Subscription-based apps
In-app purchases
Rewarded Videos
Fitness App Types
Another crucial factor is understanding the type of app you want to develop. If you look around, you will find various fitness apps for users fulfilling their requirements.
The cost to develop an iOS fitness mobile app is also affected by the type of app you want to build. Here presenting some of the most popular kinds of fitness apps that users use globally-
Activity Tracking Apps- Some popular activity tracking apps include Nike Run, Adidas Running by Runtastic, and many more.
Nutrition and Diets Apps- Some popular nutrition and diet apps include a healthy diet, My diet coach, and many more.
Yoga Apps- Some popular apps include daily yoga, sweat, and many more.
Meditation Apps- Some popular meditation apps include my life meditation, calm, and many more.
Workout Fitness Apps- Some popular workout fitness apps include pro gym workout, 7 minutes workout, and many more.
Technology Stack Used For Fitness App Development-
To develop a fitness mobile app, you need to use various technologies. The quality and robustness of the app is determined by the technology stack you use for your app.
You need to consult an iOS app development company to choose the best technology stack for your app.
Here is the list of the technology stack you can use-
For programming languages, you can use PHP, Node.js, Swift, and Kotlin.
For cloud storage, you can use Amazon S3 and Azure Cloud Services.
For utilities, you can use Google Analytics, Mixpanel, and Visual Website Optimizer.
For databases, you can use MongoDB, Redis, and MySQL.
For payment gateways, you can use Stripe, Paypal, and Braintree.
For deployment platforms, you can use Android, iOS, and Cloud.
For libraries, you can use Google Maps and socket.
For messaging, you can use Nexmo, Sinch, and Twilio.
Essential Features That You Must Include in a Fitness Apps-
Basic Features-
Sign up and log in
User dashboard and user profile.
Goal setting
video tutorial
Activity tracking
Sleep tracker
Geo-location
Push notification
Social sharing
Secure payment gateways
Multiple device synchronization
Advanced Features-
Gamification
Video tutorial
AI-based personal coach
Security protocols
Wearable device integration
Deep heart monitoring
Online consultation and chat
Live streaming and video on demand.
After finalizing the fitness app you want to create, you can integrate the basic and advanced features. You must also know about your competitors and their services. After understanding your competitor, you can create a unique fitness app and get more users.
Each feature you add to your fitness app will affect the cost of developing an Android fitness app. We suggest you include only those features in your app that are worthy and serve some purpose.
Cost of a Fitness App Development-
The fitness mobile app development cost depends on various factors. To know the exact fitness mobile app development costs, you need to understand every aspect perfectly. Here are those factors-
platform choices
types of fitness apps
location of the company
app development team
must-have features
Development phases.
Moreover, different regions' developers charge a different amounts for fitness app development.
For instance:
Developers in North America charge between $90-$130
Developers in Western Europe charge between $80-$110
Developers of Central Europe charge between $35-$75
Developers of Australia charge between $40-$70
Developers in India charge between $10-$20
You must hire an Android app development company in India to develop a robust, functional, and feature-rich fitness mobile app at a low price.
How to create the best fitness app?
You need to follow some simple steps to create the world's best fitness app-
Gather all the market information and note down the list of essential features for your app.
Hire a qualified and skilled mobile app development team.
Insist on going through a discovery phase.
Develop your app on both the major platforms, including Android and iOS.
Meet Mobulous- An Experienced Mobile App Development Company.
Mobulous is an award-winning mobile app development company with headquarters in India. We have successfully developed more than 150+ fitness apps for users globally. Our mobile app developers have years of expertise in various business domains.
Numerous companies have advantages from our services, including maximizing sales, reaching goals, and attracting significant potential users.
We offer three flexible hiring models that can meet every user's needs:
Time and material
Fixed-price
Dedicated team
We will create the best fitness mobile apps and tell you about the cost of developing a mobile fitness app.