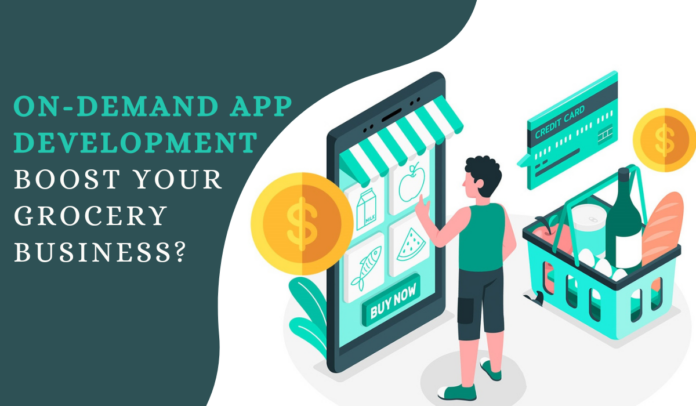 In this era of pandemics, we have seen a significant increase in the number of people using grocery shopping applications. In the United States and other nations, mobile grocery shopping applications are among the apps with the highest growth rates.
According to projections made by Statista, revenue from online grocery shopping will top $30 billion by the time the year 2024 comes to a close.  On-demand app development might come in useful for you whether you operate a traditional grocery shop or want to launch a company that focuses on food delivery if you want to keep up with the competition.
A number of grocery delivery apps, like Instacart and Walmart Grocery, have lately broken records for the number of downloads they have received. Even though these major firms have made the rivalry in the grocery app industry more intense, there is still a large amount of room for new competitors to enter the market who wish to develop an online grocery delivery system together with a feature-rich mobile application.
A well-designed and well-functioning app may bring in significant money for your business, regardless of whether the app is designed for iOS or Android. The business of delivering groceries ordered online has been growing rapidly and is providing some useful insights for the future. A cloned solution requires a lower initial cost and offers a greater number of benefits.
The development of the app for grocery delivery has a number of advantages, which are listed below:
Zero Errors in Operations
The phrase "to err is human" means that mistakes are inevitable since individuals are fallible. Still, once you've built reliable software for online grocery delivery, mistakes are difficult to make. With the app's intuitive interface and extensive inventory, customers can make purchases with a single swipe.
2. Gateways for making payments
With the use of an app made specifically for online grocery shopping, customers may be offered a number of flexible payment options. Most online payment methods are secure, and some services even provide clients the option to pay when they get the goods.
Effective handling of orders is facilitated, and stock levels may be managed with the use of an admin panel. Due to recent enhancements in technical capacity, using an online grocery app is now simple and straightforward.
3. Dedicated following of patrons
Every business, including those in the grocery sector, relies on the support of regulars to thrive. When you provide your customers with outstanding service and a really customized shopping experience, you will attract and retain them in large numbers. A user-friendly shopping app may help you achieve this goal. You'll have an easier time staying ahead of the competition if your loyal customers confidently tell their friends about your grocery shop.
The mobile app development company might include a loyalty program and help desk to your grocery delivery app to increase the number of dedicated users and attract new customers. However, the benefits of a grocery app with these features may be realized considerably more quickly and at a higher rate of return, making the additional cost worthwhile.
4. Enhancements in Administration
By using the supermarket app, you may schedule automatic delivery of your goods. A dedicated control panel for each grocery store shopping app is available on both mobile and desktop PCs.
With this control panel, grocery shop owners may better track stock and place orders. To avoid running out of stock, you may quickly reorder when you get a warning. In addition, orders and stock levels may be seen in real-time through the dynamic dashboard.
All additional reports may be accessed using the same control panel at any time. It's possible that the customized software for food delivery might assist you improve both your management and your client service.
5. Connections with Others Are Strengthened
The health of a company depends on its connections with its clientele. The app development firm that focuses on on-demand food delivery might add CRM features to your app. When users create accounts inside the app by providing contact information and social media credentials, the CRM system will manage the users' databases.
In order to create a more personalized experience for the customer, you may request information from them. This will allow you to build stronger relationships with your clientele. Using the grocery store's delivery app, you won't have to pay for any extra staff to handle customer relations.
6. Reduced Costs of Operation
Thanks to the automation built into the specialized grocery delivery software, users may expect to spend less time, energy, and money on their supermarket run. You don't need to hire additional people to conduct activities like taking orders and following up with customers since they require a lot of routine motions. Potentially large savings in this area might result.
With the help of the online grocery ordering and delivery system, your staff will have more time to dedicate to crucial corporate operations and services. And now, thanks to the grocery delivery app, you can probably get by with a smaller staff than you used to. Without compromising the level of service supplied to clients, this might lead to lower costs and higher revenues over time.
7. Communication-Free Delivery
People have a natural inclination to keep their distance from those they don't know, so it's not surprising that they'd rather stay out of crowded places and avoid talking to strangers.
By utilizing an online grocery delivery service, they may reduce or remove the risk of infection while bringing in food or supplies from the store. You may minimize your interactions with the delivery personnel by selecting the "No Contact" option, which is available in most on-demand app development.
As they often interact with different clients, delivery workers are at high risk of becoming sick. Grocery store suppliers might further ensure the safety of their consumers and delivery staff by offering contactless delivery in addition to providing face masks and gloves to delivery employees and customers. This inclination may be partially attributed to the popularity of online grocery delivery apps.
Shopping App's Grocery Costs Online
The cost of a grocery store delivery app may vary widely depending on factors including the operating system it was built for, the number of features it offers, and the rate at which its developers bill their time. Designing a grocery store app for Android is more expensive than developing a similar app for iOS.
There are so many Android devices available today those developers must use rigorous testing procedures before releasing an Android app to the public. The variety of options available also plays a role in establishing the final price.
Taking these factors into account, the estimated cost of a supermarket delivery app might remain within the $14k – $18k range. Increases in the number of functionalities, however, might cause overall development costs to soar. You may get a quote tailored to your needs from an on-demand app development company.
Concluding Remarks
Applications that facilitate the delivery of groceries are gaining ground in popularity all around the globe. Working with a reputable app development firm is in your best interest if you want to capitalize on the growing popularity of the grocery delivery app market and obtain a speedy return on your investment. This can be accomplished by collaborating with the company.
The grocery app offers a number of advantages to your company, including its streamlined operation and the presence of functions that are designed with the convenience of the client in mind. As a consequence of this, there is a chance that your revenue will grow over the course of time.