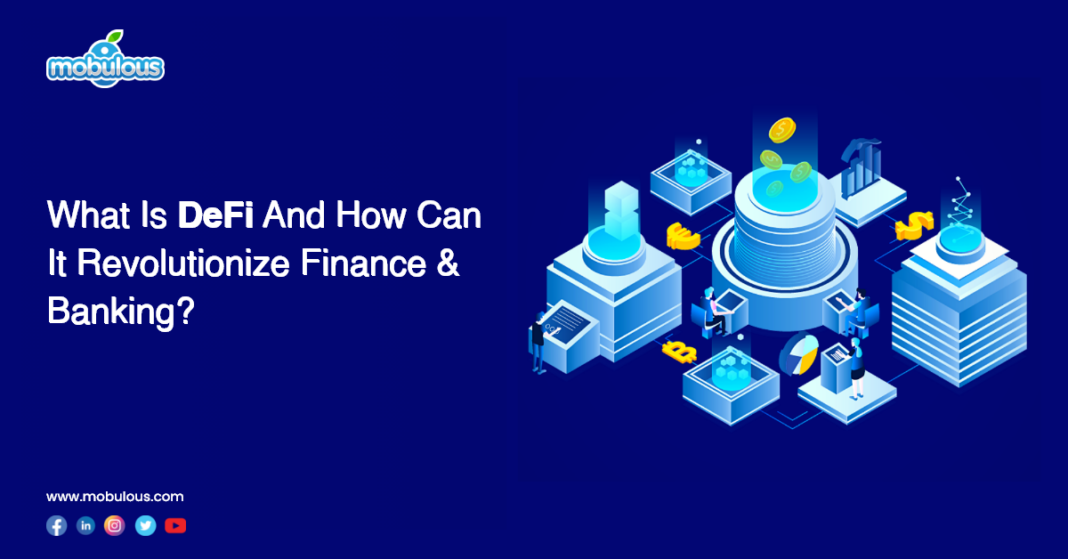 Do you know what Defi is all about? and how it impacts finance and banking? Let's read our blog carefully to know all these answers.
Introduction of Defi (Decentralized Finance) –
Defi or Decentralized Finance refers to financial software that runs on the blockchain community.
It includes digital assets, smart contacts, and many more built on a blockchain. It allows users to perform financial operations, borrow money, transactions, and many more.
You must understand smart contracts to understand what Defi is in cryptocurrency. The decentralized finance industry is based on Smart contracts, mainly Ethereum. Ethereum is ranked as the world's second-largest cryptocurrency. In simple words, we can conclude that Smart contracts are replacing banks.
Let's know how Defi (Decentralized Finance) changes financial sectors and Banking-
No wonder Defi is a revolutionary technology supposed to change the financial system entirely. Defi has excellent potential and offers innovative opportunities for blockchain startups and users.
Here, we are presenting some top examples that show how it affects the modern financial world-
A decentralized exchange platform is one of the most well-known examples of Defi products. Peer-to-peer protocols are the foundation of decentralized exchange.
If you want to exchange Ethereum for XRP, you're dependent on a third-party platform when using services like Binance or Coinbase. The use of smart protocols for transactions distinguishes decentralized services. Uniswap pools all tokens into smart contracts when all contract criteria are satisfied and distribute cash to users.
Lending and Depositing Platforms
Defi is used in lending and depositing platforms. Some of the top Defi protocols such as Aave, MakerDAO, Alchemix, and many more allow financial entities to get the loan, deposit digital coins, and exchange it.
Aave, for example, allows customers to deposit a variety of cryptocurrencies, including stable coins (U.S. dollar-backed currencies that are less volatile compared to conventional ones).
Like a typical bank, this platform offers various APYs (annual percentage yields) for multiple tokens.
Open marketplaces are the most popular apps for decentralized investors and borrowers. Compound. finance is a perfect example of such marketplaces. Lenders put their money into a shared liquidity pool from which borrowers can borrow funds.
The liquidity pool is a collection of smart contracts that match each borrower with appropriate assets.
It is not a bank, and platforms do not serve as middlemen.
Contracts are immediately assigned to both the lender and the borrower when they go into force, and they expire after all responsibilities have been met.
DeFi is a very new and rapidly expanding area. As of present, it provides a wide range of options for investors and regular financial service customers.
However, because the possibilities for this area are limitless, we'll undoubtedly see more concepts emerge over time.
Let's Know How DeFi (Decentralized Finance) is Better Than Traditional Finances-
Smart Contracts as a Single Source of Truth
Transparent Financial Operations
Financial Operations Without Borders
Financial Services Accessible for Everyone
Seamless International Payments
Data Safety
Let's Know DeFi's (Decentralized Finance) Benefits for Small and Mid-Sized Businesses-
Decentralized Crediting
Staying on Top of Trends
 Innovative Savings
Stablecoins
What can Defi (Decentralized Finance) Do More For Users?
Traditional banking and financial services, such as loans, mortgages, and insurance, might be provided over the DeFi network. LEND COMP are two examples.
Decentralized Exchanges, or "DEXes," allow users to trade cryptocurrencies without having to go through a third-party exchange. KNC and 0x are two examples.
Derivatives – DeFi can provide a wide range of crypto-related derivative goods, including the ability for individual users to create their concoctions using smart contracts. SNX and MCDEX are two examples.
Yield farming entails financing or delivering liquidity to mining pools to create passive revenue. AMPL and YFI are two examples.
Make the most of DeFi's (Decentralized Finance) potential- 
The DeFi ecosystem has had a significant impact on the blockchain world in the previous year.
The sector's quick expansion demonstrates the technology's value and relevance in today's industry. The DeFi business will only grow as cryptocurrency usage becomes more prevalent.
Mobulous are keeping our fingers on the pulse of DeFi and are eager to participate in the financial revolution.
Our blockchain technologies speed up financial transactions and give our consumers more privacy.
Please get in touch with us (top app developers) to discuss your DeFi project!
Email- Sales@mobulous.com
Skype: Decentralized Finance
Call : +919650100411
Read Also: 
What Are The Steps To Create An Ecommerce App From Scratch – A Complete Breakdown Of Its Features And Characteristics.
TechBehemoths Recognized Mobulous as Top Leading Node.Js Development Company in India
https://www.mobulous.com/blog/a-guide-to-android-app-development-for-complete-beginners-in-5-easy-steps/