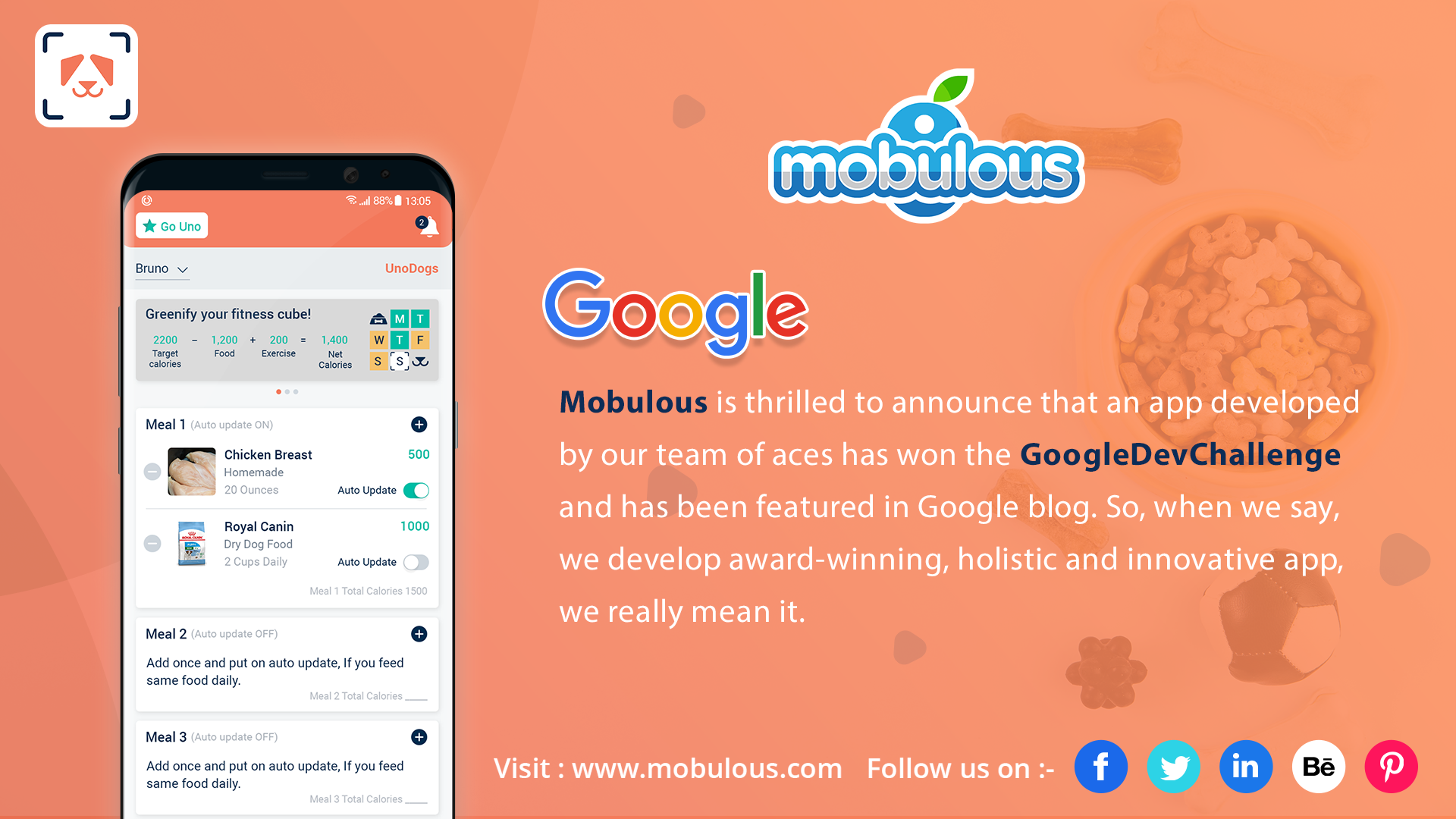 Mobulous is thrilled to announce that an app developed by our team of aces has won the GoogleDevChallenge and has been featured in Google blog. So, when we say, we develop an award-winning, holistic, and innovative app, we really mean it. The award-winning pet care app developed by Mobulous is designed with a vision to revolutionize the way pet owners care for their extended, four-legged family members.
UnoDogs the award-winning Fitness Management App for Dogs that caught the attention of Google and won the GoogleDevChallenge. The app developed by Mobulous is the first of its kind, that proposes tailor-made fitness programs assisting you to implement a healthier lifestyle for your pets.
About the Google Developer Challenge
Mobile app development has transformed our lives for better and everything we do from dawn to dusk. There are infinite mobile app development firms, but the best is one that delivers a holistic experience and not just a mere sale. Therefore, it is challenging to determine the "best".
However, the Google Developers Challenge aims at providing awards for high-quality mobile applications built on the Android platform. It enables and lets contestants unlock new experiences on Android, and help inspire other developers around these emerging technologies.
This challenge was developed to encourage more developers around the world to build apps using machine learning. UnoDogs was among the top 10 winners of the Android Developer Challenge that speaks for the work we do and that we are the best in what we.
About UnoDogs
The award-winning app, UnoDogs is a Fitness Management App for Dogs, which is the first of its kind, that proposes tailor-made fitness programs assisting you to implement a healthier lifestyle for your pets. The app also lets you track your dog's daily activities (and calories burned) as well as their daily feedings (and calories consumed). You never have to worry about your dog's health once this magic is installed on your smartphone. Creating an account on this app is effortless.
UnoDogs is an exemplary bridge of technology and health that can dramatically reshape how humans manage their pet's health. This is done by accumulating relevant and essential information about your pet, their activity levels, diet, and other important data, after which the app furnishes customized fitness plans for a healthy lifestyle of the app and help guide pet owners to create a diet plan for their pets.
The UnoDogs Fitness Management App offers a worthwhile medium to help you make well-informed decisions about your pets' diet. The app is developed by Mobulous, and UnoDogs aims to enable pet owners to manage, track, and respond to their pet's health and nutrition needs.
The App features
• Activity monitor
• Free and easy-to-use app
• Personalized exercise and diet recommendations
• Manage exercise rest calories distance
• Set and manage ideal weight
• Set goals
• Upgrade to premium to enjoy other benefits
UnoDogs Fitness Management apps work both on iOS and Android platforms is available for download in the App Store and Google Play. For more information visit https://play.google.com/store/apps/details?id=com.unodogs
About Mobulous
Mobulous is not a regular mobile app development company in India from the plethora of other development companies. We are known for delivering innovative mobile apps built on state-of-the-art technology and holistic experience that can win awards as the best innovation by Google. We are a robust and creative mobile app developer providing award-winning solutions.
Our team of aces has developed mobile apps for a variety of enterprises and sectors including on-demand applications, healthcare, e-commerce, dating apps, real estate, e-learning, job portals, and much more. The team is dedicated to giving holistic development services and is proud to have a huge base of successful clients.
Being a distinguished mobile application development company in India with a global reach, our aim is not limited to app development but ensuring that our application is developed with the most advanced technological practice that meets the client's goal.
See More Details about Android Developer Challenge
Android Developer Challenge: the winning apps, powered by ML
Get in Touch with our Sales Team for Similar or innovative App Development Enquiry: sales@mobulous.com