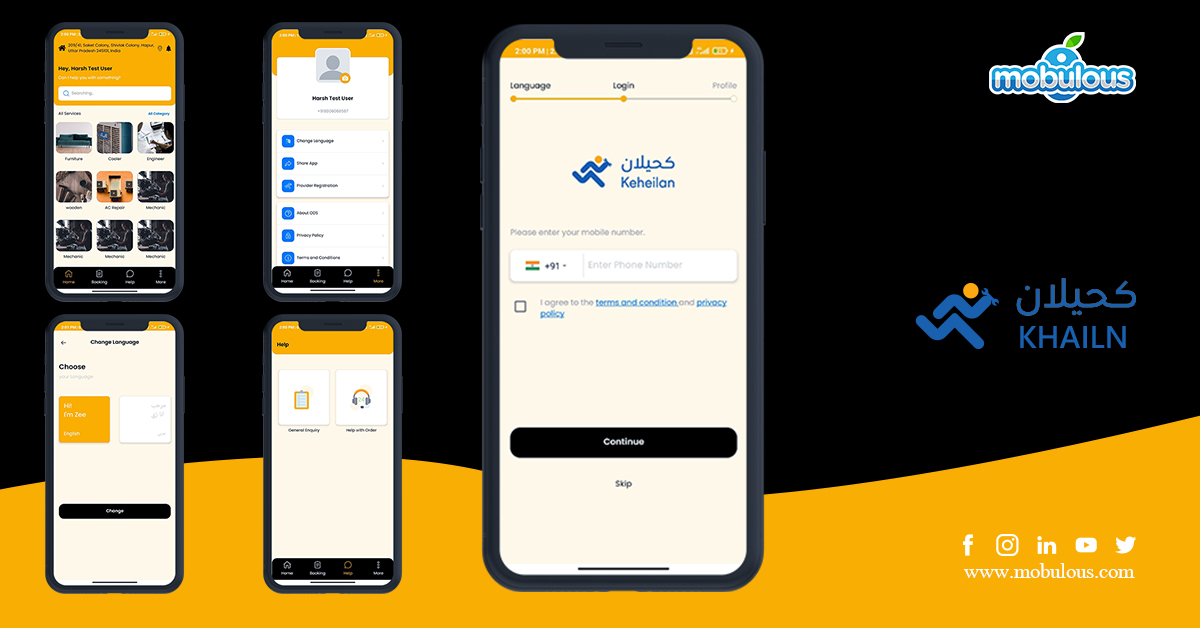 We live in an age of digital revolution with a plethora of services and products at our disposal. Only the businesses that have the capacity to transform ever-changing fades and trends into reliable products can sustain in the long run.
Contemporarily the mobile application is the key to a bright future and better prospects to businesses. Gone are the days of mail and telephone conversations with several million potential consumers at a click away, you can build your own trusted customers.
Mobile app development has come a long way; with IoT and fourth industrial revolution on the cusp the global industry is going through a transformative rapid phase. With the advancement in micro-processing technologies (up to 5 nm), mobile applications on multiple platforms (Android Phones, iPhones, Macs, as well as PCs) should be the priority of any corporation.
The advent of lockdowns amidst the pandemic resulted in proliferation in the number of applications and users spending more of their time on these applications via electronic products (phones, tablets, pc, laptops, and consoles) bringing in huge opportunities for building your own mobile application.
Mobile app development is an intricate process that requires backend services, frontend services, testing for screen size, hardware requirements that can either be pre-installed or downloaded and installed by the user later.
With influx in number of mobiles in the mobile app development industry running millions of applications, it is essential that must be understood in well-defined manner by entrepreneurs, startups, and business brands.
The rivalry between Apple's IOS and Google's Android can be felt in the realm of mobile application. Although there are quite a few similarities between these platforms, nonetheless different SDKs (software development kits) are required for different platforms.
Our khailn mobile app development service has designed to cater several on-demand service needs. Also, our khailn mobile app development section also manages the health sector, so that the health of your inner circle or customers can be cured in real-time. Let us look at the services and features of Khailn App.
Services offered by Khailn App
Home Design and Construction Services. These services include architect model, interior design, modular kitchen, CCTV installation etc.
Home Cleaning and Repair Services. These services include geyser repair, washing machine, TV and refrigerator repair services. Plumbing Service, carpenter service, kitchen and bathroom cleaning services are also included.
Tutor Services. Khailn app helps people to hire home tutors such as dance masters, music teachers and different language tutors.
Event Services. Khailn app helps users to organize parties for special occasions like birthday, festival, and inauguration.
Wedding Planning. With Khailn, one can plan wedding, get bridal makeup and can have pre-wedding and post-wedding photography services.
Health & Wellness Services. You can use khailn app to avail physiotherapy, dietician, yoga, and fitness trainer at home.
Features of Khailn App
Simple Registration. It has an easy-to-use registration system through a unique username/email id and password allowing them to create their profile away.
Language Selection. This feature is quite interesting. It allows a user to change the language according to his/her convenience.
Menu. This feature provides numerous options to users. With the help of this feature, users can share the app, look at privacy policy and other terms & conditions for khailn app.
Home. This feature allows a user directly to choose the type of service he/she wants. One can choose AC repair se­­­­­­rvice, plumbing service, cooler service etc. with the help of this amazing feature in khailn app.
Help. With the help of this feature, users can either resolve their normal queries regarding app, its functionality and services or they can ask for help regarding an order they have got.
Data Security and Safety. It has a robust data security system that ensures complete safety of the user's data such as name, age, address, phone number and payment details.
Multiple payment options. Khailn app provides the convenience of paying through different payment modes. So, users can choose either net banking, debit card, credit card and cash on delivery.
Advanced Search Filter. Advanced search filter allows users to quickly find out the services they want to avail. Advanced search filter enables filtering with options like budget, location etc.
Service Feedback. This feature of Khailn app allows users to share their feedback about the services and functionality of Khailn app. Good reviews and ratings help in generating more revenue.
The mobile applications relevance has only begun, we are hardly scratching the surface, in the coming decades (or at least in couple of years) apps would play far larger than today.
App development just like other professional jobs is dedicated hard work, with many devoted and creative team members at mobulous; you can transform your vivid ideas in a reality whether it is from different sectors like finance, education, health, travels, retail etc.
The only thing that hinders to your path of success is your own limits engraved by your mind, so free your imagination, lets join our hands to make a better world. Applications are tools to showcase your creative juices, these applications can be high-hand premium, or piece mitigated to wastage depending upon the UI and UX it has to offer among the masses.
So, whether for the greater good of society or efficient and smooth running of your startup, or just for fun or leisure, or build a strong base for brand, let your ideas transmit to the world.
UI (User Interface) and UX (User Experience) are two critical parameters required for the success of any application, our team ensures that the UI and UX of your application whether for IOS, Android or Web attain maximum score.
With changing times, the cross-platform, hybrid, or web-based applications might see an uptick. So become unique and exception by utilizing the technology at your disposal with legit price tag.
With that in mind, we at Mobulous, a leading mobile app development company, provides you everything you need to follow a systematic mobile app development process to build your next great app.
So, what are you waiting for?
Be the leader and lead the world by following your passion, combined with our experienced developer team that would help you on the frontend, backend and tackle your every query and concern, so that you may achieve your purpose and goal.