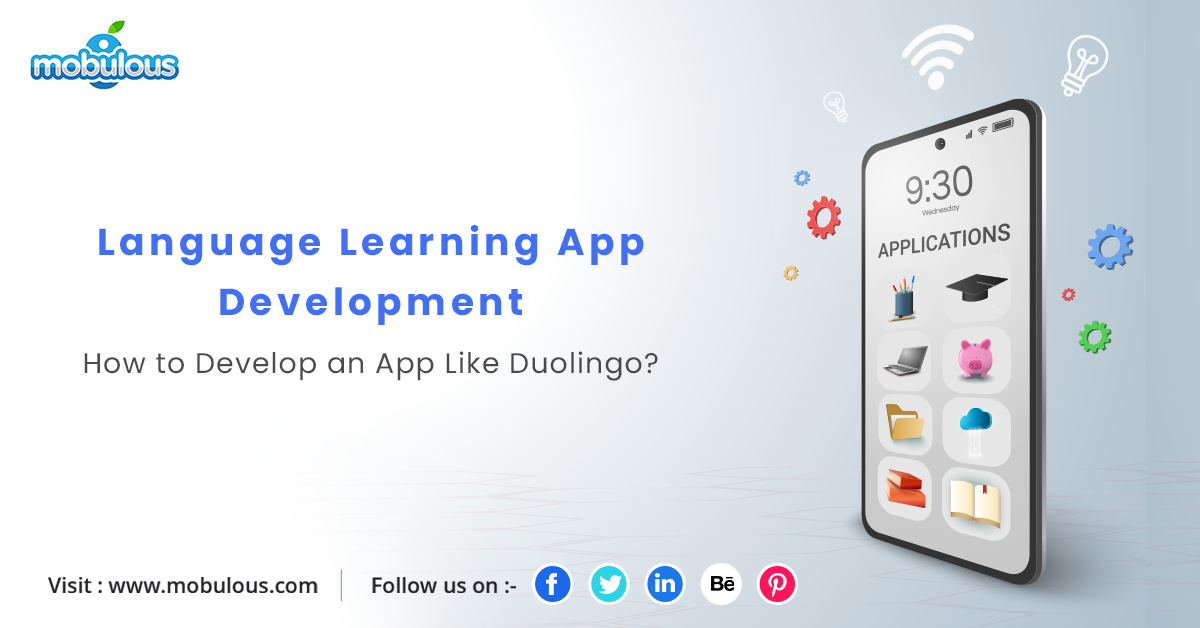 These days, learning a new language is not a luxury, but it has slowly become necessary. According to the Forbes report, over 2 billion people learn different languages and shift to online platforms worldwide. Duolingo is one of the top languages learning mobile app with over 200 million users. The app offers an effective curriculum, clean design, and appealing gamification to its users. It has been on the app market for seven years now and has got a rating of 4.7 stars on AppStore and Play Market.
If you are looking to create a language learning app like Duolingo, this article is for you.
The market scenario for language learning mobile app
If we believe the report of Technavio analysis, the global online language learning market will grow at a CAGR of close to 18% during the forecast period of 2019-2023. Another report states that AI-Powered chatbots are going to be the new trend in online language learning. Popular apps like Duolingo includes three AI-powered chatbots to help the users learn the languages.
With the adoption of AI in language learning, people can effectively learn a programming language in less time.
So, as you can see, that the Market for language learning app is rising every day. So, if you are planning to create a language learning mobile app, it will be a wise decision.
What are the top features that you must include in a language learning app like Duolingo?
Here are the top features that you must include in a language learning mobile app:
Login or Sign-up
Users can log in or sign-up in the language learning app by providing personal and professional details.
To make the process simpler, you can allow users to sign in or login into the app through their social network sites such as Facebook, Instagram, and so on.
Filling out a personal profile
As users have an account, they need to fill out their profile with the necessary information.
Here are the following data that you must include to create an app like Duolingo:
Personal data: Personal data includes everything about a person's identity, such as age, gender, photo (if desired), and so on.
A language that a user is going to study: This includes the list of different languages.
Offline mode
Duolingo app doesn't require a stable internet connection from the users at all times. One can complete the courses even in a military bunker if the set of exercises is pre-downloaded.
You can also include an offline mode feature in your app. This feature is beneficial for those users who can't get a proper internet connection.
Profile and settings
The profile feature includes all the information of users and allows them to monitor their progress. Users can easily edit the information of their profile whenever they want to change some of their personal details.
Gamification
Gamification is one of the essential features that you must include in a language learning app. Your app shouldn't be associated with boredom and strictness, and that's why you should integrate numerous gamification elements in your app. Some of the desirable gamification elements include In-app currency ("lingots"), Experience and levels, Achievement badges, Streaks, Motivation (fanfare and supportive mascot), Leaderboard, and so on.
Progress tracking system
It is essential to include a progress tracking dashboard in your language learning app. These features will provide users with all necessary tools such as statistics, diagrams, percentage of completed lessons, etc., to monitor their performance.
For instance, Memrise helps users track their progress and keeps them updated and motivated by reminding them how many words they have learned.
All-in-one-place
It is essential that users get all the services related to language learning, such as listening, speaking, writing, and reading in one place. Make sure that your users won't have to download another app to fulfill their requirements, such as progress tracking, flashcards to learn new words, grammar material, and so on.
For instance, the language learning app, Babble, allows its users to get 10-15 minutes lessons that encompass numerous tasks to enable the practice of all four language skills.
Conclusion
No wonder the demand for language learning is so high in the Market. If you plan to create a language learning app, you will require a great mobile app development company. Mobulous is a top mobile app development company that provides the world's best service at a reasonable price.
If you have any queries regarding mobile app development, contact us now. We are available 24*7.
Read Also:
Mobulous – How are we working to mitigate the impact of the Coronavirus?
Services Provided by Mobulous to satisfy entrepreneurs, enterprises, & startups needs
Top 3 Questions to Ask when outsourcing app vendor