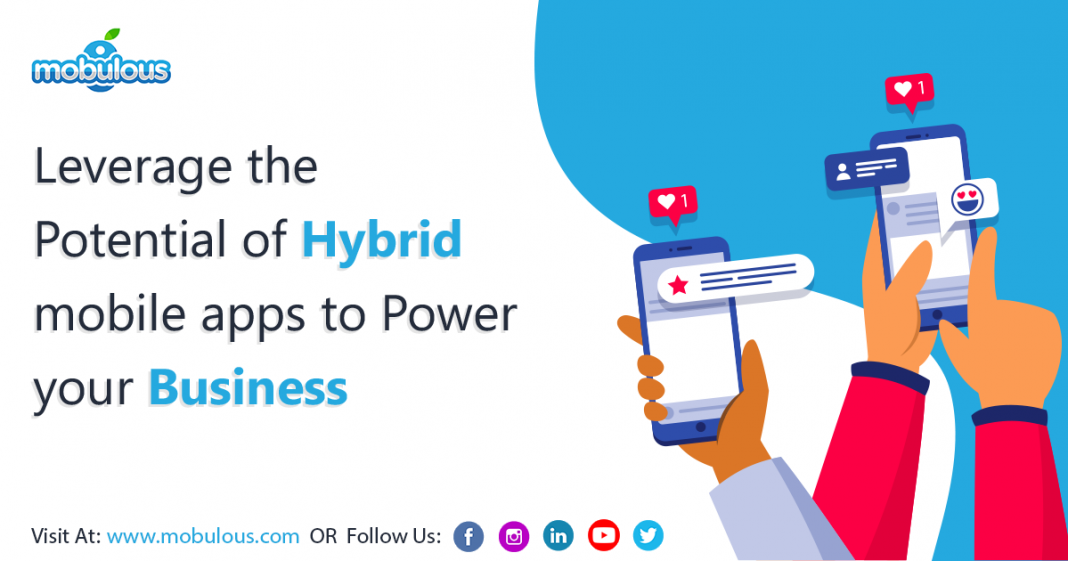 Do you know what hybrid applications are, and what are their advantages? Businesses can leverage the potential of hybrid applications that can take your business to new heights. Many companies are there that either considers custom apps or resort to pre-developed technology.
But some companies are entirely unaware of the fact that building a hybrid application can be the option that may fit their business requirements. Yes, choosing the hybrid application is also an option that you can think about. Therefore, before you decide the platform and type of application for your business, you must know about the different types of applications that exist. Companies can make the smartest decision by choosing the best kind of mobile apps that fit your business and help it to grow.
Before you start the project, it is essential to carry out this exercise and also need to be very clear about your business objective and purpose of the app to choose the most appropriate mobile technology.
There are different types of universal mobile apps and have different ways to develop apps. Every business has diverse needs and a variety of resources available, so it is crucial to study which alternative option is best that fits your business. Think that, and also, there are numerous mobile app development companies from where you can ask for advice or help. They can guide you in this process. But in this article, we will show you the benefit of hybrid application and also what it is.
What is a Hybrid Application?
A hybrid application is a combination of both native and web applications. In hybrid app development, the software allows developers to write the code only once for mobile apps, and then they can run it on multiple platforms. HTML, CSS, & JavaScript are the programming languages that are used in Hybrid apps.
Hybrid Apps: Pros
The hybrid app's content is highly portable. To run, it requires a native harness only.
The hybrid mobile apps load fast even without internet connectivity.
Developers can package the app (if wish) locally or through a server, which provides access for offline and online both.
Easy to write code and integrate it with the backend.
Since Cross-platform software offers frameworks to make a webpage act like a native app. This means they can be allotted to the App store.
Hybrid Apps: Cons
Since it is comparatively new in the mobile app development space, hence there is not much support available for any troubleshooting problems.
Lack of UI assets may result in a slower performance of the app.
When a new iOS version is released, ios developers still have to rely on a third party before they design hybrid applications on the new OS.
Lags in UX/UI
Because of the thin layer of native component, it becomes hard for developers to look for the app experiencing bugs on which platforms and devices.
Benefits of Choosing Hybrid Application Development
More affordable to build: Because of the single codebase, the hybrid application running both iOS and Android can be implemented for nearly the same period, requiring the creation of a native app for a platform. The development time directly affects the cost, and thus it will reduce the cost of development of the final product.
Take less time in development: Definitely, it takes less time to build a hybrid app, compared to the native app. Also, the developer doesn't need to put extra efforts as they required to put effort into creating a native app because the effort involved in building a hybrid app is less.
Offline support: If you choose to build Hybrid apps, then your users can use your app without having internet connectivity. This is one of the best features that you can offer to your audience. This feature can help people that have limited data connection or have connections that get interrupted often.
Multi-platform support: You can expand hybrid application as much as possible; there is no limit. Additionally, it can support almost all platforms if the app is famous. All you need to do is hire a professional hybrid app development company that can create highly interactive apps that work seamlessly across leading mobile platforms.
Best Hybrid Mobile App Examples in 2020
Here are the lists of top 3 hybrid mobile app examples that you can also think for to build in 2020:
Instagram: One of the best and widespread examples of a hybrid app is Instagram. The hybrid approach allows Instagram developers to create an interactive app that supports both offline data and rich media.
UBER: Yes, you heard it right! Adopting the hybrid approach has enabled the uber app developers to build an excellent app with simple UI and easy navigation. The simpler user interface and easy navigation are the two main reason that makes this app hugely successful among its rival apps.
Twitter: Yes, Twitter is also among top hybrid app examples. Twitter is using the hybrid approach to handle the high level of traffics. This shows that performance is not an issue now for hybrid applications.
Other Popular apps built with the hybrid approach:
Baskin Robbins
Evernote
Pacifica
Remote POS
Gmail
Why choose Hybrid Mobile App Development?
Numerous reasons are there to choose the hybrid mobile app development approach. You should go for a hybrid approach to create mobile apps because it is quite budget-friendly compared to native app development. Also, apps built with the hybrid approach are much easier to maintain because it is developed on the same codebase. And, the last (not least) reason is that it requires only HTML, CSS, and JavaScript languages to build fully functional Hybrid mobile apps and web apps.
Final Thoughts
We have discussed what hybrid mobile app is, why it is beneficial, and what are its significant benefits for businesses. We all know that the competition is snowballing in the digital market; hence it has become essential to improve the entire development processes which offer higher speed and diminishes the costs of mobile app development. Hybrid mobile apps are the best solution to solve most of these problems. Hybrid apps integrated backend and some functionalities of the native apps hence offering the best of both. Therefore, businesses and companies should consider hybrid mobile app development to lead in the marketplace.
If you are looking for the top hybrid app development company, then get in touch with us.
Read Also:
Mobulous Ranked Top #1 in the List of Most Promising App Development Company – 2019 by Appfutura Review
Services Provided by Mobulous to satisfy entrepreneurs, enterprises, & startups needs
Top 3 Questions to Ask when outsourcing app vendor
Top cross-platform mobile app development tools 2019