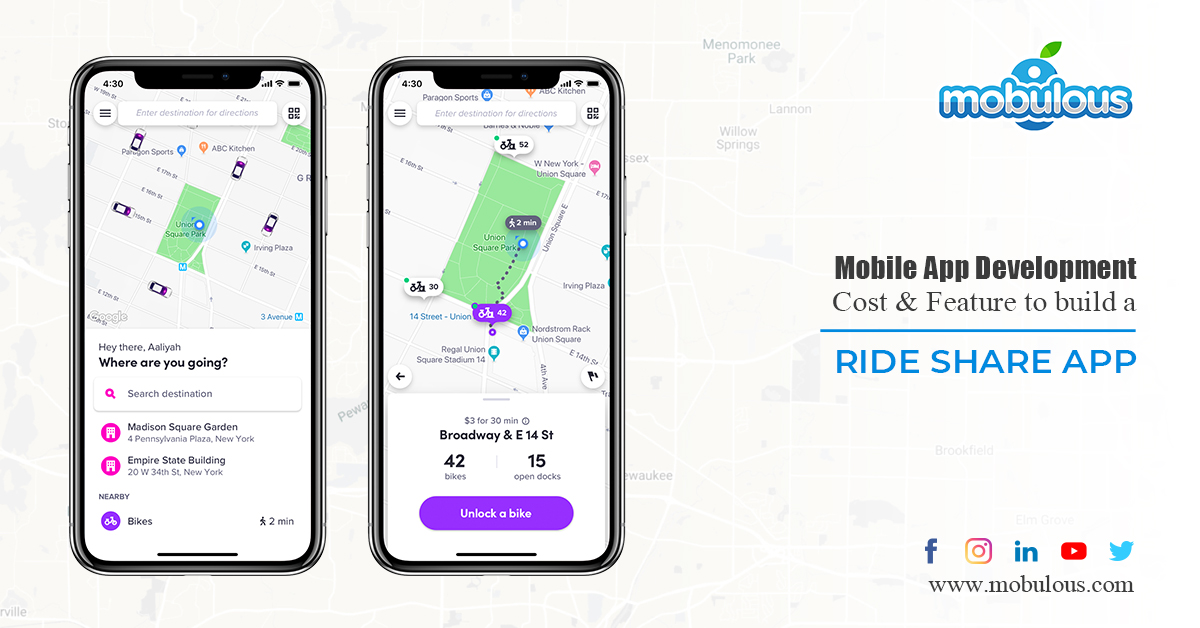 These days, the global ridesharing market is growing rapidly. In the USA, the key players, including Uber, Lyft, and DiDi, earn billions in revenue. While in Europe, the most popular platform BlaBlaCar, already covers 400 cities and 1.5 million users. According to Statista, the ridesharing market is supposed to increase by more than 50% between 2020 and 2021 and increase its value to around $117B in 2021.
What are the top features that you must include in your rideshare app?
Here are the following features that you must include in your rideshare app:
Registration and profile:
You can allow users to enter their email, phone number, and create a password. You can also allow them to sign up or ins through their social networking sites such as Facebook, Twitter, Instagram, and so on.
For the profile, you don't need to include so many features. You can include features such as let users upload their profile picture, enter their name, car license, and phone numbers, add a convenient payment method, and check the history of their payment.
Push notifications and chats:
Push notification is an essential feature that you can include in your rideshare app. The push notification feature helps keep users updated about their ride confirmations, change of a ride status, or a payment sent to PayPal.
The chat feature is not that compulsory but to make your rideshare app user-friendly, you can include it. With the chat feature, riders and drivers can communicate with each other instantly.
Book a Ride:
Booking a ride is one of the essential features. With this feature's help, users can enter their destination, pickup and drop off points, and then choose a driver as per their choice. Before booking the ride, users can see the cost of the ride.
Payment:
A rideshare app must have a convenient payment structure. Users must use different payment modes such as credit card, debit card, PayPal, online wallets, cash, and so on to pay the ride's charge.
GPS Location:
GPS Location is an essential feature that you must include in the ridesharing app. This feature helps drivers set exact pickup and drop off points and riders to see their whole route.
Some of the advanced features that you can include
SOS Button: SOS Button is an excellent feature that builds trust and security for both riders and drivers.
Discount for loyal customers: This feature encourages loyal customers to the app and attracts potential customers.
Offline Mode: Offline mode is an essential feature that helps both driver and rider use the app even in the low network area.
Multilingual App: Multilingual App makes it more convenient for a wide range of users.
Schedule ride in advance: This feature allows users to book a ride in advance.
Add Tips to drivers: This feature helps drivers to generate more money. Additionally, it encourages their confidence and motivates them to work well.
PROS and CONS of Ridesharing app
Pros of ridesharing app:
The fare of travel is more affordable
The travel time is much faster
The users can book a ride in advance
It helps reduce CO2 emission as it allows fewer cars on the road.
Cons of ridesharing app:
You may have to share your ride with the passengers whose behaviour will not be good (drunk, anti-social, etc.)
The travel time may increase as many passengers share the ride.
How to Monetize a Rideshare App?
There are multiple ways to make money through a rideshare app. some of the common ways include:
Paid advertising: You can earn money from third-party when users see their ads in your app.
Reservation/cancellation fees:  You can earn reservation/cancellation money from riders.
How much does it cost to create a Rideshare app?
A rideshare app's cost mainly depends on its functionality, designs, location, and the app development team. For rough, the cost of rideshare apps charges between $140,000-$145,000.
However, the scope of work is different for each new project, so, the price.
If you are looking to create a ridesharing app for your start-ups, you can contact Mobulous, India. We are among the best mobile app development service company all across the globe. Not so long ago, the team of Mobulous had a chance to create a ridesharing app for one of our clients.
Read Also:
Make the trade easy with the help of E-commerce app development
Key Benefits and Cost Estimation of Grocery Delivery App
Mobile App Development: Helping You to Make Your Business Easy – Mobulous
Innovative Ideas to make your online business stand out from rivals
Access Our UI E-Commerce Case Studies: 
Get in Touch with our Sales Team: sales@mobulous.com