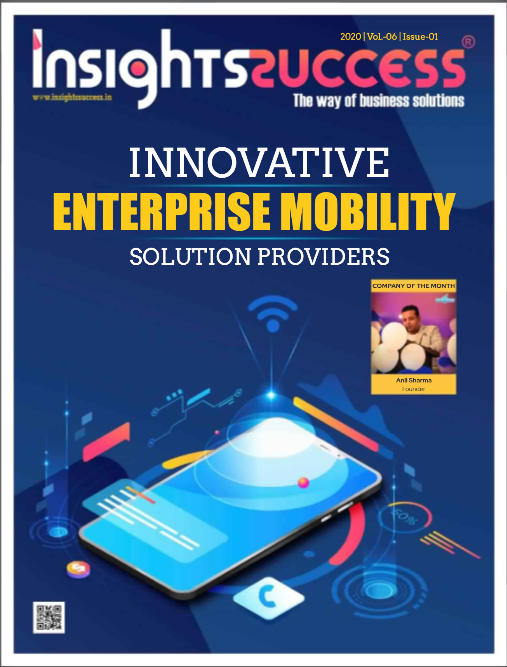 Mobulous Technologies: Your Go-To Innovative Enterprise Mobility Solution Provider,
Insight Success Magazine
Enterprise mobility solution provider Mobulous is featured in June's Edition of Insights Success as the company is recognized as the top "Company of the Month."
Insights Success Magazine is the best platform for top leaders' business ideas in the industry with broad coverage of emerging and leading companies & business insights. The monthly publication of Insights Success covers the whos-who of leading businesses spanning the globe, with upcoming and innovative entrepreneurial ventures with potential market excellence.
Insight Success has published the 'Company of the Month' – June 2020. The top of the month tech company features innovative enterprise mobility solution provider, Mobulous, in June's edition of Insights Success.
Anil Sharma, Mobulous CEO, says, "Technology continues to advance and make human's lives more comfortable. Mobulous will continue with its aim of providing top mobile app development solutions that are both innovative and accessible. I'm proud of this achievement and thanks to all of my Mobulous family who has always been there and putting their all strength and efforts in making Mobulous a leader in the tech industry."
Mobulous's Certificate:
Mobulous Technologies Certificate
Mobulous is highlighted within the Insights Magazine. The article highlights the Mobulous aim, vision, and mission to cater to high-quality services while being an affordable and cost-effective mobile app solution provider to its clients.
The Insight Success 'Company of the Month' edition features companies striving to mark the enterprise mobility sphere with their innovative products and solutions. And, Mobulous was named in their edition as a prime example of such companies. The article also highlights that Mobulous is soon going to take a bold approach with the latest technology trends such as 5G Advancement, AI Incorporation, BYOD Insulations, and many more in the Enterprise Mobility Solutions industry.
About Mobulous
Mobulous is one of the top leading mobile app development companies specializing in designing and developing mobile apps (Android or iOS) and Web applications. The company offers quality solutions to large enterprises to small startups in achieving their intended targets with rich customer experiences and smooth user interfaces. We have successfully delivered more than 800+ apps using technologies such as AR/VR, AI, Blockchain, cloud computing, and so on. We are known for our timely deliveries and gratifying customer service all across the globe.
At Mobulous, mobile app developers make sure to do everything from Mobile Application Ideation and Wireframing to Mobile App Quality Assurance and App Launch & Maintenance on Google Play Store and Apple Apple Store.
Our company provides stunning native mobile applications and web solutions for various industry verticals, such as Transport & Logistics, Entertainment, Healthcare, Social, and many more.
Click on the link to read the full article here: https://www.insightssuccess.in/mobulous-technologies-your-go-to-innovative-enterprise-mobility-solution-provider/
Live Magazine Url: http://magazines.insightssuccess.in/Innovative-Enterprise-Mobility-Solution-Providers-June2020/#page=1