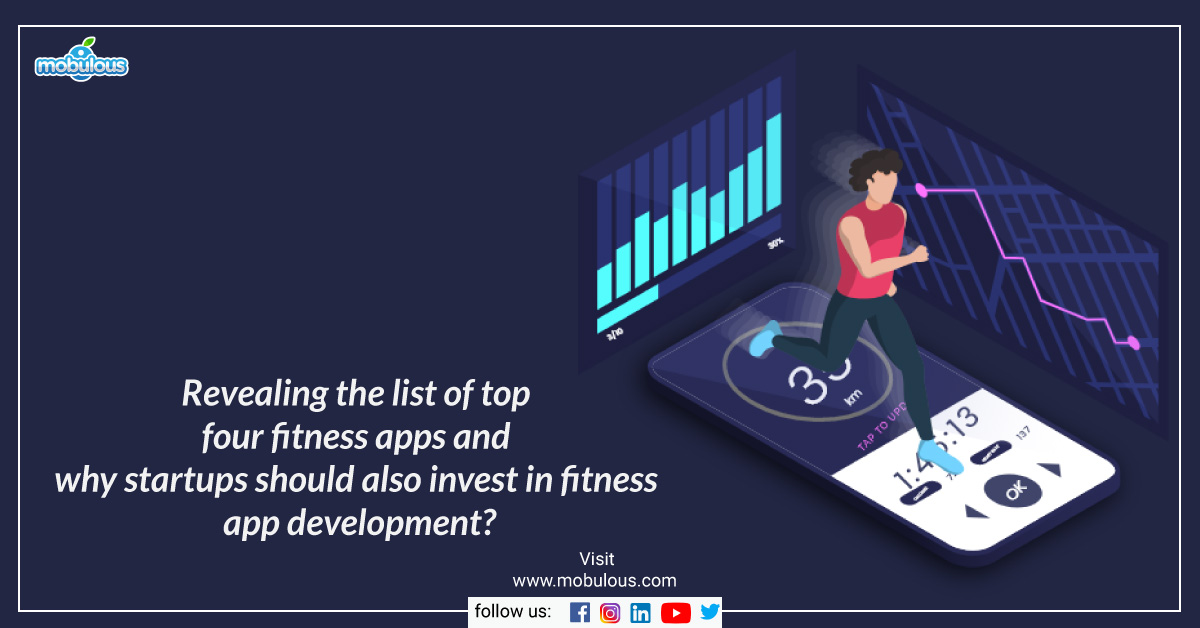 Are you looking to start a fitness app development? What is the best app in 2020 that dominates the fitness app development market? Why should you invest in fitness app development? So many questions running on your mind? If YES! Then, you're in the right place. According to the report, currently, the global wellness economy is worth $3.7 trillion.
Do you know that Health & Fitness was among the most popular app categories in 2019 (last year)? These days, people are so much conscious of having a healthy life. In this era where everything is impure, including food, and air, it's crucial to stay fit by following a healthy diet, exercising, or even starting any daily fitness routine. So, what if the mobile app technology helps to keep us healthy? Well, most of the users are going to love it. If we believe the research, it suggests that fitness tracking devices encourage a significant increase in fitness and physical activities for their wearers.
This year, people started to work out at increases more than ever before due to the COVID-19 lockdown. Hence, there is a great demand for fitness and wellness apps and both leading brands and startups, eager to spend in mobile development to gain a unique competitive edge.
Top fitness app that dominates the app market
Let's discuss the top fitness app that dominates the app market:
• Sworkit
Sworkit is one of the most popular fitness apps available in both the dominant platform, including Android and IOS. The app offers the complete guidelines of yoga, cardio, stretching, and many more. With the app, users can alter their exercises according to their requirements. This app mainly focuses on three areas of workouts, including abs, back, and the one that aims both. Also, it has a series of challenges that are quite easy-to-follow for users.
• Nike+ Training Club
Nike+ Training Club is another popular fitness app that is available on both ios and android platforms. From pros to beginners, the app is equally beneficial for both. The app's GPS tracker monitors your run walks. The app aims to focus on specific body parts of the users. It offers numerous amazing workout sessions, including customized plans for a workout, 15 min exercise session, etc. Also, users can add their favorite music track or add a playlist to entertain and motivate themselves.
• Asana Rebel
Are you looking for a yoga app? Asana rebel is one of the popular yoga apps available on ios and android platforms. The app helps users to learn yoga most easily as it offers all the yoga asana. It has numerous workouts sessions such as mountain climbing, trekking, and burpees, making it progressively vigorous. With the help of apps, users can do different asana according to their energy level and mood.
• Runtastic
Runtastic app is ranked as one of the top running mobile app available on Android or iPhone. There are numerous running apps available on play store and app store that offers similar features like the fantastic app, but look different. The app provides several functions, including push-ups, sit-ups, pull-ups, cycling, and squats. Also, it reminds users about water intake, tracks sleep, and healthy food recipes.
Why should startups invest in a fitness app?
Gone are the days when most people thought of apps as a source of entertainment. Games and quirky apps entirely dominated the app market. So, most developers don't give much preference to the fitness app on the people back in the day. However, with the time lifestyle and fitness apps took a huge leap forward. According to statistics, the fitness wearable industry is set to become a USD 9.7 billion industry by 2019. Worldwide, wearable device shipments will rise from 117.51 million units in 2016 to 263.19 by 2020. That translates to a whopping 124% increase in just 5 years. These statistics clearly show that startups must invest in a fitness app.
The fitness and wellness app market is surging amid Covid-19. If you are looking to create fitness apps for your startups, you can go with Mobulous website and mobile app development company, India. We have a stunning team of mobile app designers and developers who are experts in creating such apps at a very reasonable price.For latest updates, check our Mobulous blog.
Read Also:
Mobulous – How are we working to mitigate the impact of the Coronavirus?
Healthcare mobile app development UAE | My doctor is LIVE | Mobulous
Healthcare app development: Importance of top healthcare apps among hospitals
Aspects to keep in mind for Healthcare app development – Mobulous
Access Our UI Healthcare Case Studies: 
Get in Touch with our Sales Team: sales@mobulous.com