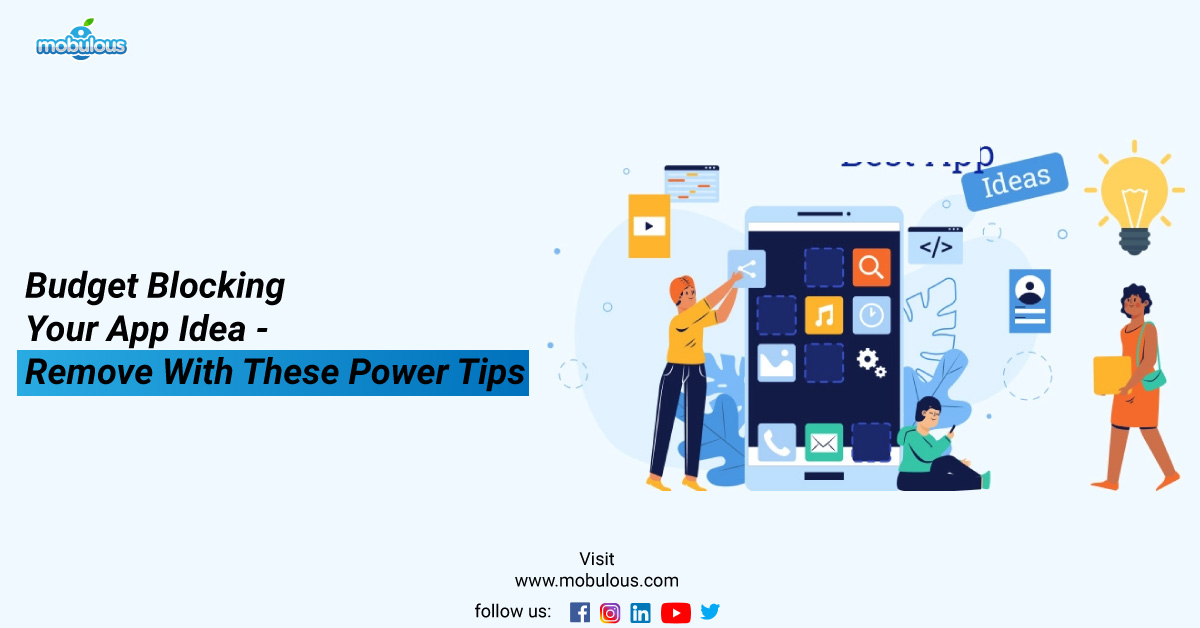 Are you looking to develop a mobile app without breaking your bank? What are the essential tips for creating mobile apps on a limited budget? These days almost every business has amazing ideas to develop mobile apps. But when it comes to money factor, they have the wrong belief. They think they can't create an amazing mobile app in a low budget. Let me tell you; there are a lot of people that are building a mobile app within their limited budget. In this article, I will share some fantastic tips on how you can do the same.
No wonder, the mobile development world is so much in trend. There is a high competition among product owners and service price. According to a study report, the mobile app market has reached close to $30 billion in revenue. Businesses must develop a strategy of creating mobile apps with all the essential features in a limited budget. The budgetary aspect of app development is equally complicated as the development part. The budget of an app mainly depends on numerous factors, including the objective, platform, features, etc.
Tips for creating mobile apps in a limited budget
Set Clear Goals
It's crucial to think carefully about your app's goal and actual purpose to develop a successful mobile app. Here, we have the following list of things that you need to consider before creating a mobile app:
Who is your target audience, and who will be interested in using it?
Why should customers install and use your app?
What's the feature that makes your app unique from other competitors?
What particular function should your app perform?
How can the mobile app solve the problems of your potential customers?
What are the business goals and visions which you want to accomplish with your mobile app development project?
The things mentioned above are essential to know your goals and make your mobile app development project a significant hit on a limited budget.
Right Mobile App Development Pricing Model
The next step after completing the market research, you need to do a proper monetization strategy. This will help you in determining the right app development, pricing model.Since you have a limited app development budget, paying a fixed price seems more reasonable.
Choose the right platform
It is suggested to select a platform that can perfectly align with your development strategy to create a mobile app in a limited budget. Whether you choose either of the major platforms, Android or iOS, make sure the platform has the majority of your customers for your app development. The decision to select the right platform mainly depends on the result of the data from the target audience. With proper market research, you can find out which platform will be best for your audience and business.
Create Unique Features
It's essential to add amazing features in your app to attract massive attention of the users. There are millions of apps available in the app store. To make your app a huge success, you need to put extra efforts. Make sure the app has features that make your app unique and encourage people to use it regularly by making their day-to-day activities simpler and convenient.
For instance, if you plan to create a video-conferencing app, it is crucial to include a live-streaming feature. Though adding a live-streaming feature can increase your cost, but you can't ditch this essential feature.Hence, it is crucial to create your app keeping your financial restrictions and users' needs in mind.
Choosing an MVP Approach
MVP means Minimum Viable Product is a great way to minimize your app development costs. With the help of MVP, you don't need to create an app from scratch. It allows you to gather user's feedback, analyze user's demand, and so on. It can help you save your money, time, energy, and minimize the risk of spending too much on a project.
Note: Mobile App development costs may vary depending on the size and complexities of features and functionalities involved in creating the app.However, leveraging our top-notch mobile app development services can help you optimize your development costs while ensuring a seamless user experience for the end-users.
Do you want to build a mobile app for your startup/business on a budget? Get in Touch with our Sales Team: sales@mobulous.com
Read Also:
Mobulous – How are we working to mitigate the impact of the Coronavirus?
Services Provided by Mobulous to satisfy entrepreneurs, enterprises, & startups needs
Top 3 Questions to Ask when outsourcing app vendor