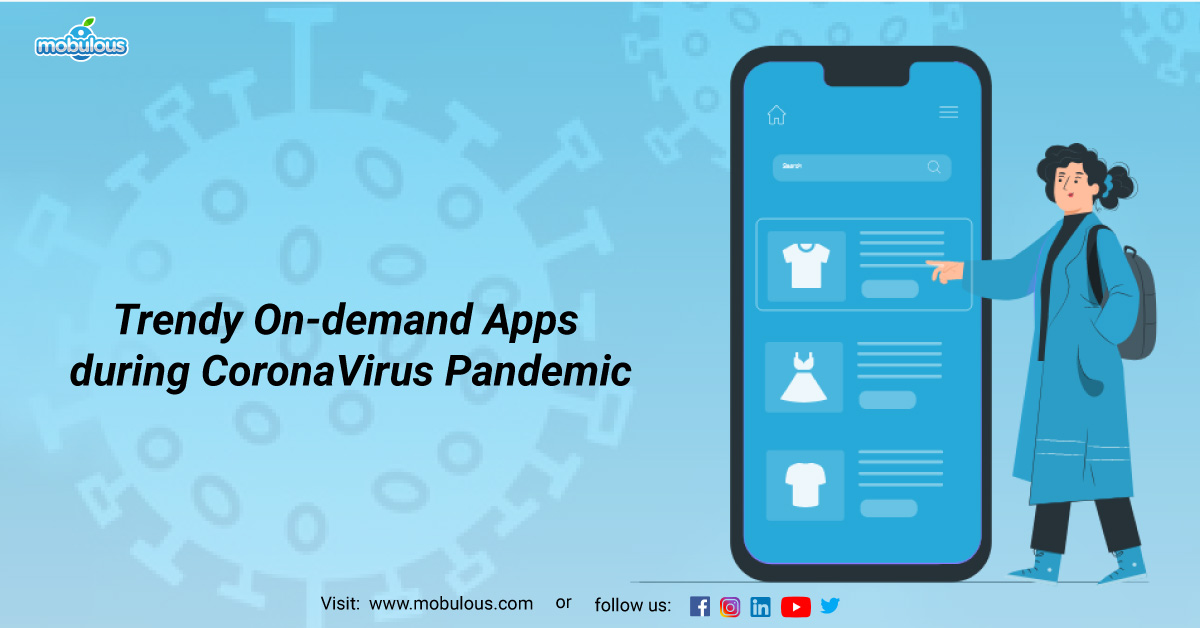 Coronavirus, a global pandemic, has affected day-to-day life and caused a significant economic loss. The situation is quite critical, and everyone is trying to find an escape from it as soon as possible. This pandemic has affected thousands of peoples and taken a lot of life. According to the report, approximately 1.5 million people and counting have been infected with the virus, and the number is increasing at a rapid pace. Quarantine and self-isolation have become the new trend for most of the people.
According to global workplace analytics, 3.4 percent of the US workforce opts for remote work at least half the week. Additionally, Owl Labs report that 62 percent of employees, within the age group of 22 and 65 work remotely occasionally.
Not only this, but the pandemic has also disrupted businesses. Some of the industries and companies face huge losses while some of the sectors seeing a massive profit. The demand for the on-demand app has increased massively.
So, what are those on-demand apps that so much favored? Well, before knowing the apps, let's first understand what the on-demand app is.
What Are On-Demand Apps?
On-demand apps mainly refer to be a linking layer between customers and business. It allows users to get any goods or services worldwide at their doorstep or a physical location in a minute. The facilities include on-demand food delivery, on-demand laundry, on-demand grocery services, on-demand rentals services, on-demand beauty services, on-demand ATM services, etc.
The application has numerous features such as tracking, creating a wish list, a suitable payment service, multiple bookings, and the ability to give reviews, and so on. These applications already have a significant impact on the market. However, their market demand during the novel coronavirus outbreak is higher than ever expected. People are eager to have services or goods that can help to make their lives better during the COVID-19 outbreak.
So, here we have the following list of on-demand apps that are gaining massive attention due to pandemic COVID-19.
On-demand grocery delivery apps
Popular on-demand grocery delivery apps that are working even in this lockdown to provide basic necessities to the users:
• Union Coop
The Union Coop smart app is among the top grocery apps that allow users to have the groceries of their requirements from the union coop supermarket to their home. The app has approximately more than 26000 products for users to select from.
• Carrefour Now
Carrefour Now app helps supply all the required goods to the people via its giant hypermarket and supermarket chains. It provides service at the user's doorstep in less than an hour.
On-demand Food Delivery Apps-To deliver food, certain apps provide service. Here, are the following apps:
• GrubHub
GrubHub is one of the popular food delivery apps available on both the major platform, including ios and android. It is available in over 1000+ cities of the US and has around 50,000 eateries in its list.
• UberEats
Uber is one of the popular platforms that not just provide the riding facility but also the food delivery service too to the users. With the help of an uber account, users can order food too. The charges depend on the distance between the restaurant and your delivery point.
• DoorDash
DoorDash is a food delivery app that has a flat fee of $5.99. The app provides the service from various eateries in your area.
Tele-conferencing Apps
All the people are stuck at home, and the only way to connect with others is through teleconferencing apps. So, the most popular teleconferencing app are as follows:
• Zoom
Zoom is one of the most popular tele-conferencing apps that most people are using for their work. From schoolwork to companies' work, the first preference of almost everyone is the zoom app.
• Skype
Another app that is quite popular for business purposes work is Skype. Most of the companies find Skype for a better solution.
• Google Hangouts
Google Hangouts are also referred to be another popular teleconferencing app that is worth downloading. The app's best thing is that it allows video calls with up to 10 people and group chat with over 100 people.
How can we help Businesses and Startups?
To survive your business during this unprecedented time, you must enter the online market through a digital transformation. Building a mobile app lets you run your business and deliver the best services to your customers with a minimum contract. No matter what your business is, the mobile app is the only solution that can help you! At Mobulous, we offer high-quality mobile app development solutions to our clients. Leverage our potential to build an app to serve your customers remotely.
Read Also:
Mobulous – How are we working to mitigate the impact of the Coronavirus?
Services Provided by Mobulous to satisfy entrepreneurs, enterprises, & startups needs
Top 3 Questions to Ask when outsourcing app vendor