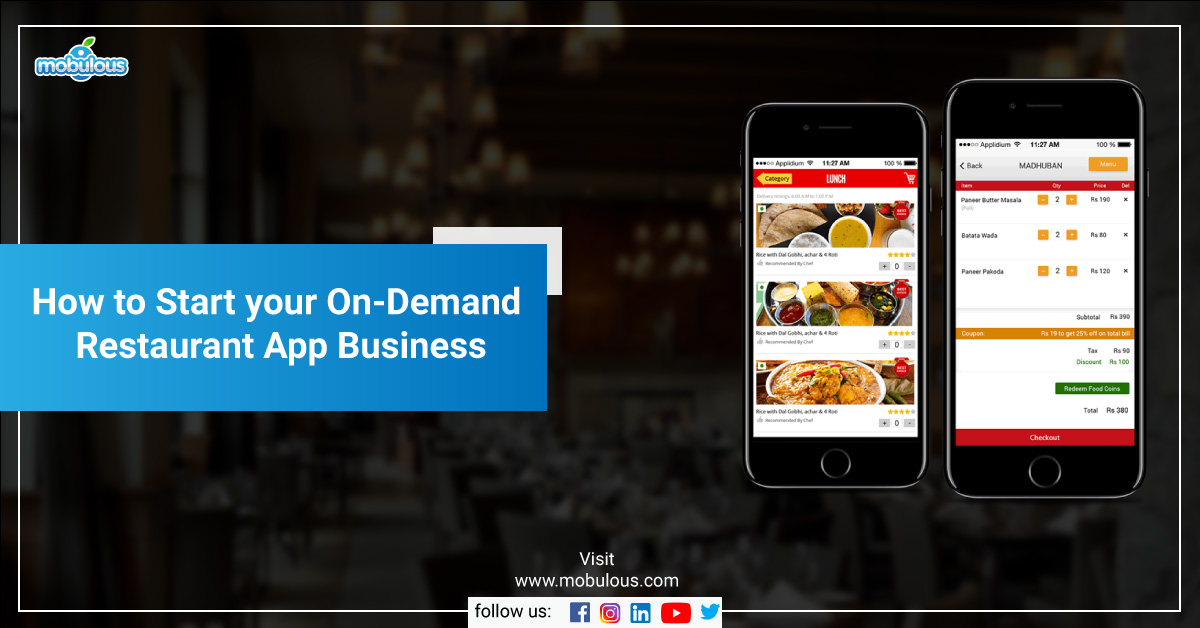 Introduction
In the wake of the current era of digitalization and technological advances, the dining experience is shifting to become mobile. After all, why go out at all when you order your favourite cuisine from the best restaurants delivered to your doorstep, with just a click of a button? This new experience brings in new opportunities for restaurant owners to capitalize on the growing demand for an enhanced, digitized dining experience.
This article will focus on some must-have features of customer-facing restaurant apps and a step-by-step guide on how to create a restaurant app.
Let's get going!
The must-have restaurant app features
The features of an on-demand restaurant app may vary depending on the niche (restaurant-finder, online food delivery, etc.) and its business model, the below mentioned are the core features of a typical customer-facing restaurant app include:
• A digital menu with images and detailed description
• Table reservation
• Order placement (for takeout orders/delivery)
• Payments (both the order payments and tips)
• A loyalty program and promotions (special offers and deals, coupons, etc.)
• Customer support: in-app chat for feedback, reviews, and complaints
• Push notifications (location- or context-aware offers, and timely updates on the order status)
In addition, there are other features that can be added during mobile app development to add on to the overall user experience, like:
• Waiter call
• Repeat order (re-order your previous menu in one click)
• Feedback, user reviews and ratings
• GPS tracking for order delivery
• Gamification features – a system of achievements, challenges, and tournaments where users can earn in-app currency that can be used to pay for the orders
• Social media sharing
• Third-party integrations (e.g. the ability to request an Uber without leaving the app as soon as an order is paid for).
How to develop a restaurant app: A Step-by-Step Guide
Mobile app development is a significant move for any business that aims to go digital. Just like any other software development project, developing on-demand apps for restaurants also require reliable tech expertise and professionalism.
To begin with, let's understand the best steps to start your on-demand restaurant business to save your time and resources in the long run.
1. Find your Niche
As mentioned above, there are numerous opportunities for you to seize Online business is a growing market. Understand and analyze the current demands to make sure your app serves the purpose, identify a particular pain are that your audience faces, and bring a solution for the same. Try to solve an issue and be useful, offering value, and not just sales. This will increase your chance to compete with the well-established market players.
2. Think the logic through
This is the phase of creating a definite plan. You need to finalize and write down all your app requirements. Have a comprehensive and detailed specification handy. This will help you to communicate your needs and expectations clearly to the app development team who will be taking care of the design and development.
3. Visualize your concept
Once you have finalized and documented all your requirements for mobile app development, you can now move on to create your app design and finalize its user flow.
You can also create an interactive prototype of your app and release it for beta testing to check and review its usability. This will provide you with a more solid judgment of how the final delivery of the app will look and feel which can also help you to pitch your idea to the investors before building an MVP.
4. Build and test
Finally, you can now perform all of the features, according to the specifications and design. You may seek the help of a professional mobile app development company like Mobulous, who is best in creating award-winning apps.
One more essential aspect of producing a thriving restaurant app is quality assurance. Make sure each separate feature and every single element of your app is completely examined before you go live. Otherwise, you put all your invested efforts and resources at risk.
5. Improve and scale
Once your app is live, you must utilize your user feedback to the maximum to boost the product value and enhance your customer experience. You can also implement some extra value-added features that can take the customer's food ordering experience from your app to the next level.
Once you begin to gain traction and increase brand visibility, you can move forward to expand your app's target market by increasing your reach into new locations as well.
Grow your business with a holistic and award-winning restaurant app developed by Mobulous
The aforementioned benefits for restaurant app development listed in this article are just the tip of the iceberg. There are many more possibilities for restaurant owners to build their business using the latest technologies and the best mobile app development company.
Mobulous is one of the best mobile app development company in India that is known for delivering innovative mobile apps built on state-of-the-art technology and holistic experience. We are a robust and creative mobile app developer providing winning solutions.
Be it a full-fledged online restaurant management system or on-demand customer-facing mobile app for deliveries or reservations, we have the expertise and the experience to bring any of your ideas to life.
Our team of aces has developed mobile apps for a variety of enterprises and sectors including on-demand applications, healthcare, e-commerce, dating apps, real estate, e-learning, job portals, and much more.
Have an app idea? Reach us today.
Read Also:
Mobulous – How are we working to mitigate the impact of the Coronavirus?
Services Provided by Mobulous to satisfy entrepreneurs, enterprises, & startups needs
Top 3 Questions to Ask when outsourcing app vendor