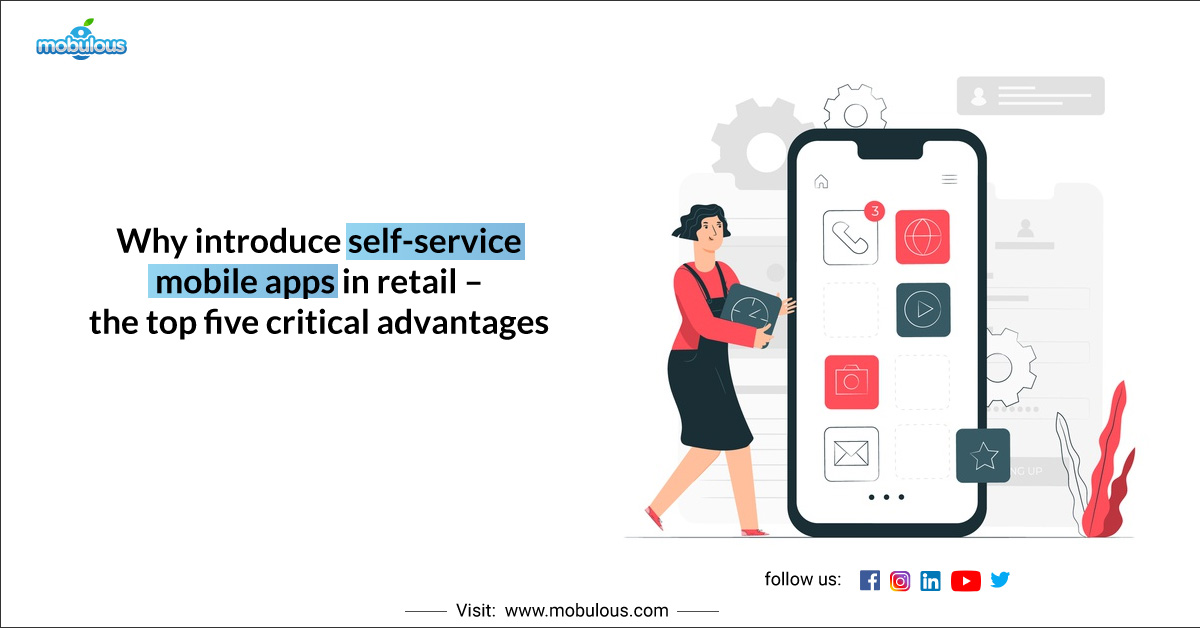 As we all know, if any misfortune takes place in the world, then businesses in the retail industry will be the most affected sector. Most of the businesses realize the need for self-service mobile apps in their business and thereby building an out-of-the-box app. It has numerous benefits. It not only satisfies the needs of business and customers but also proves successful in driving the revenue for retail business. For those who doubt the significant impact of mobile app development on their business, we have some statistics from Hootsuite's Digital 2020 Global Digital report that clearly shows the customer's growing support for mobile apps in retails.
Let's have a look:
About 5.19 billion unique mobile app users are there all across the globe.
Most of the time spent by smart users on a mobile device is spent using mobile applications.
The global retail e-commerce sales are $3.43 trillion.
The reports suggest that approximately 66 percent of mobile users aged between 16-24 uses shopping/retail mobile applications.
Top five benefits of self-service mobile apps in retails
The statics mentioned above shows there is a great need for mobile presence for retailers skeptical. Here, in this blog, we will know the top five benefits of self-service mobile apps in retails:
Mobile Payments/ POS
Self-service mobile apps are a great way for the retailer to lowers transaction costs. They can allow their potential customers to accept mobile payments through POS systems. It helps retailers to save expenses of purchasing expensive POS equipment in-store. It also makes the shopping experience convenient for consumers. Earlier, retailers have to face the problem of paying an extra fee for each online debit or credit card payment. It has made the entire payment process quite easy by introducing mobile app in-store payments. It allows businesses to accept mobile orders and deliver services to potential customers. For instance, Starbuck has benefited from accepting from its mobile app in-store.
Analytics
Retailers always try to put their best to gain the attention of consumers by improving their purchasing experience. To provide an exceptional purchasing experience, it's quite essential to analyze customer's data. This data plays a vital role in the success of the business as it helps leaders to decide what business initiatives and digital marketing campaigns are worth to invest. However, it's quite difficult for most retailers to collect this data as they don't have any source. A self-service mobile app is indeed the perfect tool to analyze the consumer's behavior, including retention rate, bounce rate, purchase history, etc. this helps retailers to make better decisions and increase their ROI and user experience.
Sales support
Another benefit that most retailers can get from introducing self-service mobile apps is to increase sales support. It allows consumers to meet their needs. It is so much convenient for consumers as they can quickly locate necessary information on their own. It will enable numerous services to the potential consumers, including the ability to see if an item is in stock, current discount, and so on without visiting the store. It also reduces the labor cost.
Geo-location targeting
Self-service mobile apps provide retailers numerous ways to boost revenue while reducing overall costs. In most mobile apps, it asks users a long list of details to access the device's built-in features such as camera, location, contact, etc. for retailers, access to these features, especially the location, can play a crucial role in the success of the business. Knowing the location of the user's retailers can provide location-based content, promotional retailer deals, geo-target ads, and many more to the users.
Loyalty programs
Another benefit retail business gain with a self-service mobile app is introducing a loyalty or reward programs.In the retail world, a loyal consumer is a benchmark. According to a marketing agency bond, approximately 73 percent of consumers prefer the brand with good loyalty programs, and around 79 percent of consumers say that loyalty programs specifically increase the likelihood that they will continue to do business with a mark. Sixty-six percent of consumers are more likely to adopt their spending habits on a particular brand to maximize loyalty benefits.The statistics clearly show that loyalty programs are indeed one of the best ways to attract consumers' attention. It helps retailers to increase traffic and generate more income.
Wrapping it Up
Here, in this article, we have discussed the top five advantages of introducing self-service mobile apps in retails. For retailers, the introduction of a self-service app provides an excellent opportunity to fulfill the consumers' requirements and boost sales. If you have any retail business then, you can go with Mobulous, a top mobile app development company. Do you have a great app idea? Come and share your ideas with us.
Read Also:
Mobulous – How are we working to mitigate the impact of the Coronavirus?
Services Provided by Mobulous to satisfy entrepreneurs, enterprises, & startups needs
Top 3 Questions to Ask when outsourcing app vendor