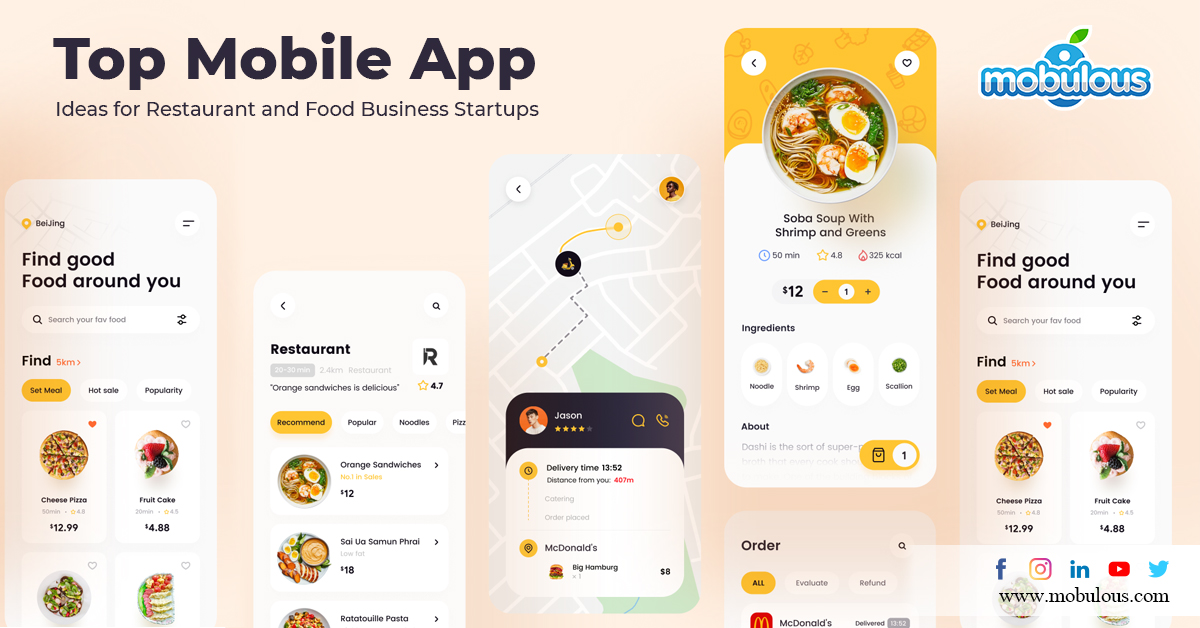 With the arrival of the latest technologies, the food and restaurant industry has witnessed tremendous growth. It has completely transformed our lives like no way before. According to the report, the global food delivery segment's revenue is supposed to reach $151,526 million, and the yearly growth rate is expected at 6.4% by 2024. People are using different apps for their food and restaurant business.
How is it profitable to launch a Food ordering app idea for your Restaurant?
Currently, people use mobile apps for almost everything, including food-related services. These apps are easy to use and time-saving. Restaurant owners and businesses are using these apps to connect to the users and increase their sales. Here are some of the popular facts and figures about food-related service apps:
According to the report, more than 2.72 billion people are using smartphones.
Online ordering has grown 300 percent faster than restaurant visitors.
74% of restaurants agree that technologies have improved their guest appearance.
95% of the Restaurant agree that technology has improved their business efficiency.
Approximately 87 percent of American users who use 3rd party delivery service believe it makes their lives much easier.
These stats conduct the great importance of food ordering apps all across the globe. If you are looking to launch an app for your food business startups, it will be wise.
Best Mobile App Ideas for Food Business Startups
Here we will let you know the top mobile app ideas for food tech and restaurant startups that can surely help you start a good business:
● Food delivery app
The food delivery app idea is gaining immense popularity with more and more entrepreneurs entering the space. The app allows users to order their food from their favorite place. With the app's help, users can get door-step delivery of yummy food by just enabling their location in the app.
If you are a restaurant owner who owns a food ordering app but can't provide the food delivery service then, you can hire a third party for the delivery services.
● Pizza delivery app idea
We all know pizza is the most lovable and mouth-watering food. A pizza restaurant mainly uses this type of app. The app allows users to get their favorite pizza without physically visiting the Restaurant. They can pay for the service through different payment methods. This kind of app can help you to attract a vast audience.
● Food coupons and discounts app
The food coupons and discounts app are unique ideas that can help you find the right audience in no time. This app sends alerts or notifications to the users when a restaurant provides a good discount or coupons available for free food items. Restaurant owners always bring new and fresh restaurant promotion ideas such as providing food at half the price, complimentary wine, and many more for attracting new consumers.
However, many users stay unaware and miss such delicious deals. Food coupons and discounts app can help users to know about these deals.
● Recipe app
If we believe the Recipe Apps Market Report, the worldwide recipe app market will reach multi-million dollars by 2024. The recipe app can be an excellent idea for your food and restaurant business. This app comes up with step-by-step guidelines for every delicious dish that quickly allows users to cook a great meal. They can cook like a chef in the easiest way.
● Restaurant table reservation app
The Restaurant table reservation app allows users to reserve their seats at popular restaurants, even at peak timings, in a hassle-free manner. With this app's help, users can book a table location, time slot, date, favorite food order. The best thing about creating a restaurant reservation app is that it provides excellent ease to the restaurant owner's several day-to-day jobs. They can check other business extension concepts.
● Food and Nutrition App for Gym Enthusiasts
If you own a food court for gym enthusiasts, the Food and Nutrition App can surely increase your business. The app mainly comprises the details about meals and diet charts for losing weight and gaining weight.
Most users find this type of app convenient as they get food according to their diet plan, along with a diet chart. This app also includes a distinct segment according to the consumers' requirements, such as carbs food, protein food, etc. Moreover, restaurant owners can use this app to increase visitors.
Endnote
No wonder more impressive and trendy food app ideas are still there that can help you launch a restaurant and food startup business. If you have a unique app idea and are searching for the best food delivery solutions or app development cost, get in touch with us without further delay. Mobulous is a top mobile app development company with expertise in creating numerous on-demand apps such as Grocery, Healthcare, Education, and many more.
Read Also:
Mobulous – How are we working to mitigate the impact of the Coronavirus?
Services Provided by Mobulous to satisfy entrepreneurs, enterprises, & startups needs
Top 3 Questions to Ask when outsourcing app vendor