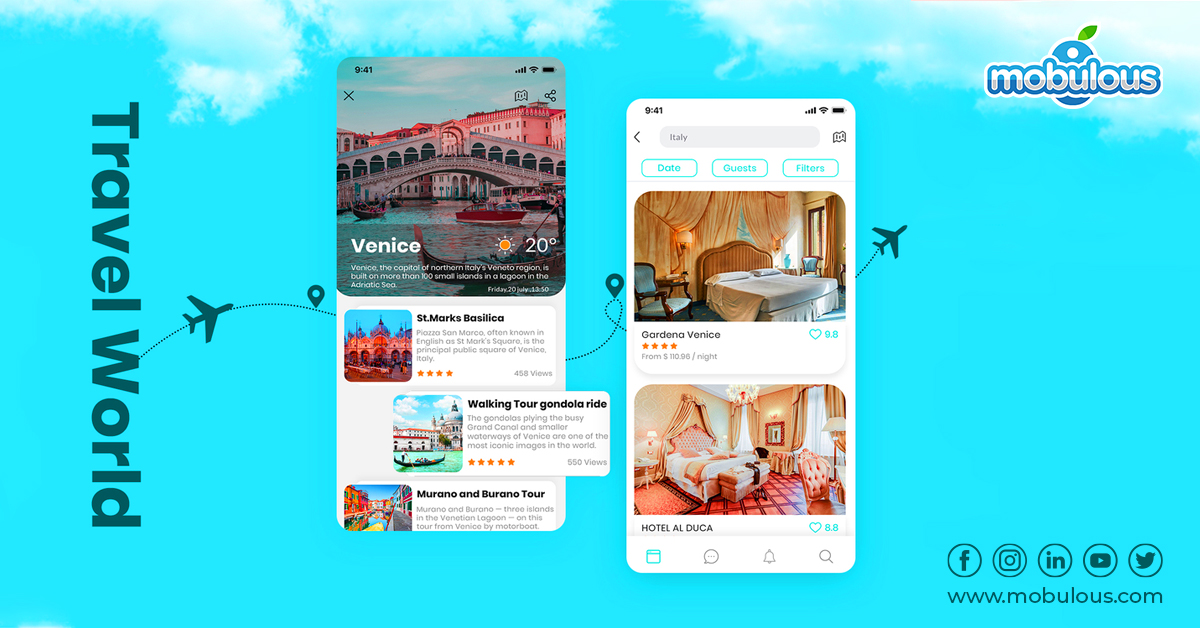 No wonder, mobile apps are the necessities of today's world. Billions of people worldwide own a smartphone and use mobile apps for their daily work. According to the SensorTower estimations report, App Store will offer more than 5 million apps by the end of 2020.
In this modern era, mobile app development for travel businesses is regarded as one of the smartest approaches. Travel apps help people in numerous ways. From finding the perfect hotel to booking tickets, travel apps make people's experience to the top. If you are looking to create an app for your travel business or start-ups, then, you are in the right place.
Some Popular Stats of Mobile Apps for Travel Business:
Sixty-one percent of travelers' nearly always' or 'sometimes' use a smartphone app to book flights.
Fifty-nine percent of business travelers have used social media channels to book a flight.
Eighty-one percent of business travelers have used voice assistants during a trip.
Sixty-two percent of Gen-Z millennials want more visual search functionality.
Benefits of Mobile Apps for your Tour or Travel Agency Business
Here are some of the top benefits of creating mobile apps for your Tour or Travel Agency Business:
Enhance Customer Support
A good travel app is one that can provide users with the best service and is always looking for enhancing customer support. When a customer is traveling for a new place, he must have worries about little things such as food, lodging, accommodation, weather, people, etc. You can include all the essential features in your travel app so that users can find all the things in an app.
To enhance users' experience, you must provide all the things that matter to tourists. Make sure you include some of the following features in your travel apps:
24×7 customer support via chat/ Email
Instant updates of the tour
Improved user-experience
Support on different channels to increase the user-base & brand value.
Work as a Marketing Tool
In the cut-throat competition, you must attract your customers and follow a proper marketing strategy to grow your business and stand ahead of the competitor in the market. If a company doesn't promote the business, there is less chance to enhance business visibility. Promotion is considered the main reason behind the success of the business. A mobile app act as an ultimate marketing strategy for businesses.
Moreover, you can promote your app on a different channel to attract a massive number of audiences.
Provide Exclusive Offers and Discounts via Your App
Everyone loves to get offers and discounts for using the same service repeatedly. Since traveling can be financially draining, your users will enjoy a reward program or a great deal.
Initially, you can provide discounts on certain services for everyone who downloads your app and is booking their first ticket. And then, you deal with airlines, hotels, and other businesses to avail your users of amazing deals. Additionally, you can also integrate a reward program in your app and let users collect points and accumulate them on any of your booking services.
Location Tracking
Location tracking is considered one of the top reasons most tourists use to travel or tour apps. Location tracking feature helps people to find the right location and save time. Apart from other essential elements, make sure you include the location tracking feature in your travel app.
How Travel Apps Make Money?
There are three revenue models for tourism app development:
Merchant model (Expedia)
Commission fees (Booking.com)
Advertising (TripAdvisor)
How much does it cost to create a travel app?
Creating a travel app for two major platforms, including iOS and android, may cost around $103,600. The cost is based on the 50/h rate (Europe, Ukrainian).
However, the cost may vary according to your needs and expected functionality. Your travel app development's total price depends on the mobile app development company's country of residence. Here, are few examples with the different region:
Eastern Europe. $103,600 (based on $50/h)
Central and Western Europe. $207,200 (based on $100/h)
The USA. $310,800 (based on $150/h)
Australia. $207,200 (based on $100/h)
Final Words
So, now you have a more clear vision of the innovative travel app you want to create.
If you are looking to create travel apps for your travel business or start-ups, you can contact Mobulous, India. We are one of the emerging names in the Android and iPhone app development market. We are happy to provide our services if you want to create your app with the top mobile app development company.
Read Also:
Mobulous – How are we working to mitigate the impact of the Coronavirus?
Services Provided by Mobulous to satisfy entrepreneurs, enterprises, & startups needs
Top 3 Questions to Ask when outsourcing app vendor