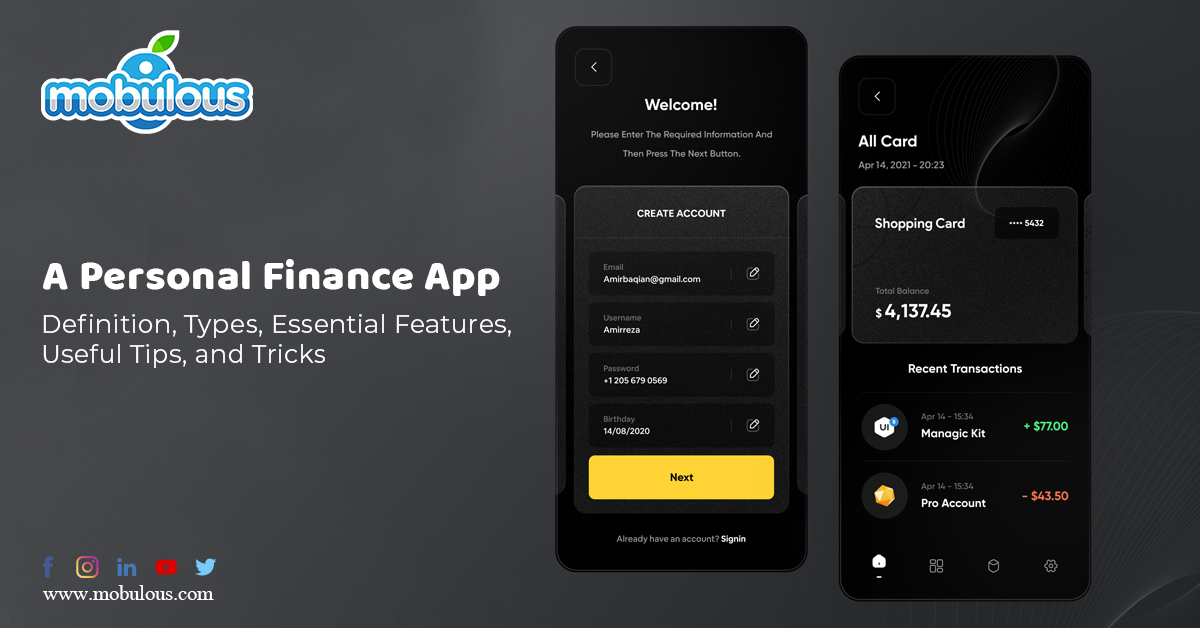 Are you interested in creating a personal finance app? No wonder Personal finance mobile app development is a promising area for enterprises and independent developers. If we believe the report of Globes News Wire, "The Global Digital Lending Platform Market size is supposed to reach $11.6 billion by 2025, increasing at a market raise of 20.3% CAGR during the forecast period". The market is vast, with many opportunities.
What is a personal finance management app?
Personal finance management apps are created to manage users' private money and plan out a budget. These apps are also called Money Saving apps as they allow users to borrow, lend and even invest money. These apps will help users with budgeting and accounting and also provide them helpful insights about money management.
Some statistics about finance management that you must know:
According to the report, the total transaction value in the Personal Finance segment is projected to reach US$1,474,351m in 2021
If we believe the report, the total transaction value is supposed to show an annual growth rate (CAGR 2021-2025) of 19.51% resulting in a projected total amount of US$3,007,887m by 2025.
Only 24% of Millennials demonstrate basic financial literacy (by National Endowment for Financial Education).
Types of finance app
When it comes to financing apps, there are numerous market leaders. However, we have classified it into two main categories – simple apps with the manual data entry process and complex apps with the automated entry process.
● Simple finance app Clear with the name; these are the simplest apps to manage your income and expenditure.
Pros:
a) The bank account is not linked to these apps, so there is no risk factor.
b) The finance app development process requires less money.
Cons:
a) The entire process is time-consuming.
b) The chance of human error is high because of the manual data entry process.
● Complex finance app
The Complex finance app is more advanced and allows users to link their bank account and data.
Pros:
a) The efficiency of complex finance apps is high.
b) These apps provide Real-time transaction updates to the users.
Cons:
a) The cost of the development process of these apps is high.
Essential features of a personal finance app
● Account integration
Account integration is an essential feature that you must include in a personal finance app. Numerous financial accounts of the consumer, such as credit cards, debit cards, loans, mutual funds, etc., must be linked to your financial management software. Ensure your finance app provides users a one-stop solution for everything related to or required for money management.
● Security
It is essential to not only build a personal finance app but to ensure its security. Your users must trust your app and believe the data on their money is being protected. Numerous technologies can help you keep your money secure.
Here are some of the following technologies:
Multi-factor authentication: This technology adds an additional coating of security. With the help of the multi-factor authentication process, you can make it harder for attackers to access the consumers' sensitive information.
Real-time alerts: Your finance management app should notify users in real-time. It helps to boost the confidence of customers.
# Biometric security measurements: It includes unique characteristics of the users such as voice, face, or fingerprint pattern.
● AI algorithm
No wonder, Artificial intelligence algorithms can help you immensely. With the help of an AI algorithm, you can personalize the user experience. AI can make your personal finance management more effective. With AI, you will get help to incorporate expenditure categorization. Additionally, it looks into expenditure analytics, which automatically updates you with data visualization of your money.
● Simplicity
Noone prefers a money management app with complex procedures because it involves crucial details. So, simple finance apps are your key to the user's fondness and loyalty.
You should keep the golden rule of 3 clicks in your mind; that is, three simple tips should be enough to lead the users to wherever they desire.
● 24/7 customer support
24/7 customer support is of great importance. If you integrate customer support features in multiple languages, it will get you a global clientele and keep your clients loyal.
● Alerts and notification
It is considered one of the most significant features of a finance management app. This feature can help users in numerous cases such as More expenditure, Low balance in the account, Upcoming bills to be paid, Great deals for investment or savings, and many more.
Final Words
We hope that this post has helped you get an idea of what you require to create an app for personal finance management app. So, if you want to conquer the market with your unique finance management app, reach out to an experienced mobile app development company to build it. It is the right time to hire a development team of Mobulous to bring your idea to life.
Read Also:
Mobulous – How are we working to mitigate the impact of the Coronavirus?
Services Provided by Mobulous to satisfy entrepreneurs, enterprises, & startups needs
Top 3 Questions to Ask when outsourcing app vendor