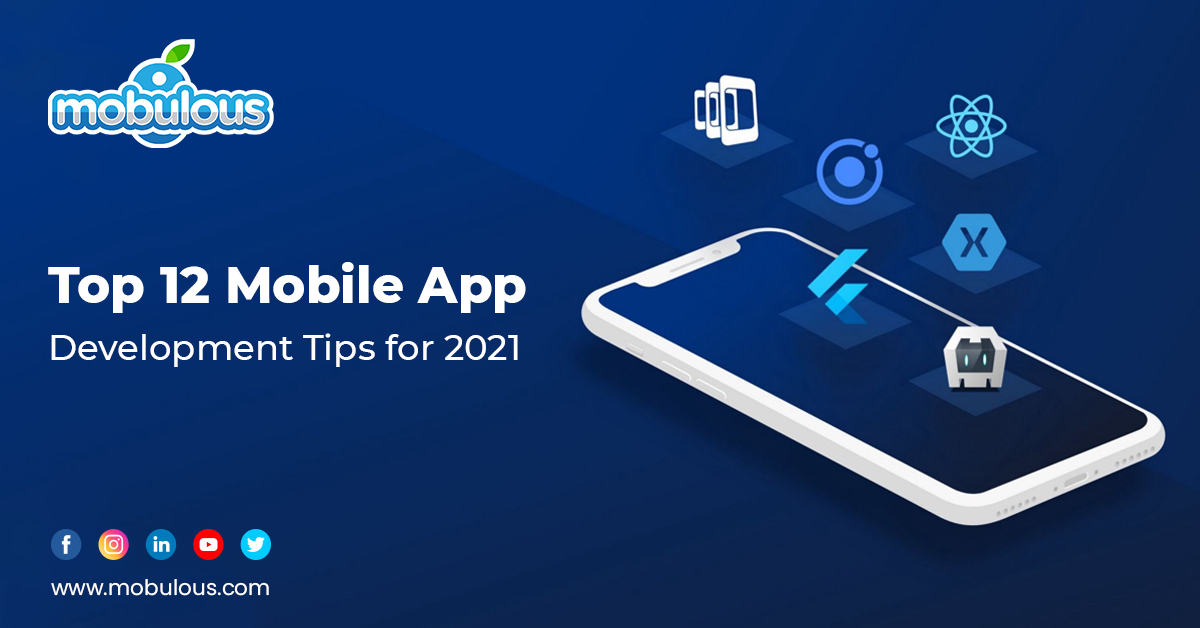 In this digital era, we can't think about our lives without smartphones. It has now become a day-to-day part of our lifestyle, and the different mobile apps integrated into our mobiles are becoming the need of time. Mobile app development is a booming sector, and people are eager to learn about it. If you are thinking of developing a mobile app but are confused about where to start. Here, we provide some fantastic mobile app development tips that help you increase sales and revenue through your mobile app.
Mobile User Interface is essential during mobile app development. The user becomes the focus of interaction with the device. UI uses both hardware and software components. Mobile UIs usually target a user-friendly and tech-savvy interaction of the user with the application on the mobile phone.
 Top Mobile App Development Tips Which Will Boost Your App Growth
There has been an ongoing growth in start-up apps and enterprise apps that focus on health and fitness apps and in-app purchases for gaming apps. This has led to the growth of the mobile app development market. Here we are providing you with mobile app development tips which can help you with it.
Tips to Keep in Mind for Better Mobile App Development
Find Out Users' Likes and Dislikes
You may have invested nights and days into your app development, but there are still high chances that people might not use your app. These will keep happening unless you encourage them. So knowing the like and dislike of the user is crucial mobile app development tips you should take care of. They will not be excited about your app unless the users are being helped in monetary terms. You must keep checking your likes and dislikes on the google play store app. Then you have to perform more profound research regarding the dislikes and work on them. The improved app will motivate users to go for your app because they'll know that their complaints are being heard and worked on.
Use Development Tools and Frameworks
You can design the UI and UX of the app by following the guidelines given on google. But you will find it challenging to build, test, and modify the app without using frameworks and development tools. These tools help you add more features and functionality to your app without writing any extra code. You can even test and maintain the app regularly despite rapid iterations. You can even opt for the open-source mobile app development tools to accelerate the process without increasing project overheads.
Keep Limited Ads and Banners
In these times of advertisement marketing, people find it annoying if, for every click, an ad pops up. It makes users lose interest, and they ultimately stop using the app. So to build a successful app, you have to avoid the overuse of ads and banners. A consumer can uninstall the app anytime if he finds that it is bothering his browsing experiences. It is a crucial and broad hint for every developer out there. If users find their screen cluttered often, they will go ahead and delete the app, so using these mobile app development tips, you can allow them to stay with you on the long journey.
Cloud-based technologies have become popular these days because of their advanced technological features. They help you overcome device and operating system fragmentation issues while developing Android apps. You can even use cloud-based technologies to build apps without having to maintain physical infrastructure. Some tools make the app more responsive, and they help provide similar experiences to users across different mobile platforms. You can use this technology to customize the app without actually changing the app's functionality or the stored data in the app. It is one of the most innovative and latest mobile app development tips to adapt for your application development.
Most companies allow employees to access business apps on their mobiles. Therefore, they store most of their personal and business details on their phones. The more innovative and more experienced users often assess the security options of an android app before installing it. You must research well and use robust security features on your app so that your user's data remains secure despite data breaches or malware attacks. Also, you need to identify if there are any loopholes in your app, which might induce a malware attack.
One feature is gaining a lot of attention from both developers and enterprises. It is the way an app behaves when the internet is off. If some apps can act quite normally even in the absence of the internet, the user is more likely to stay on that app more. It is one thing that makes an app a big success these days. Try to build an app that works just fine, even when offline.
Embed mCommerce Features and Mobile Payment Options
In addition to accessing websites through mobile, customers also prefer mobile commerce to electronic commerce faster and save time. So you should make sure to embed some mCommerce features on your app, which will allow users to buy services and products on the spot. Besides this, you also need to ensure that mobile wallets and mobile payment options are also available in your app. Availability of options like Gray or Paytm allows users to make transactions without debit or credit cards.
Millions of applications in the market are fighting to get to the top. So your app needs something out of the ordinary to get noticed and downloaded. While developing your app, support the application through search engine optimization (SEO) and Application Optimization (ASO), which will increase the visibility of the newer applications. Hence, your app will have a greater chance of being noticed.
In a fast-paced world, users hate slow-running apps and keep lagging. Hence, it would help if you found ways to make your UI fast and responsive. You can make your UI responsive by simply maintaining the layouts simple. Avoid designs that are deep and nested. Also, check the run time of individual operations and debug the UI by removing all the time-consuming tasks from the main thread. This will make your app quick and responsive.
Irrespective of the platform, updates are significant. A significant update in the OS can turn the tables on your app. If your app can't meet the requirements of the newer version of the OS, then it would be a big issue. So you need to take care of these mobile app development tips and have to stay up to date with the latest releases so that your app can prevent the problems mentioned in the new platform.
Limit Your App for One Reason
Develop your app in such a way so that it targets only one function. Don't make an app that can unzip files and also convert images to PDFs and at the same time gives GPS service. An app that provides only one service and in an expert way is bound to have more success.
Test the App Continuously
Despite putting in extra effort, you might not build a flawless app. So you need to keep testing it constantly under various platforms and conditions to keep its functionality, usability, and security under check. Try to use specialized Android tools to evaluate the app repeatedly.
Final Words: Top Mobile App Development Tips for 2021
Here we have covered all the essential and crucial mobile app development tips to help you come with an excellent app. Meanwhile, developing an app also requires the correct monetization option to make it profitable in the long run. In today's market, the need for Android apps has increased by leaps and bounds. So if you can combine your skills and monetization options appropriately, your app will have total efficiency. You can choose your monetization strategy from various options like in-app purchases, in-app advertisements, sponsored ads, and affiliation programs. With all these tips in mind, I hope you'll be able to build your own successful mobile app.