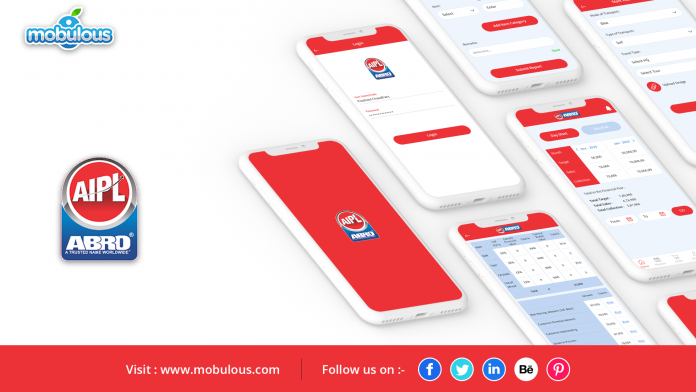 Mobulous, a mobile app development company, is always known for delivering new and innovative apps for our esteemed client. Here, meet another developed app AIPL, an ERP system that goes live in our list of live app. The app is available on both platforms- Android and iOS. It has incredible features and functionality, with no bugs. Now, you must be wondering what this app is all about, features integrated into the app, and also how this app benefit organizations and companies. So, without wasting more time, look at the below information that will help you know better about this app.
About AIPL
AIPL is an ERP system which is basically developed for the employees of the company. Salesperson's daily activity will be tracked, and his daily performance report will be visible to his manager. A salesperson will be able to start his day. After starting the day his complete activity will be noted, he will be able to fill the orders of the retailers and distributors by visiting their place. And, the order form will be only accessible once he will reach to their location and the location of the distributor and retailer will be saved in the system.
Employees will be able to create their monthly planner, which will be approved by their seniors in the hierarchy. All employees will be able to view their own and their junior reports. There is a reward facility that is also available for the users, which will be provided to them as their work performance.
What are the features we integrate into the AIPL app?
Home
We have implemented a login/logout system for the users. So, they can log in to the platform and play with its features. Our team has added a "Day start button" for users to mark their attendance on the day started. If users are unable to do that, then we have also added a notification form, which will ask you – "You are not started your day? Are you on leave?"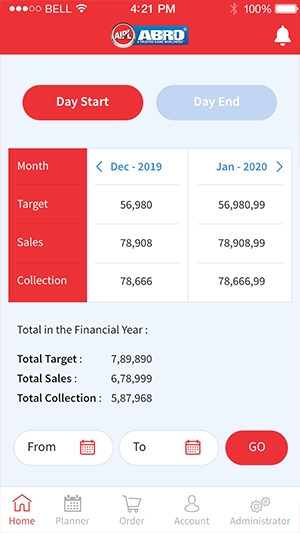 Mode of transport
AIPL team has also added the "Mode of Transport" feature to let the system know that you are traveling/coming to work. We have added many features related to transportation. It will help the system to keep track of employees efficiently.
There is also a "Day End" feature in which users/employees must be entering the end time, which will be further stored in the database.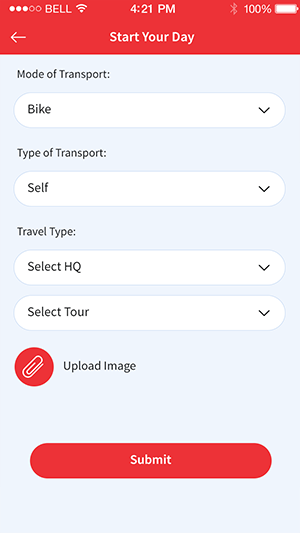 Planner
Our team has made a "Planner" page where users can create his/her monthly planner up-to three months. Not only can users create their planners but also edit them.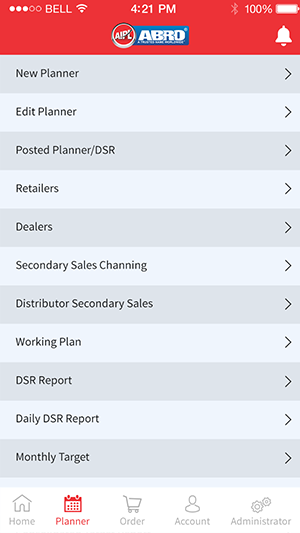 Retailer
Creating a retailer is another great feature added by our team, which will allow users to add new retailers and their details (e.g., name, state, city, address, contact, etc.). Along with it, dealers can also be created/edited with their details in the system.
Our team has customized the system such that it can create some DSR daily and monthly reports, target reports, and consolidated target reports.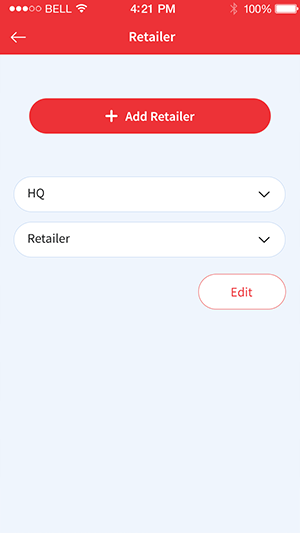 What are the Benefits of AIPL?
AIPL is an ERP that captures the work performance and activities of the employees. It used to be very complicated in old times with all the paperwork and storing manual paper scripts/forms. With the evolution of technology and databases, it has become easier for employees/workers to store their information.
Why should companies also develop this kind of application?
As technology and its developments are at its peaking high, manual entries have seemed to be outdated. ERP systems have made it easier for humans to fill the forms, and they will be stored for infinite periods in the databases. Since our network has been making it easier for the employees to track their activities and daily performance, we feel app development companies must switch to ERP like ours for an ebb-flowing seamless experience to capture employees' work performance.
Want to create an app like AIPL?
Do you also like the features and functionality of this application? If you are planning to develop an app like AIPL, then choose us for your app development project. We are the leading mobile app development company in India that develops an out-of-the-box app for the clients.
If you have any kind of mobile app ideas for your business, then share your ideas with us, and we promise to make your dream app into reality. Our dedicated mobile app developers can build complex apps in no time. They have all the requisite skills and keep themselves updated with all the latest tools and mobile app trends. For further information related to mobile app development, stay in touch with us. Hire us for your next app project!
Product Live Links:
Google Play: https://play.google.com/store/apps/details?id=app.aipl
Access AIPL App's UI Case Study: Coming Soon
Get in Touch with our Sales Team for Similar App Development Enquiry: sales@mobulous.com