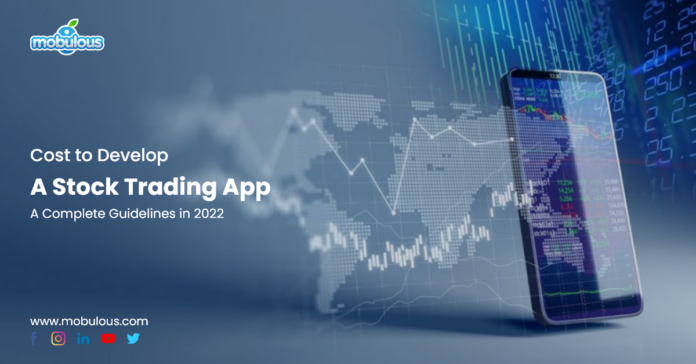 Cost of Developing A Stock Trading App- Complete Guidelines
In today's world, everything is shifting to the digital world, including stock trading platforms. Earlier, people depended on stock exchange agents to invest in the financial sectors. With the stock trading apps, investing in the financial industry has become easy. The stock trading app lets people buy and sell stocks quickly via smartphones.
If we talk about the stock trading apps, Robinhood or ETRADE is considered the first preference of people.
This article will discuss the cost of developing a stock trading app and many more.
Stock Trading App- Introduction
Consumers now have quicker access to services and goods thanks to recently developed mobile applications and websites.
Like digital solutions, stock trading solutions use various applications, websites, or both to make trading more accessible and easy, choose tactics, and update and manage investment portfolios.
Apps like Robinhood allow users to invest in stocks for free. The app presently has 22.5 million active users, and in 2021, it will have completed transactions worth more than $150 billion. People's curiosity in investing money is mainly driven by the increase in stock market app development since they view it as a relaxed opportunity.
Eager to know how the stock trading app like Robinhood works? So, let's have a look at the below-mentioned points-
Join the app, register there, and connect any of your bank accounts.
Decide if you want recurring deposits or one-time transactions.
Buy stock and wait for it to appear on the screen with its current trade.
Sell your stocks in the same manner that you bought them.
Stats About The Popular Stock Trading App 'Robinhood'-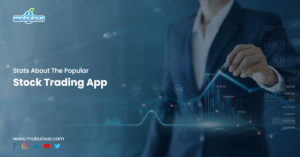 There are around six million users available in the Robinhood app.
According to the report, the market value of the Robinhood app is over $7.6 Billion.
The Robinhood app has around $860 million of the total funding.
The app has executed over $75 billion in transactions.
78% of Robinhood's users, under age 35, want to create savings and develop relationships with the brand, as they did with social networking platforms Instagram or Twitter.
The average age of Robinhood users is 28-41, and the majority of them use the application for making their first stock purchase.
The proportion of stock markets in each country by 2022 is shown in the graph below. A total of around 56 percent of global stocks are held by the USA in this. Japan and China have the most shareholders, followed by the USA.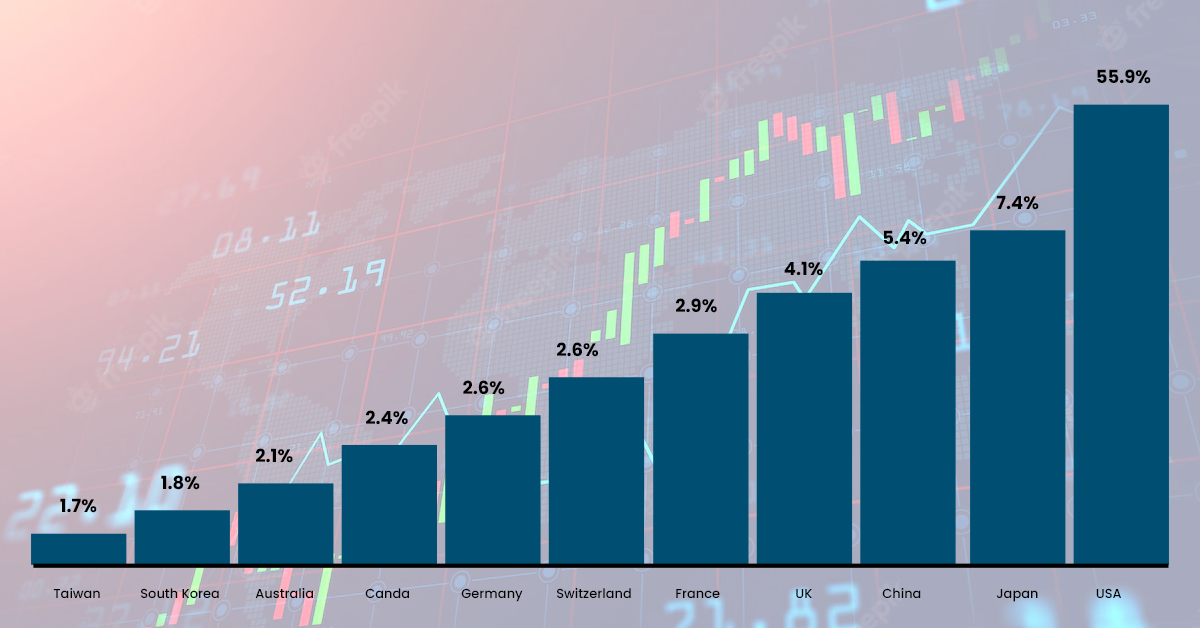 Before we discuss the cost of developing a stock trading app, let's know the leading apps in the market-
As you have prepared your mind to develop a stock trading app, so you must know about the leading players that have dominated the market-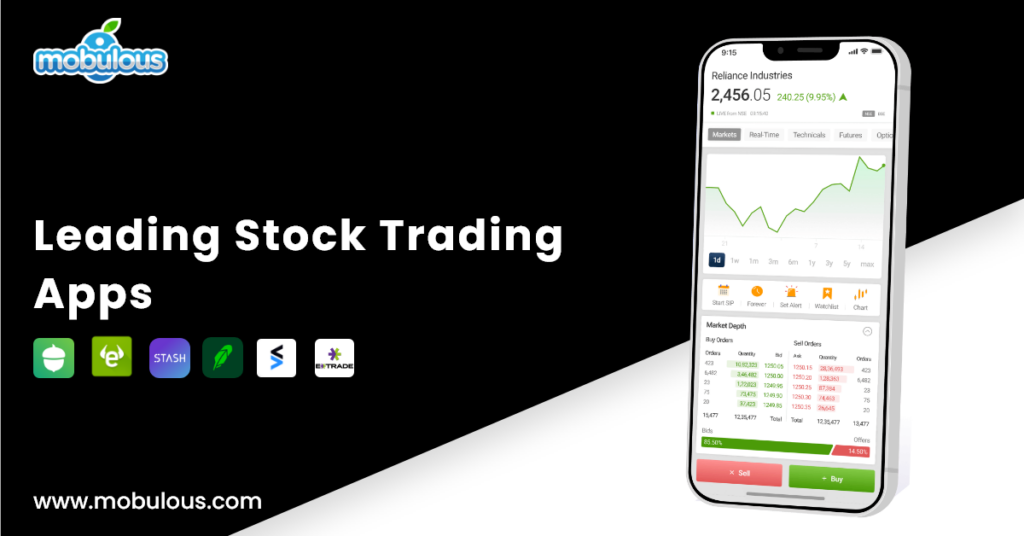 Robinhood

E-trade App

Acorns

Stash

eToro

StockTwits
Monetization Strategies of Popular Stock Trading Apps
It would help if you connected with the mobile app development company to build your stock trading app. Let's know the different ways to generate revenues from the stock trading app-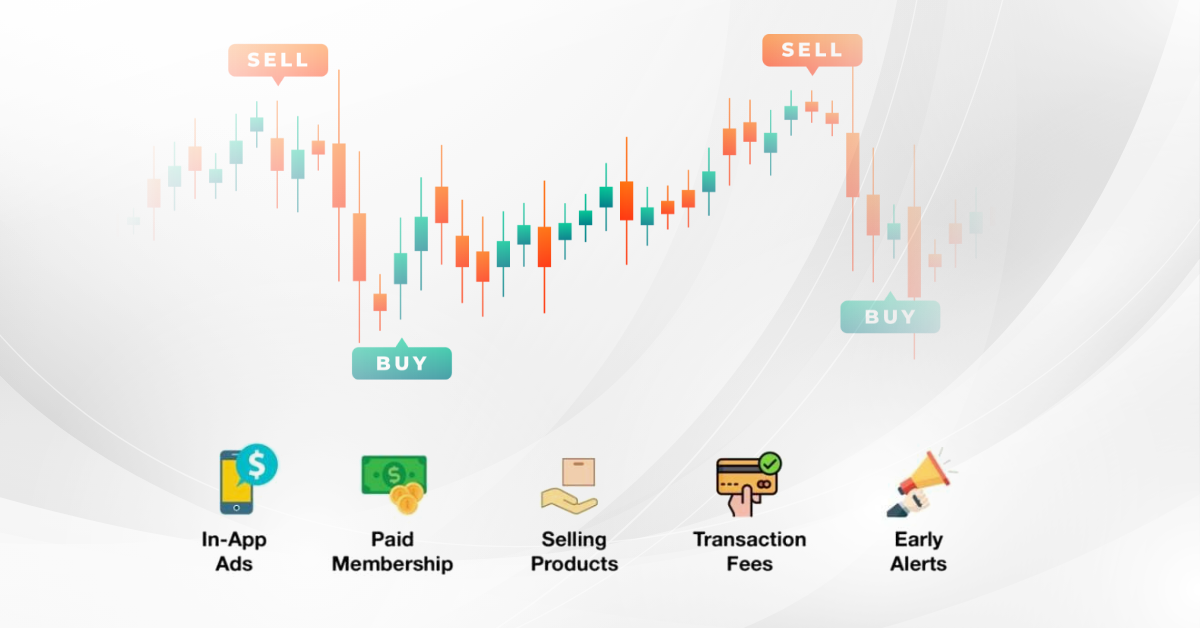 Owners of stock trading apps may intersperse their paid services with advertisements for other fintech or insurance firms.
Users must buy the app membership to enjoy the additional or advanced features. A paid membership is one of the most effective strategies to increase users' attention and enhance revenue quickly.
With this strategy, you can sell different products related to stock markets such as insurance, mutual funds, and many more to users and earn money.
Every transaction that users perform through the app will be chargeable. That means you will get a transaction fee if users do any transaction through the app.
If users have paid early alert facility through the app, they will get early alerts about the products to sell before other app users. Therefore, the app can make good money through it.
Features That You Must Include in The Stock Trading App-
The dashboard is a feature that allows users to get various services such as order status, charts, balance, watchlist, and many more. It will include all information that the user can only access.
The feature provides all the information about the stock market and guides them to invest in the best trending stock in the market.
Users of stock trading applications can create an investment portfolio that helps them make investments. That means enabling individuals to buy and sell stocks on their own and invest with the aid of an automated algorithm.
Only verified app traders are permitted to select stocks using this function, which uses the sorting option to collect all the necessary data from the ledger, including transaction records that are effectively suggested.
Smooth Registration Process
The stock trading apps include an easy and secure registration process. The users can enter the app by adding their phone number, social media accounts, Email ID, and more.
Users can combine biometrics with Touch ID technology for even better security.
It is one of the most valuable features for both traders and investors. With the stock analyzing feature, users can browse for current and trending stocks and their market values.
Users have the right to change their mindset or preference whenever they want. The feature enables users to modify their profiles by their continued interest in stock trading.
With the real-time notification feature, Investors can learn about the newest stocks or receive information on how their acquired stocks are performing in the market.
Users can easily stay up to speed with recent stock market news.
A watchlist is another practical feature that allows customers to keep tabs on a particular stock's performance in the market and store it on their watchlist for future purchases or sales. With this feature, users don't need to keep looking for the stocks they are interested in.
The multiple payment options benefit the users as they can get various payment options within the app. This feature keeps users reckless and relaxed.
Some of the Top Benefits of Stock Trading App Development-
As we are discussing everything related to the cost of developing the stock trading app, you must know the top benefits of the stock trading app-
A Large Number of Investor
In today's world, the number of investors is increasing rapidly in the stock trading app. Investors prefer stock trading apps to invest in the share market as these apps are fast, secure, and provide easy transaction and real-time updates. Users can quickly check their targeted shares anytime, anywhere, and earn significant profits.
Verified & Original Data Analytics
Most investors want a reliable stock trading app with verified data analytics. The familiar problem investors face is that the analytics provided by established rival companies are inappropriate.
So, now businesses can offer customers an app that will provide them with the best advice. That's how you can get more investors to your app.
Significant Profits and Maximum Revenue
Your profit will remain consistently high from the cost of developing a stock trading app. If a stock trading app is effective enough to provide users with enhanced security and simple functioning, it can help investors to achieve significant profits. The primary cause of anxiety for many investors is the share market's lack of security.
Therefore, if your app is safe, you can get numerous users globally.
You don't require a broker when you have a stock trading app on your mobile. So, if you earn a profit, it will come to you only and the app owner. The stock trading app is beneficial for both parties.
If you contact a broker, you need to pay him some amount, but with the app, you don't need to pay anything to anyone.
Steps For Stock Trading App Development Followed by App development companies-
Identify The Market Research
The first step to creating a unique, feature-rich, and unforgettable stock trading app is to identify all the latest market trends and current requirements. With the current requirements, you can understand your target users and integrate unique features of their choice. You can also get to know your competitor.
Choose The Right Platform
In the modern era, people have two choices- iOS and Android platforms. When developing your stock trading app, you must select the platform you want to target users. This decision is also based on market analysis.
You can choose to hire iOS app development services, Android app development services, or both, but your desired customer base must be included.
The cost to develop an Android stock trading app will be a little lower than the cost of developing an iOS stock trading app.
You must go with the best fintech app development company that can build the best stock trading mobile apps.
There are regulations for digital businesses in every sector that covers money laundering, data protection, client privacy security, source code ownership, and many other things.
You must create unique designs for your stock trading app that clearly states the app's objectives and attract users' attention. Also, you must provide your users with the best experience through the app. Usability testing of the app's design is required to guarantee its efficient working.
We suggest you ask your developers to focus on UI/UX designs.
Frontend and Backend Development
Front-end and Backend development is the crucial stage of the stock trading app development. Ensure to hire fintech developers with sound knowledge of various programming languages such as Python, PHP, Ruby, CSS, HTML, Javascript, and many more.
Once the development phase is completed, you must focus on the testing process. The testing process ensures sound quality, functionality, features, and many more.
If you find any errors on your stock trading mobile app during the testing process, you must correct them and re-check again.
Cost of Developing A Stock Trading App- A Complete Guidelines-
So, you have made up your mind to develop your stock trading app and want to know the cost of developing a stock trading app. Well, we are here to help you and provide you the complete estimates of the stock trading app development-
When it comes to calculating the cost of developing a stock trading app, numerous factors are considered. We have mentioned some of the top factors that affect the cost of developing a stock trading app. However, some more significant factors still affect the cost and time.
Other factors include the app platform, the app type, the features, the technology set, the location of the company you hire, the experience of the developers, and many more. These factors can significantly influence the overall cost of the stock trading app.
Generally, a stock trading app can be developed in 3-8 months, but it can vary according to its complexity.
European app development company for your stock trading app, the cost will be higher as they charge high per hour. However, if you hire an Asian mobile app development company, the price will be lower compared to theirs.
Considering all these crucial factors, we calculated that the cost of building a stock trading app would be between $30,000 and $60,000.
However, as we've already discussed, the complexity of the app and the business needs will ultimately determine everything.
Final Words
So, in this article, we have mentioned all the aspects you must know about the stock trading app development cost and features. You must carefully read all the essential things we have said and decide what you want in your stock trading app. Which type of app do you want? What are your requirements? Do you want your app on Android or iOS platforms or both? Which app development company can understand your needs?
Finally, the choice is yours, as we have done our part by educating you on all the essential details of creating a stock trading app. We hope you will find the content of this article helpful.
Contact us for Trading Mobile Ap Development Solution:
sales@mobulous.com or Call @ +91-9650100411