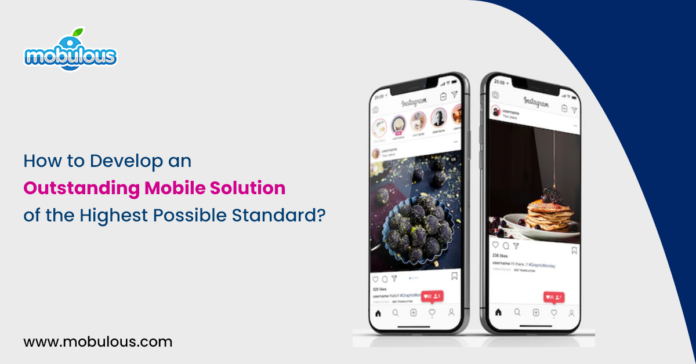 Mobile applications are crucial for every industry today. These smart apps perform as strong business tools as they add significance to them, enrich their productivity, and improve their customer base. They broaden the spectrum of the company by establishing a closer connection with the buyers. 
Android app development takes in the design and mobile user interface. They involve fast loading ability, differentiated animations, and much more.
There is no shock that there is a growing necessity for android development worldwide. Industries want to create a considerable existence on this platform so that they can engage with the large user base.
Customized App Development Strategy
"Tech will transform from something we actively use to a more seamless integrated experience that is 'on' all the time." – Daniel Baek, Co-founder of Nodes
Every app program is distinct yet unique. It needs special attention. That is why considerable time is required for planning and research. These are the areas that an android app development company looks after:
Software without bugs is nothing more than a failure.  A team of excellent analysts makes certain that the application is assessed against various test modules.
Bugs in the performance

– 
Applications and bugs do not go hand in hand. Bugs need to be fixed before launching it. 
Android application development needs to ensure that the application runs smoothly and consistently by delivering regular maintenance.
Final Words
Mobile app development has been growing fast, primarily in a revenue and jobs-related industries. More to the point, as part of the application development process, mobile user interface (UI) design is also crucial in the innovation of mobile apps. Enhance the growth of your business with user-friendly and simple android apps for tablets, and smartphones.
Mobile app development is evolving more significantly for many companies. With Android being the most extensively used device, the market for android apps is very big. Companies are establishing feature-rich mobile applications for various platforms and with diverse technologies. These mobile applications can be pre-installed on phones by manufacturing platforms. 
Comprehensive android app technology expertise is needed to be capable of delivering high-end apps that match the needs of clients. Android application development companies showcase only a fraction of what they are capable of.
In addition, deep linking, GPS, and Wi-Fi Bluetooth integration are some of the groundbreaking ideas that are being embedded in applications. The app development world has numerous ideas to be explored and executed. If you wish to have a recurring edge app, set certain standards for your app. List your requirements to the developer and let him link them with the latest technology and ideas.
At Mobulous, we are exceptionally proficient and our teamwork and coordination talk volumes about our objectives. For your information, we are always at tip-toes to help you with the best of our services. Our Mobile app development company can deliver apps in multiple niches. A few of them are education, travel, logistics, healthcare, gaming, banking, beverage, booking & ticketing, apparel, cosmetics, gifts, and food.