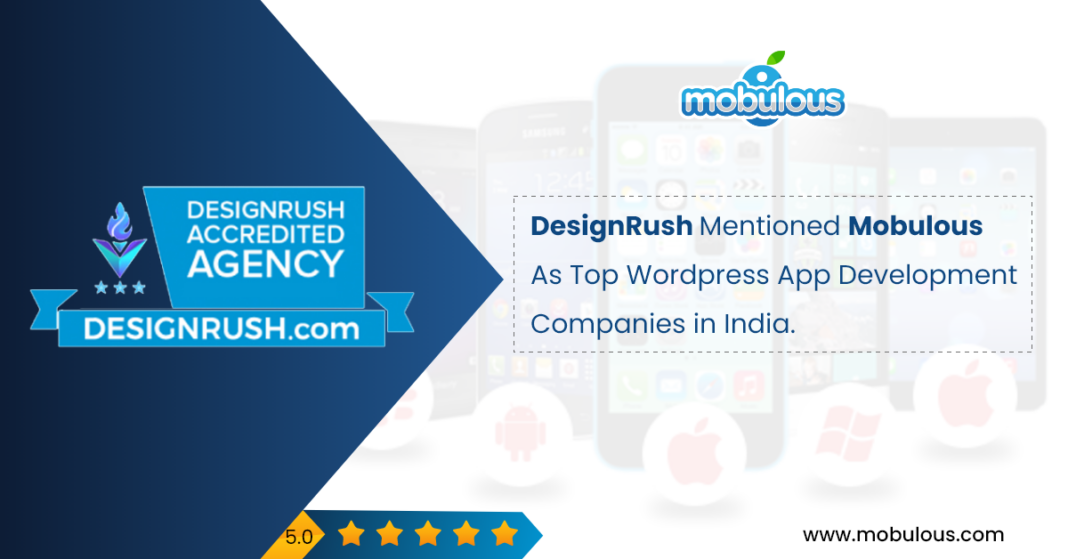 DesignRush Mentioned Mobulous As Top WordPress Development Companies
We are super excited to share the news that the 'DesignRush team mentioned us in the "Top WordPress Development Companies" in the India list. DesignRush is one of the leading software development companies for review and rating websites.
It is an honor to get such distinguished recognition, and we must admit that it surprised us. We appreciate the recognition and will do all in our ability to earn this award's high standard of accomplishment.
After putting in a lot of hard work and commitment, getting such recognition is an exhilarating achievement. Being recognized by a respected organization for your team's dedication and diligent work feels lovely. More than ten firms have granted their worldwide endorsement to our company.
About DesignRush
DesignRush is one of the top companies that assist organizations in finding the best full-service agencies, web design firms, digital marketing agencies, and leading technology companies. Design rush is your trustworthy guidance in finding the best WordPress development companies, categorized by their areas of expertise.
Gianluca Ferruggia, a professional in digital agencies, launched DesignRush in 2017. DesignRush has a dedicated team with deep agency industry experience. When businesses encounter the challenges of choosing the ideal business partner for their upcoming digital project, DesignRush comes to life to assist and advise them.
About Mobulous Technologies
Mobulous was introduced in 2012 by tech ninja Mr. Anil Sharma with the sole motive of providing the best mobile and web app development services worldwide. Mobulous is a leading WordPress development and design company based in India with branch offices in USA, UK & Australia. The company has trustworthy clients globally.
We offer end-to-end mobile and web app development services to companies ranging from small start-ups to large enterprises. We have a unique and dedicated WordPress development team that can easily create even the most complex apps. Our team has successfully created WordPress for top Android, iOS, and Windows platforms.
The best thing about our developers is that they maintain speed, innovation, and quality in WordPress.
We work on the most delinquent technologies, such as AI, Blockchain, and ML, to provide users with the world's best mobile and web app development solutions.
We are the partner most frequently endorsed and suggested for correctly completing the work from most reviews and ratings companies. People in the USA consider our company the best WordPress development solution provider.
Wrap Up
We look forward to working even more challenging to keep the title of "The Best App Development Company in India " bestowed upon us. We have no words to express our gratitude to everyone who has supported us. We are honored that the DesignRush organization saw our efforts and decided to give us such beautiful recognition. It was one of the most critical moments and such a fantastic sensation.