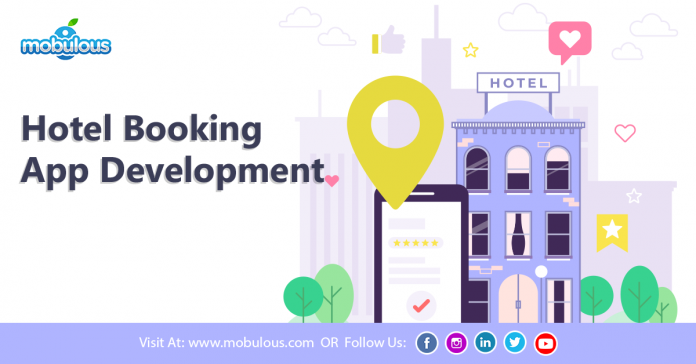 Technology impacted the way of living.
With the emerging technologies, it has drastically changed the lives of every human being & almost everything in it. People are nowadays switched from desktop to smartphones. According to the Statista report, the number of smartphone users worldwide surpasses three billion, and it is expected to grow a hundred million more in the next coming years. Smartphones have gained incredible popularity with increasing technology. Mobile phones have become a part of the young and mid-age era people, and the use of application allows them to do anything on their phones.
Technologies have become smarter and offering comfortable lives for people. Now, people can do almost everything via mobile apps, from booking cab & ordering food to plan a trip and booking a hotel. Every app is available for what you think of.
Why should you develop a Hotel booking App?
And, the travel industry is also not far away from the world of technology, that means the travel industry is changing and is rapidly becoming super high-tech. The number of travelers all over the world are becoming more familiar with the advanced and growing technologies. So, if you are running a hotel business, then it is crucial to embrace mobile app development and technology trends to reach out to the huge audiences across the globe.
Hotels are now not only reserved for the people who are only pigeonholed as a tourist, but they are also getting booked. People are using a hotel app to book the hotel hall for a business conference or corporate events and also for overnight stay. If you want to promote your hotel business or improve service quality, then you need to consider developing a hotel booking app.
If you are wondering how much does it cost you to develop a hotel booking app for your inn, then in this blog, we will tell you the hotel booking app development cost and also the factors that affect the overall cost.
Analytics & Statistics of the Travel Industry
According to Statista, the contribution of travel and tourism industry is over 247billion to the country's GDP, and it is expected to reach $500 billion by 2029.
More than half percent of millennial admitted that they use mobile applications whenever they need to search and book for proper accommodation.
Hotel Booking App Development Cost
Several essential parameters influence the cost of a hotel booking app. The cost of application depends on many factors. Here are some essential elements that make up the overall cost are:-
Choosing App Development Company: It is quite difficult for people to find the best company to build an application for your project. Finding the perfect tech company is not as easy as it may seem. There are numerous app development companies available in the market, and choosing the best and reliable one is difficult. Once you finalized the company for your app project, then there is no going back option. So, choose the company very carefully. Before you choose the company, look at the company's position in the market, check out the company's reviews, and also check their portfolio and applications available in the app store.
Choosing the company on the hourly-rate basis, then here are the cost of the company according to the country you choose:
• North America – $100-150
• Asia Pacific – $15-20
• Western Europe – $45-75
• Eastern Europe – $20-35
Platform you choose: Mostly business people are confused to choose the right platform that meets your business needs. This is the biggest question to go with, whether iOS or Android. There is no accurate answer as choosing the platform mainly determined by the business needs and the audience that you want to target.
If your target audience is located in Asia, then you must choose the Android platform first because the majority of the population there use Android smartphones. While if your target audience is from North America, then prioritize the iOS platform as your first app launch platform because mostly there are IOS users.
Apple has a devoted user base that is open to new apps, and also ios apps run consistently on all the devices.
Android app development takes more time and money to build a successful one that can run accordingly on all devices.
I recommended you to develop a native application that can run seamlessly on all the major platforms, and also it reduces the app development cost.
No. of features: The development cost depends on the no. of features and complexities of the application. The more you include elements in your application, the more the development cost would be. So, think wisely and include features that provide users convenience and comfort.
Essential Features that you integrate on the Hotel Booking
Signup
Saved Places
Travel Guide
Payment Gateway
Personal profiles
User dashboard
Search system
Security
Geolocation function and maps integration
Ratings and reviews
Notifications
Wrapping Up
All in one, the cost of a hotel booking app is approximate $20k to $50k. However, providing users a smooth and seamless experience is the major aspect that requires time and money both.
If you are looking for a Hotel app development company, then get in touch with us. We at Mobulous provide a great application that boosts your business ROI.
Read Also:
Building an app like Oyo Room and its development cost
Services Provided by Mobulous to satisfy entrepreneurs, enterprises, & startups needs
Top 3 Questions to Ask when outsourcing app vendor