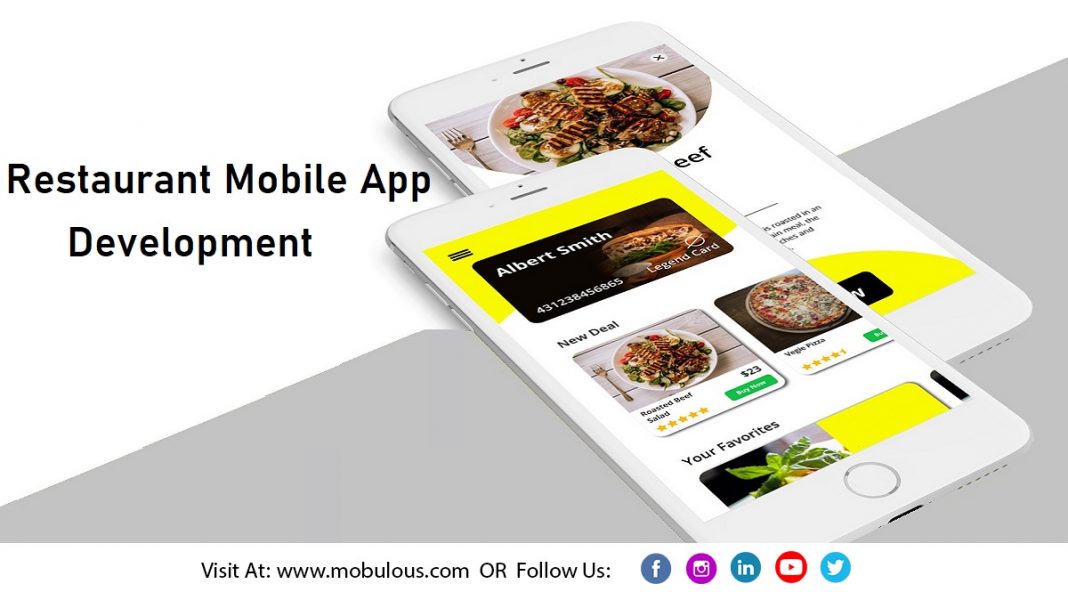 Over the last few years, we can see there is a significant increment in the number of smartphone users. These days, customers are reviewing or rating products or services online through mobile phones, tablets, and so on. It has made almost things so comfortable as well as accessible for the users. It has a significant impact on the economic growth of any industry. There are apps available for almost everything.
The restaurant is among the top business that gets immense profit from the apps. According to the report, more than 80% of customers search for a restaurant or any other eatery place with a mobile app. No wonders mobile app is a great blessing for a restaurant. If you don't have any mobile app for your business then, you might face quite a considerable loss.
Stats of Restaurant Application
According to the report, revenue in the food delivery segment amount the US $51,239 million in 2018, and in the upcoming years, it is supposed to increase even more.
90% of all the restaurants all across the world employ less than 50 total employees.
Unfortunately, there are only 5 out of 100 restaurant owners have a mobile app.
Over 47% of the average household budget is spent on purchasing food products served by the restaurant industry.
Here, in this article, we will discuss the reasons that make restaurant app development a must-have in today's era. 
Source of brand awareness: Brand awareness is considered as the top priority of almost every business. There is massive competition in the restaurant industry these days.
Mobile app development for the restaurant is one of the most comfortable ways of exposing customers to your brand. Apps help to communicate with users, send them promotion offers, discounts, and every information about your service.
Customers can check your menu: The first and the foremost benefit of having your mobile restaurant app is that it allows your customers to check out all the menu list, including price before they make a reservation.
Great deals and discounts: What's the first thing that attracts most of the customers? Well, people always get attracted to words like 'huge discounts,' 'great deals' etc. The mobile apps are a practical yet most accessible way to flash discount notifications and new considerations. You need to update the app, and the customers will get the notice on the latest deals and discounts.
Get Customer Feedback: It helps you to get instant feedback from customers about your food service, including food taste, atmosphere, staff behavior, and other stuffs as well. This will help you to enhance your service by identifying where your restaurant business is lacking and thus removing the lacking things. Through reviews and ratings, all you can do is gather feedback and make the necessary improvements regularly so that customers can see your efforts that you care about your customers. This can keep you stand out with your other competitors in the market.
Growth in your booking: The most crucial aim of any restaurant is to get a massive number of customers. The mobile app helps to increase your customers as rapidly as it allows your customers to make online reservations, order food, and write reviews so quickly. As we know, these days, reports have become an essential factor for the success of any business. Customer's positive and valuable comments always help you improvise your service and also attract new customers.
Final words
As we all know, there are many restaurant apps available in the market. And, customers want convenient and easy things as they avoid wasting time and overthinking on things. Make things and services easy for them so that you can retain customers with your app service. To make things easy, it is necessary to develop a restaurant app for your restaurant business so that your customers can book a table, and also other things about your menu chart, special offers, and discount.
If you are planning to develop a restaurant app or looking for a top restaurant app development company, then keep in touch with us. We at Mobulous, have years of experience in this field and can develop a feature-rich, & interactive app that can take your restaurant business to the new heights. If you have any queries related to mobile app development solutions and services, then give us a call back or consult with our sales team.
Read Also:
OWIN APPS – Delicious Food At Your Doorstep
List of the best online food delivery app and features of cooking on-demand mobile app
Why should you invest in Restaurant App Development?
Why Restaurant Business Need a Mobile App?
Ethics of the Best On Demand Food Delivery Apps Development in the world
Deliver delicious & tempting food with help of Food Delivery Apps
Access Our UI Food Delivery Apps Case Studies:
Get in Touch with our Sales Team: sales@mobulous.com