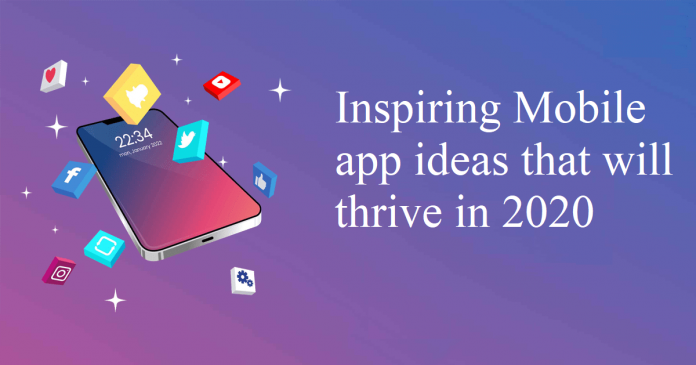 In today's tech-savvy era, mobile phones have become one of the essential things. Remember, when was the last time you got something done without the help of a mobile app? Well, just like me, you too don't remember that.
A great app idea can transform every core of your business. For almost every work, there is a requirement of an app. Whether you want to purchase groceries or buy movie tickets, purchase garments, or to get entertainment. According to the report, there are approximately 3.2 billion smartphone users in the world. Hence, there are about 2.2 million iOS Apps, and 2.6 million Android Apps are available.
An implementation of the advanced feature in an app can provide you immense profit. For example, L'Oreal Company combined AR (Augmented Reality) to make a virtual make-up app. With this cool feature, the app got an emphatic response all across the world.
Some crucial Stats of Mobile Apps
• According to the report, consumers downloaded 178 billion in 2017, and the number is supposed to be 258 billion at the end of 2022.
• Approximately 25% of all mobile apps are games apps that are 2.5 times the number of business apps.
• In the U.S, almost about 50% of smartphone users download zero new mobile apps per month.
• People spend 38% of their mobile app time in social networking & music apps.
• In comparison to older generations, new generations are spending more time on mobile apps.
Inspiring Mobile App Ideas of 2020
Here, in this article, we will discuss some mobile app ideas that can inspire you in 2020:
Travel & tourism app: Almost every one of us is fond of traveling, but finding the best and unexplored places in a different region is indeed not that easy task. Undoubtedly, travel & tourism apps are one of the easiest ways to help users to know everything about a particular destination. Right from the popular restaurant to tourist sports to another big thing available in a specific location.
So, this would be one of the best app ideas in 2020 to attract a massive audience.
Fitness app: As we already know that today's generations are so much health conscious. You can create a fitness app that helps users to get workout information and track their progress. These apps are mainly available for both of the significant platforms, including android and IOS. The fitness app is indeed one of the best app ideas in 2020.
Dating apps: No wonders, technology has taken over every aspect of our lives, whether it's our professional or our personal lives. Dating apps such as tinder is one of the perfect examples of that. The app allows numerous people to interact with the person of their choice by checking their profile.
You can create a dating app with some additional unique features that can attract a massive number of users.
Instant messaging app: Isn't instant messaging app is one of the most refreshing app ideas in 2020? Well, Whatsapp is indeed one of the best instant messaging apps that have massive users. The instant messaging app is quite popular among users. Most of the messaging app allows its users to share media, audio/video calling, contact, sticker, and so on.
You can create an instant messaging app to get successful in a short period.
Some basic FAQs about mobile app ideas
• How do I protect my app ideas?
Legally, there are no rules to protect any app ideas. But some ways can help you to protect your app ideas such as non-disclosure agreement, register a trademark, and avoid sharing information with everyone.
• How to explain your app ideas to the development team?
Explaining your ideas among the development team is indeed one of the most crucial tasks. All you can do is present it with user stories, visual mockups, flow charts, and wireframes, explain the deadline, including your budget, and so on.
Final words
In this article, we have shared some fantastic fresh app ideas that will inspire you in 2020. Apart from the excellent app idea, multiple other factors affect the success of any app.
We hope the app, as mentioned above ideas, will help you to create your dream project. If you are looking to hire an app development company to build your dream app, then, keep in touch with us. We are one of the top leading app development companies, providing services all across the globe.
Also Read:
Mobulous Ranked Top #1 in the List of Most Promising App Development Company – 2019 by Appfutura Review
Services Provided by Mobulous to satisfy entrepreneurs, enterprises, & startups needs
PHP vs. Node. JS: Which is best for the project
Leverage the Potential of Hybrid mobile apps to Power your Business