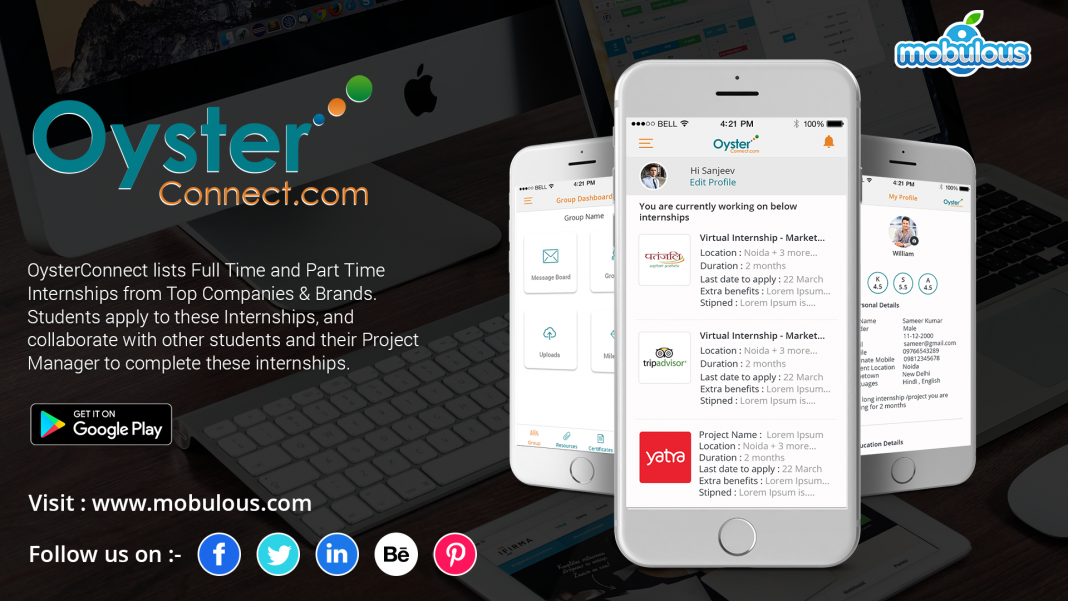 So, here is your wait ends with this newly launched app, "OysterConnect," a platform for students who are seeking for an internship. Mobulous, a top web and app development company in India, introducing a new app for all the students out there. The app is so unique in its own way. In this article, we will discuss the various essential features of this app.
About the App "OysterConnect"
The OysterConnect is a fantastic app that was introduced on 14th October 2019, by our professional team of developers. It provides a platform for numerous students out there who wants to collaborate and complete their internships. It has its live website too. It has registered with more than 4, 50,000 students, One thousand two hundred colleges, and 220 cities. It provides skill development opportunities to numerous students and builds valuable industry experiences to them as it works with leading brands all across the globe. With the help of the app, students can work from anywhere, anytime, and earn money with their skills.
How OysterConnect app works?
The app is so simple to use and has simple feature-rich UI. It requires just a few simple steps. Here are the following steps that will help you to know how it works:
Register and create your profile: The app is free to download. All you need to do is register yourself with a mobile number/email and create your profile according to your skill, qualification, and required details.
Browse internships and apply: After creating a profile, you need to browse through the opportunities posted on it. Now, you can apply for any company or brand according to your interest/qualification. And if you get selected by the company, you will be notified by email and text messages.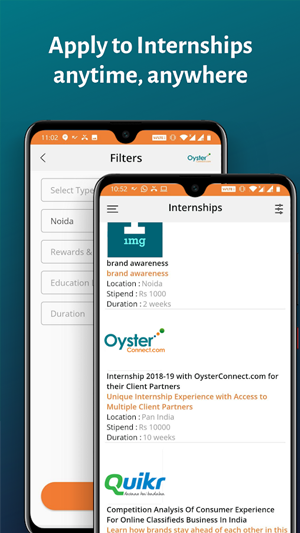 Earn Reward by doing great work: Once you got selected for the desired job, you need to do great work to earn rewards. You must complete all the project milestones. If your work gets approved by the project manager then, you can earn certificates in the OysterConnect Mobile app. Getting rewarded is so much fun at the app. You can also share the received certificates with the world via different social media platforms directly from your app.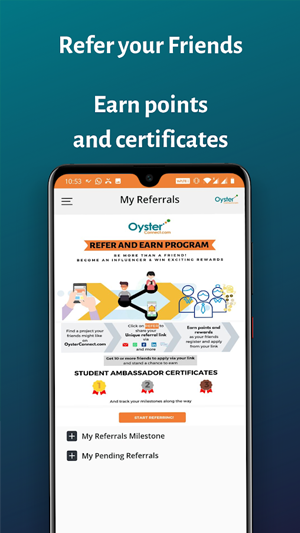 What are the advantages of The OysterConnect?
Here, are the following advantage of The OysterConnect app:
Provides a career path: The app helps you to guide and identifying your strengths and career path. With the help of the app, students can get work quickly. Also, they can work on a variety of part-time or full-time internship from top-class big companies and brands according to their choices and skills. You can also get essential tips, spiels, guidelines, and many more.
Earn money: Yes, you heard it right. You can get essential skills from the app and earn money. The app helps you to gain recognition via LinkedIn Recommendations. It also provides you merit certificate according to your work from the company.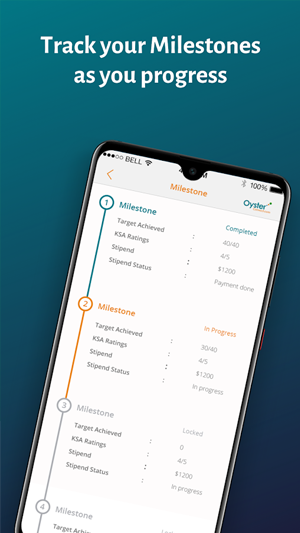 Skill and experience: The app builds essential skills to its users for a lifetime that helps in their real-life projects too. It delivers you excellent experience and knowledge. It provides you a guideline that inspires you in a career path.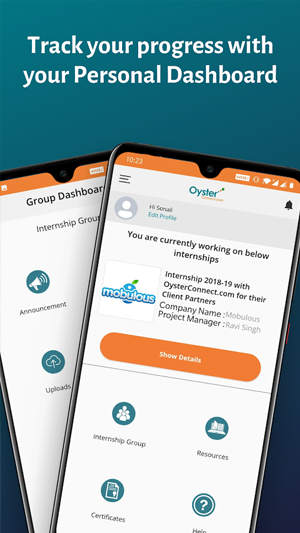 Final Words
If you also have an excellent idea app that you want to transform into a successful app, then get in touch with us. We are here to turn your vision into reality. We are the top mobile app development company that can take your business to the next level and also enhance your ROI exponentially. If you want to develop an app like OysterConnect, then contact us at Mobulous.com. Our company has a professional team of well efficient developers that can build a successful app without bugs and glitches and also has the ability to make your app featured on the Google app store. We will be delighted if we can bring a smile on your face after the app delivered. So, hire us for your app project today.
Product Live Links
App Store: 
Google Play: https://play.google.com/store/apps/details?id=com.oyster.connect&hl=en
Access Oyster App's UI Case Study: Coming Soon
Get in Touch with our Sales Team for Similar App Development Enquiry: sales@mobulous.com