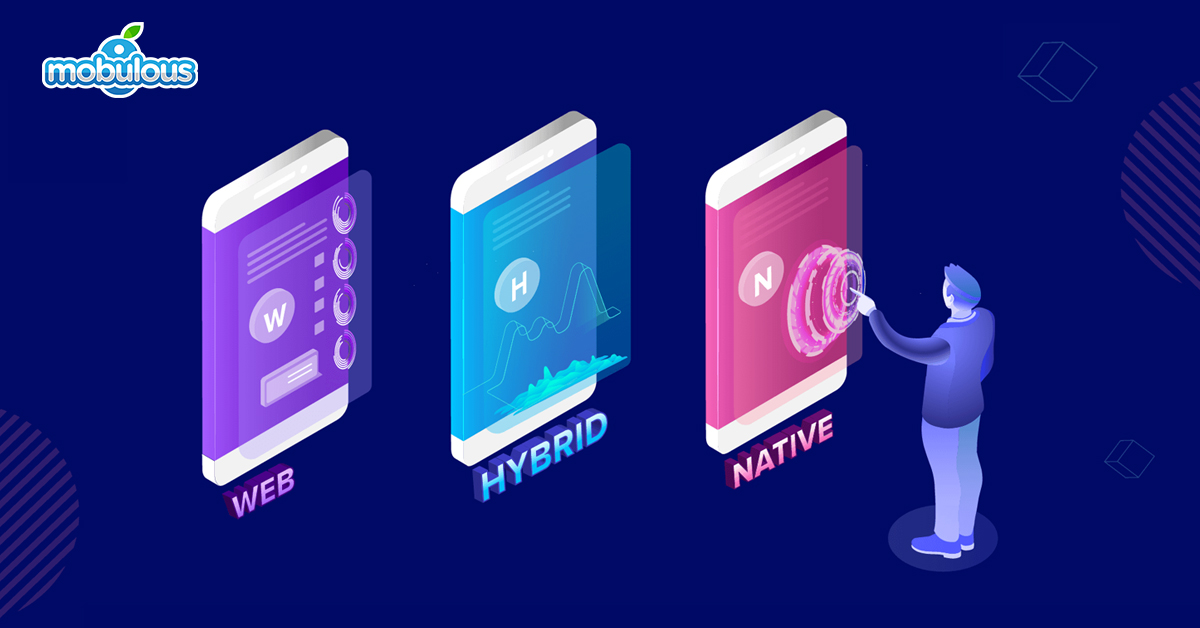 According to the report, there are approximately 8.93 million apps available in the App Store Play store. There is an app for almost everything you can think of. These apps have become an essential part of our lives.
After you wake up, the first thing you do is browse through different social networking sites such as Facebook, Twitter, Instagram, and know what is happening around us. The next thing you do is check Watsapp, Snapchat, Skype, or other platforms to check whether you get some text from your friends or relatives. Don't tell us that isn't you.
In the competitive world, Mobile apps are so crucial for your businesses to get the attention of your target customers.
How many types of mobile apps are there?
The mobile apps are mainly classified into three categories. You must choose the mobile apps category according to your business goals and objectives. Selecting the right mobile app category is indeed a highly crucial decision and is one of the defining factors of your mobile app strategy.
Let's know about the three different mobile app types:
Native apps: Native apps are created for one specific platform or operating system such as Google's Android, Apple iOS, or Windows phone. These apps are native to one platform and expert at optimizing the user experience. They are well known for operating quickly and intuitively on the given platforms.
Web apps: Web apps are the responsive version of a website that runs via a web browser on the mobile device using the internet. There is no need to download these apps to use them.
Hybrid apps: Hybrid apps are the mixed version of both Native and Web apps. These apps are wrapped within a native app, have their icons, and can be downloaded from an app store (like Google play).
3 Types Of Mobile Apps By Technology
Native apps are built for a particular mobile device or operating system. That means you can have native Android mobile apps or native iOS apps, or so on. They can't be used on a platform other than their own. They provide a high user experience and excellent performance as they are native to specific devices or operating systems.
The technology used: The technology used for Native apps development is specific to the platform that they built for. For Instance, Java, Kotlin, Python, Swift, Objective-C, C++, and React.
Web-based apps are similar to native apps but are accessed via a web browser on your mobile device. They don't need to be downloaded on your smartphone. One of the best things about web-based apps is that they don't require much of your hardware resources, such as RAM and storage.
For Instance, remove. bg. is a perfect web-based app that is popular worldwide.
The technology used: The technology used for Web-based apps are HTML5, CSS, JavaScript, Ruby, and other similar programming languages.
Hybrid apps are web apps that look and work exactly like native apps. These apps include a home screen app icon, responsive design, fast performance, even being able to function offline, but they're web apps made to look native. Popular apps such as Instagram, Twitter, and Evernote are examples of hybrid mobile apps.
The technology used: The hybrid applications use different web development technologies and native APIs. They are coded in numerous languages such as Objective C, Swift, HTML5, React-Native, and so on.
When to choose Native app development?
Choose Native app development in the following cases:
If you want High performance and well-rounded usability.
If you're going to use a single codebase.
If you have an Optimum/sufficiently high budget for app development.
When To Choose Web App Development?
Choose Web app development in the following cases:
If you want to deploy an app quickly.
If you do not want to wait for approval from app stores.
If you want Support for third-party integration.
If you have a tight budget.
When To Choose Hybrid App Development?
Choose Hybrid app development in the following cases:
If you want Sufficiently high performance and standard usability.
If you want a high user base.
If you want Fine UI for the app.
Final words:
No wonder, There are still more app categories and types of apps. However, In this article, we have just discussed the most general categories of the app.
If you want to know which type of mobile app development fits the best then you must start with analyzing your business needs and get a range of benefits of having a mobile app for your business. If you have an app idea for your startup or large enterprises, Contact us at sales@mobulous.com.
Read Also:
Cross-Platform Mobile Application Development Approach: Pros and Cons.
Quizlock: Send Secret Messages With Padlock
How to Create a Location-Based App? Top Ideas for Location-based Apps
4 Effective Ways Mobile Apps Fuel Business Growth
Access Our UI Case Studies: https://www.behance.net/mobulous