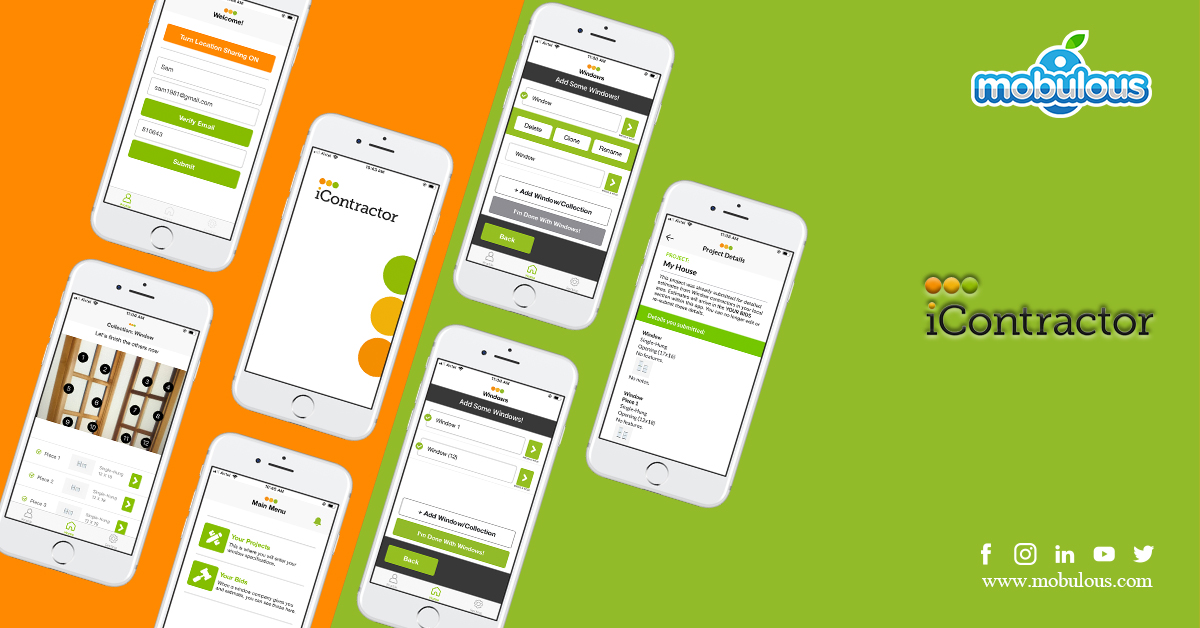 No doubt, with the advent of technology, businesses are growing at a rapid speed. These days, every business requires a mobile app to grow their business, and it has become an integral part. The mobile app industry is growing immensely. Mobile apps can help businesses in numerous ways. A mobile app provides them with an easy way to showcase their product or service to customers and prospects. So, almost every industry, be it small or large, requires a mobile app.
As you all know, Mobulous, a top-leading mobile and website app development company, keeps creating new iOS and Android apps for its clients. We are excited to announce that recently, we have developed a new app, iContractor Windows, for one of our renowned clients. iContractor Windows is an excellent app for those who are looking to purchase unique and trendiest windows at the best price for their home.
Sounds interesting? Isn't it? Eager to know more about the iContractor app? Have a look at this blog.
What is the iContractor app all about?
As you all know, windows are an essential part of any home. In this modern world, everyone wants their homes to have beautiful windows without investing huge money. iContractor is one of the best apps for homeowners for purchasing windows.
Getting an exact estimate on new windows for a home can be a daunting and time-consuming process for anyone. However, you can make this task so easy using the iContractor app. With the app, you don't need any middleman or salesperson to purchase windows. The app allows you to get instant window pricing without any effort.
The best thing about the iContractor app is that you can take your time, customize your window preferences and see pricing instantly.
Additionally, you can submit your project to top-rated local window contractors in your area anonymously to review at your leisure. When you are ready to move forward, you can contact them.
What are the top features that we have integrated into the iContractor Windows App?
Here are the key features that we have integrated into the iContractor Windows APP:
By just clicking and uploading the picture of the collection, by collection, we mean the room; it can be your bedroom, living room, kitchen, where you need to install windows, the app will instantly generate quotations.
Real-time price Estimates from Vendors
The app offers you a real-time price estimate from vendors based on your window requirements. You can easily compare the price estimates provided by multiple vendors without actually visiting them.
Easy Windows-style customization
The app allows users to easily add windows & customize things such as shapes, grid options, grid styles, opening types, window features, and more for the collection – your bedroom 1, bedroom two, etc.
Anonymous local estimates
The app allows you to get instant estimates from local companies. You need to submit your project to local window companies right within the app. This request is anonymous, so it means that unless you agree to the quotation, your details won't be available to the companies.
When you post your requirement on the iContractor app, you can easily connect and contact the vendors who submitted their quotations. You don't need to contact them separately and disclose your identity until the quote is finalized and agreed upon.
How to install the iContractor app?
To install the iContractor app, you need to measure the following steps:
First, you need to go to the App Store or Play Store on your smartphone.
Second, you need to search for the iContractor app.
Third, you need to click on the iContractor app and click the install button.
Fourth, wait for the app to get installed on your home screen.
Now, you can open the app, register yourself and get the service.
Final Words:
Creating an app to sell Windows is indeed a unique idea. If you also have such unique app ideas for your startups or large enterprises, you can hire a mobile app development company that can assist you in creating your dream project.
Mobulous is a renowned mobile application development company that offers web and mobile app development using the latest technologies like AI, Machine Learning, AR/VR, blockchain, cloud solutions, and much more. We have expertise in creating a wide range of industries such as Fintech, Healthcare, Logistics, Telecom, Agriculture, E-Commerce, Real Estate, Media, and many more.
Live Links of iContractor App:
iOS User App: https://apps.apple.com/us/app/icontractor-windows/id1563683273
Android User App: https://play.google.com/store/apps/details?id=com.icontractor
Access Our UI Case Studies: https://www.behance.net/mobulous
For more queries regarding mobile and web app development, Contact us at sales@mobulous.com. We will feel happy to assist you 24/7.