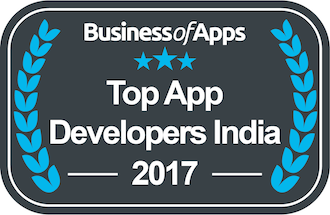 Top Mobile App Developers India 2017 : Mobulous is proud to announce that we are listed in Top App Developers India 2017 in Business of App.
They have done a survey on different parameters to find the Best Indian App Development Companies and based on that they have selected Mobulous as Top Mobile App Developers in India.
The mobile app market is growing on a very fast pace all over the world as every business want their availability via Internet. They want quick response from their clients so they will switch to mobile application development.
In the detailed Guide , Business of Apps gives an overview of the app developers market in India. and then gives the advice on how to choose an app developer, finally ending with some selected app developers in the final part.
The Guide takes the users through the following sections in details:
The app developer market in India
Indian app development costs and statistics
On outsourcing
How to choose an app developer
Selected app development companies in India
How to Choose an Indian App Developer
A two-stage process. First, there's plenty of research you can do on your own, as well as contacting others in your industry who have published a mobile app:
Review their portfolio: App characteristics can vary wildly depending on the type of application and its function. Often, previous experience in certain sectors, or with certain functionalities, can make a massive difference to the cost and time invested in a project.
Recommendations and reviews: Just as in any other business, recommendations can go a long way to finding your ideal app developer and discovering what it's really like to work with them.
Mobulous has made to the list of Top Mobile App Developers of 2017 and we are proud to share the News.
If you have any App project in mind, contact us for free consultation on sales@mobulous.com
Full Guide|blog Post  below:
http://www.businessofapps.com/guide/india-app-developers/
http://www.businessofapps.com/guide/india-app-developers/
Review our Featured Projects here : https://www.mobulous.com/featured-projects.html
Know more about our Expertise : https://www.mobulous.com/expertise.html
R
Read more about our Recent Apps in our Blogs : https://mobulous.com/blog/category/recent-apps/