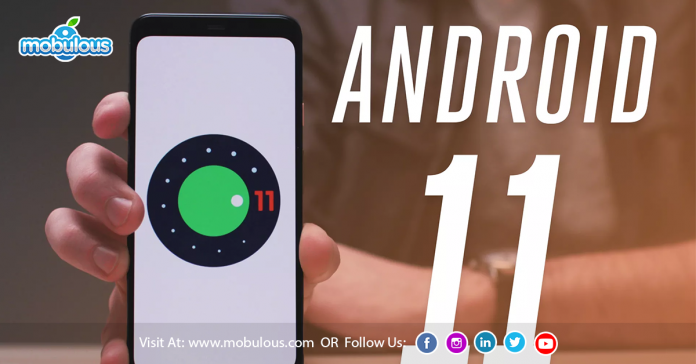 It has become quite customary for Google to launch a new Android version every year. Recently, Google introduced the first-ever build of Android 11. Apart from a sweet, dessert-related name, we are expecting a lot of great things and amazing features such as an addition to enhance user's security, support for newer technologies, including 5G and foldable, visual changes, and many more. Android App Developers can take an early look at the next version of Android for testing and development.
Here, in this article, we will discuss some of the top amazing features of Android 11. Before we go further and discuss the top best features of Android 11, it's crucial to know some other necessary things about Android 11.
What is Android 11 called?
While naming any new version of Android, Google followed a different trend. They have always named their android version with a desert name starting with the English alphabets. As we can see, the previous version, Android eight were named as Android Oreo; Android 9, was named as an Android Pie. But as per the source, it is revealed that Android 11 will be called Android 11.
When will Android 11 be released?
We have no final release date for android 11. But we can see, the previous version android ten was launched on September 3 for the public, so, with that, we can expect the official public availability for android 11 will be in September 2020.
Features of Android 11
• Muting notification during the video
Don't you hate when you are creating a video of your kid or any particular thing, and you get an information? Well, that's so annoying for most people. Android 11 will allow its users to mute notifications while they are recording any video.
• Improved touch sensitivity
No matter how more durable the glass is on the phone, though, everyone always ends up putting a new tempered glass so that the original glass won't get damaged.
Sometimes we face numerous issues such as miss swipes, touches, and many more due to the average quality tempered glasses. But now, with android 11, you will get perfect touches all the time, even if you have a tempered glass installed on it as Google will incorporate better touch sensitivity on the software side for its users.
• Native screen recording
Most of the android users have always wished for native screen recording, so; here it is finally with android 11. As we have already heard loads of rumors about native screen recording features at the time of Android ten, but it failed to do so as it was not ready at that time. We believe with android 11; we will have this new feature for sure. We will require no additional apps to record our screens.
• Scrolling screenshot
Android 11 allows its potential users to have the support of scrolling screenshot. This is indeed one of the most anticipated features for most of the android users.
• Airplane mode won't turn off Bluetooth
I don't think there is any smartphone that has a dedicated headphone jack. In the era of wireless headphones, Bluetooth has become a necessity for most users.
However, in the previous version, we had Bluetooth killed off when airplane mode was turned on. With android 11, Bluetooth will not get turned off and keep functioning correctly in airplane mode if it is connected to a wireless device.
• one time permission
In the previous Android 10 version, users had the feature to allow permission to access location, camera, or microphone data only while their app is open. Android 11 allows its user to have a one-time permission setting.
• Better handling of older notification
With the Android 11 version, users will have a separate setting by the name 'notification history,' that helps to keep all the information of notification, whether it's new or old.
• Chat bubbles for messaging app
As users were expected to have chat bubbles for messaging app features in the previous version of android 10. But, not many developers or OEM'S adopted it, and the feature was nowhere to be found. Now, with Android 11, there are high chances of chat bubbles features.
What's new for developers?
Enhancement in Wireless Debugging
Google added a new sampling allocation tool that will help developers find and fix memory safety errors.
5G State API
Synchronized IME transitions
Improvements for Project Mainline
Developer updated the exit reasons API that helps developers to get a better understanding of the app's stability and how the performance of the app can be improved.
Final Version
There are tons of other updates and features out there that will benefit developers, businesses, and users. App Development Companies need to migrate to Android 11 and have to prepare themselves to accommodate themselves to the new version of the technology to stand out from their competitors. Companies should need to keep up with changing technology trends and be proactive with their competitors; otherwise, it will become challenging to get along with the new technology trends.
If you found this information amazing, then please feel free to share your comments with us on our comment section box. If you want to more updates about new technologies, then stay tuned with us and keep reading our blog site frequently.
Also Read:
Anticipating the future hidden software development cost after launch
Services Provided by Mobulous to satisfy entrepreneurs, enterprises, & startups needs
PHP vs. Node. JS: Which is best for the project
Leverage the Potential of Hybrid mobile apps to Power your Business