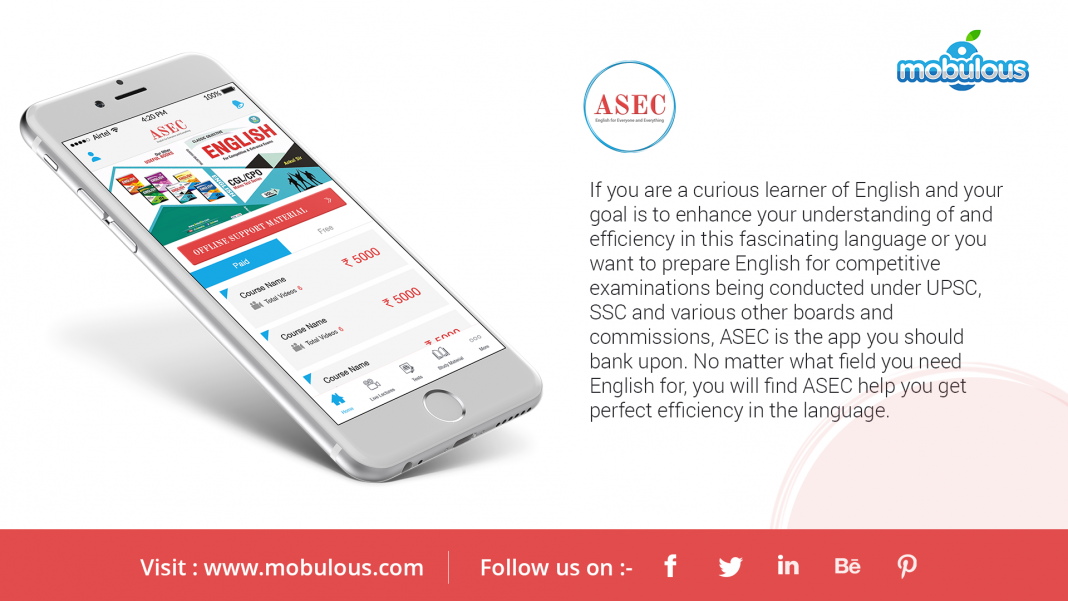 MOBULOUS's developed ASEC ENGLISH is live. This is a project dedicated to a wide range of learners. This app is committed to impart useful learning experience by adopting highly innovative teaching method. The product is made amazing with Live Streaming feature, watching useful videos, assignments and tests.
Brief about the App
If you are a curious learner of English and your goal is to enhance your understanding of and efficiency in this language or you want to prepare English for competitive examinations being conducted under UPSC, SSC and various other boards and commissions, ASEC is the app you should bank upon. No matter what field you need English for, you will find ASEC help you get perfect efficiency in the language.
The seemingly dreaded grammatical concepts which you might have so far found to be wrapped in highly mystifying learning process and which brain refuses to grasp for the simple reasons of unnecessary intricacies that have been made involved, have now been made an intellectual pursuit to comprehend and unravel. It is a fact that once grammar is in place, improvement in vocabulary, comprehension and descriptive skills will naturally follow. 
Key Feature List for the Product
Home | Courses:
Paid Courses: Designed and delivered by ASEC's Top Teachers, these valuable video lessons offer seamless understanding of even the most complex theories.
Free Courses: Every course is not paid. Yes, you heard it right! There are videos which are free as well. The free videos are the concept videos which help you to clear your English concepts and prepare you for the exams.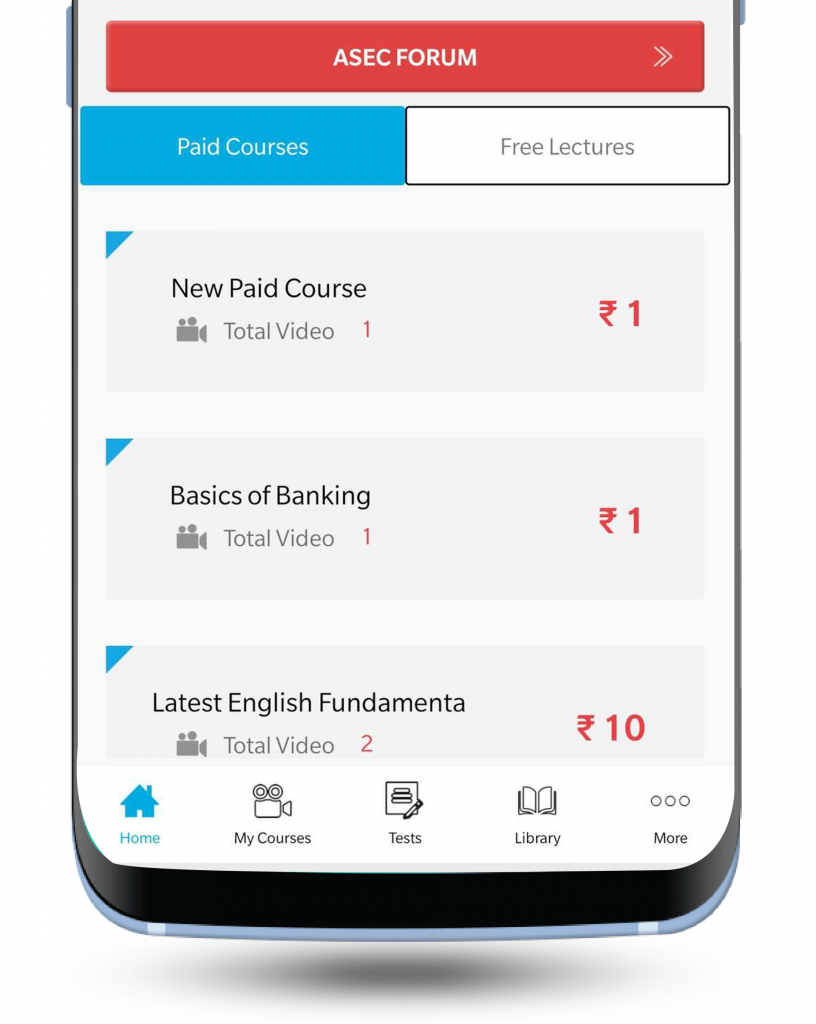 My Courses
Improve your skills and get the job you want! There are different paid courses made by highly skilled teacher. Each course is on-demand and is highly valuable. My Courses is a place where you will get all your paid and Free courses.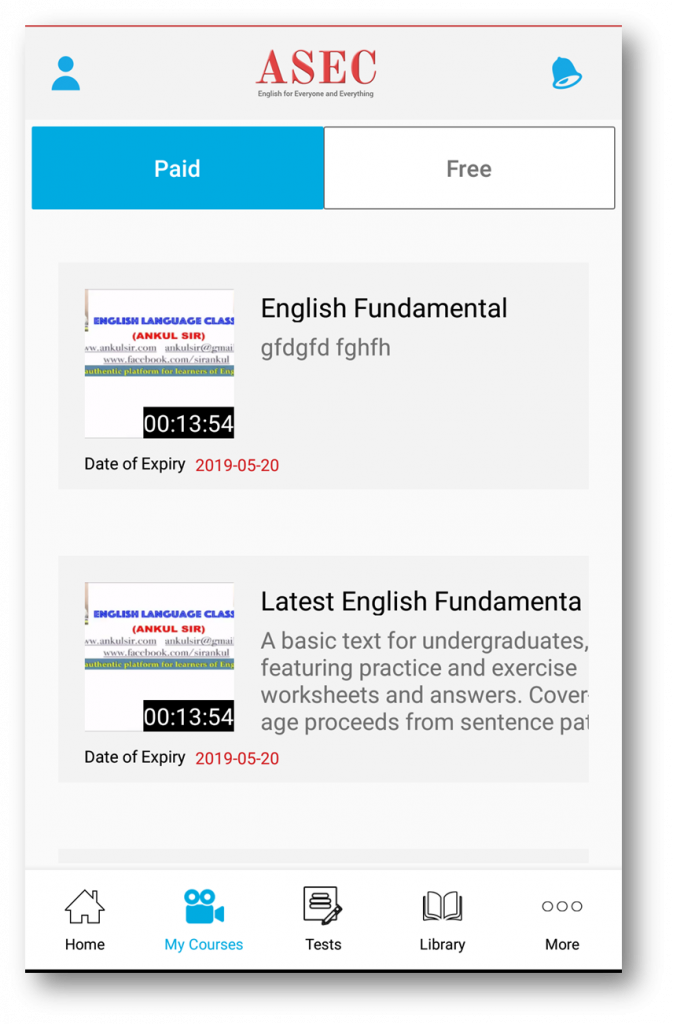 Live Lectures
Live Lecture is an amazing feature we are offering, it allows you to view the teacher LIVE.You can have access to all the live lectures, and these are a part of the Paid Courses.
See Also: Fitviu App Helps People to Find Gyms, Trainers for Fitness
Tests
User will have the ability to take tests. These are the MCQ Tests. The user will be able to view their results and the solution of answers. User can also take tests offline. We offer finest content and complete guidance for all major aptitude-based entrance exams. We offer guidance for all major entrance exams like RBI, Bank PO, UPSC CAT and SSC CGL.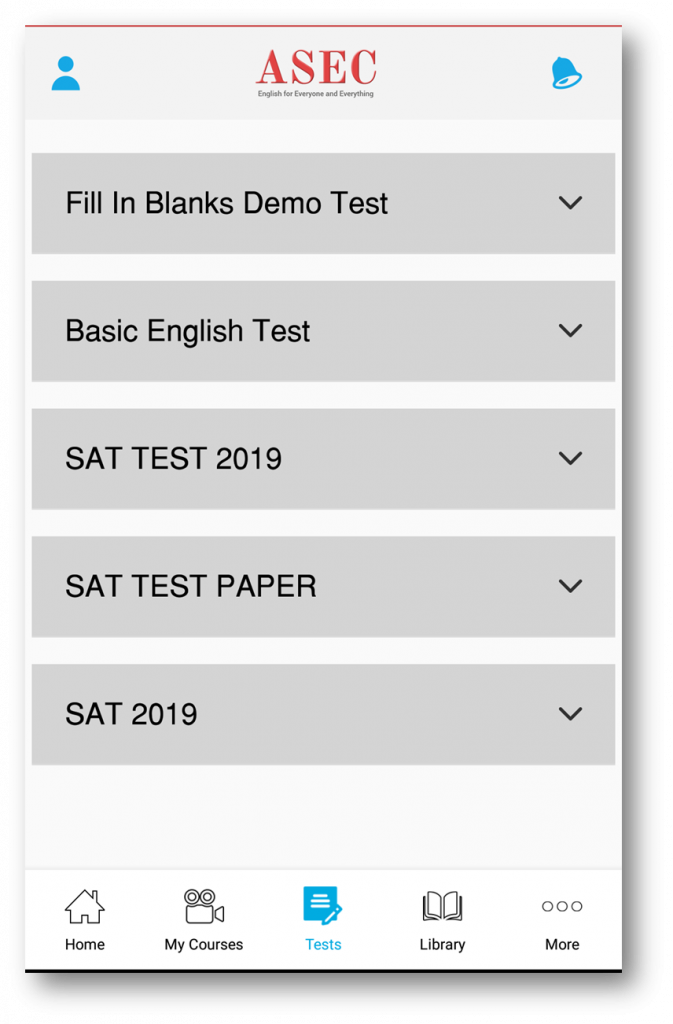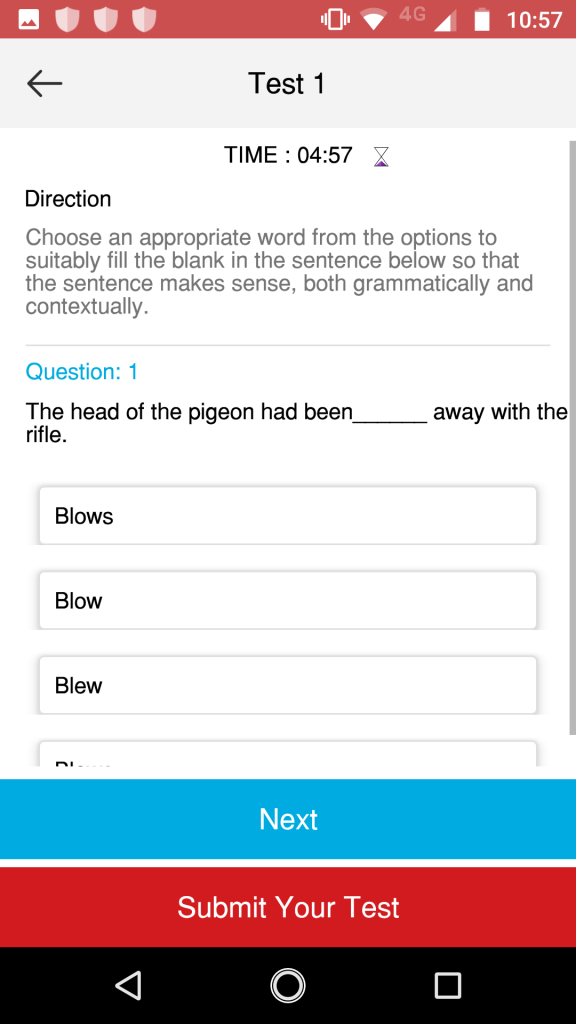 Library
Besides useful videos on every aspect of English learning, a student is also supported, and his learning is reinforced by posting useful assignments specially designed to further hone the skills of learners. There are Books which you can easily purchase and track your orders!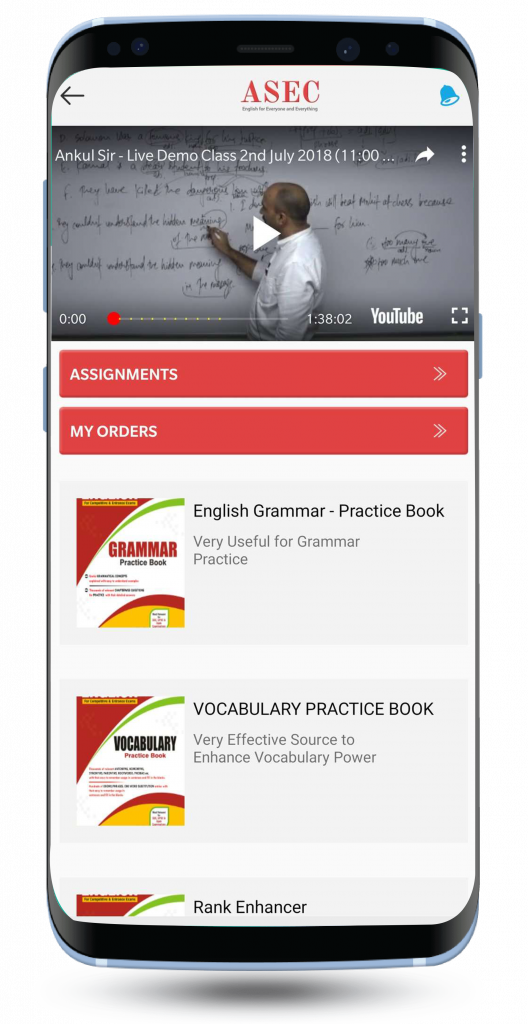 Discussion Forum
Forum is an online discussion where people can hold conversations in the form of posted messages. They differ from chat rooms in that messages are often longer than one line of text.
ADMIN PANEL
Centralized administration makes setup and management fast and easy. It allows the business owner to manage their users on app. They can manage their Courses, Orders, Forums, Subscriptions, Live Channels and Tests using the panel. Admin can manage the Static Content of the application to enhance the marketing. Also the coupons to increase the user base.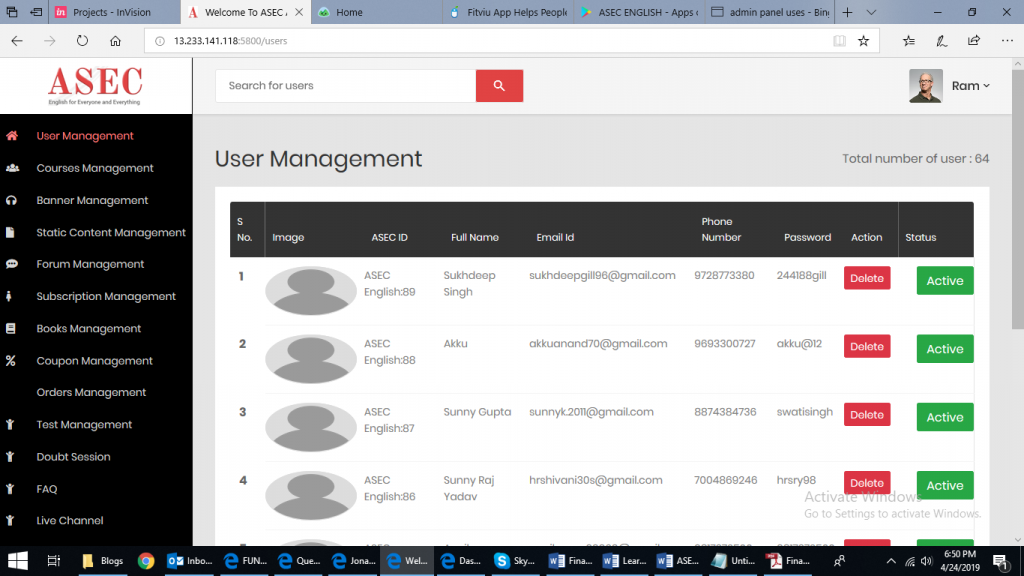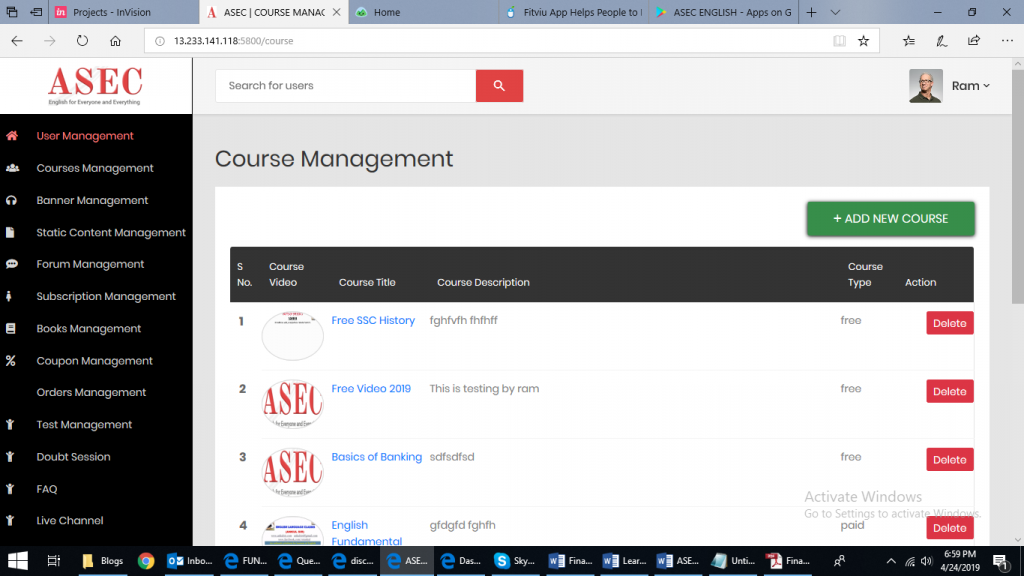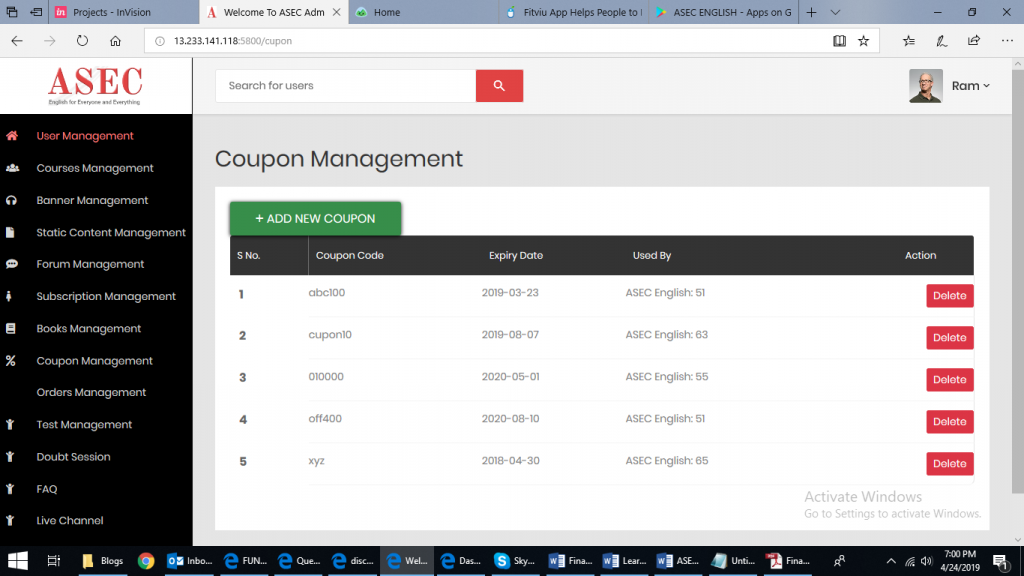 ASEC App's Team

Product Links (Mobile App Development Company in India)
English as second official language and increased awareness on importance of English in career advancement and improving the job prospects, one is bound to approach English training institutes.
With so much of buzz surrounding the entrance coaching mania, this application will surely be a boon for serious aspirants.
Our Trusted Links
See Live ASEC App:
Google Play: https://play.google.com/store/apps/details?id=com.asec
Access Asec app's UI Case Study: Asec Case Study
Get in touch with us: Top Mobile App Development Company Mobulous
Get in Touch with our Sales Team: sales@mobulous.