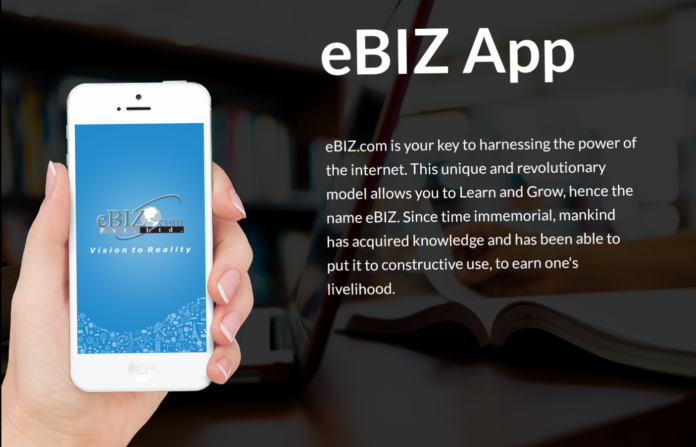 Top App Developers Education App: Ebiz
Ebiz is one of the Top leading Education companies in India. eBIZ.com is the key to harnessing the power of the internet. This unique and revolutionary model allows you to Learn and Grow, hence the name eBIZ.
Ebix product is developed by Top App Developers Mobulous.
Welcome to the eBIZ App. This App brings you many features of eBIZ, right onto your mobile device and keeps you connected with us.
1. The "Home Screen" beautifully provides navigation to all of the features of the App.
2. "eBIZ Education" brings our library of courses onto your App for learning on the go anywhere and portably. In addition to just learning, you can also test how much you have learned by taking the Quiz for those courses right on the App.
3. "Upcoming Events" shows you the events which are coming up and let you register for them as well.
4. "Support" lets you to be connected with our support team and lets you perform all functions which you may require. E.g. Posting a new query, getting the query answered, etc.
5. "Notifications" are also there which keep you up to date.
And many more features are inside the eBIZ App, so don't delay and download the eBIZ App.
Company Founder|CEO  Mr. Pawan Malhan has helped millions of people get educated online with an easy to learn approach.
Mr. Hitik Malhan has taken the Ebiz Brand to the next level by launching the Learning platform in Android and Ios.
The company has now launched Apps available on Google Play and App Store which allows the users to harness the power of e-learning right through their pockets.
Website: http://ebizel.com/index.php
App Store: https://itunes.apple.com/in/app/ebiz-connect/id1146439807?mt=8
Google Play: https://play.google.com/store/apps/details?id=com.ebiz&hl=eno
UI Case Study: https://www.behance.net/gallery/46944545/Ebiz-Education-Masterpiece-Case-Study
As Development Partner, Mobulous has designed and delivered a Top Quality Product keeping in mind the ease in usability for existing million users who shall be using the Product.
App launched on new year getting more than 5000+ Downloads in 2 days is a huge achievement for us.
Contact us for the next customized  app project: sales@mobulous.com
Know more about us visit our Home Page: https://www.mobulous.com
View list of our Developed Featured App Projects: https://www.mobulous.com/featured-projects.html
Read our other interesting Blogs: https://www.mobulous.com/blog.html