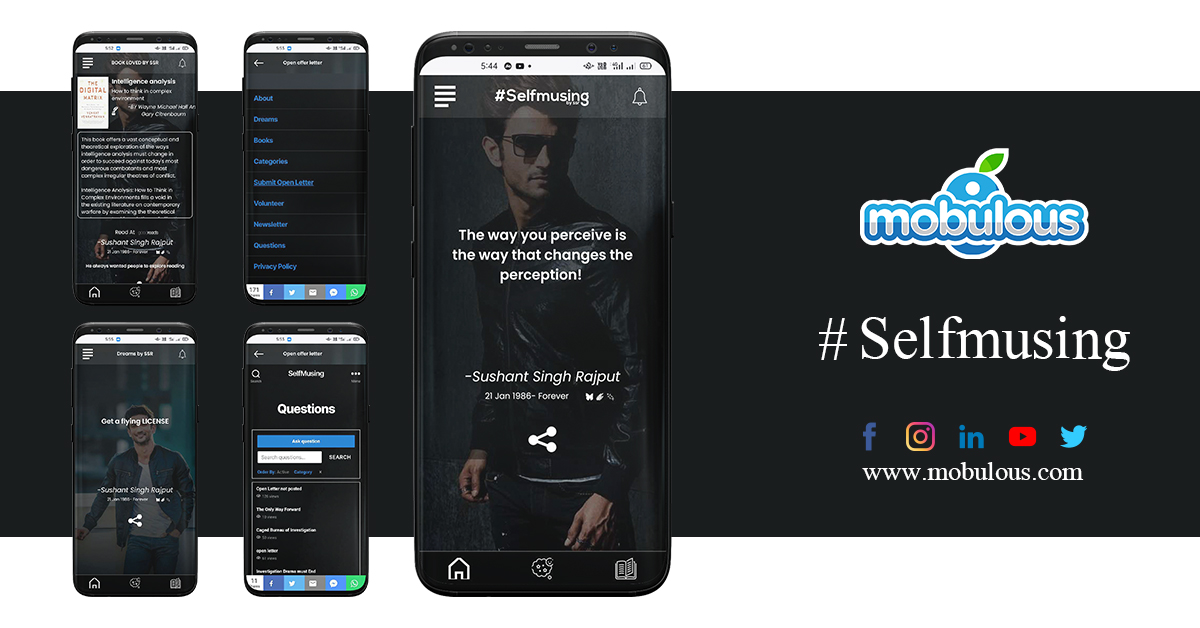 What if you get every detail of your favourite star in an app on your smartphone? Well, people will be undoubtedly going to love such apps.
Mobulous company's recently created app 'Self Musing' is one such app. The app has every detail about one of the most popular and young Bollywood stars 'Sushant Singh Rajput' aka 'SSR'. We have created this app for one of our clients. Here, in this article, we will let you know more about this app.
Let's dive in.
About the Self Musing App
No wonder, people are so much crazy about Bollywood stars. They always show great interest to know every small detail of their favourite celebrity star. The Self Musing app is all about Sushant Singh Rajput. Sushant Singh Rajput(1986-forever), was an Indian actor, dancer, and a great philanthropist. 'He started his career with the daily soap, 'Pavitra Rishta' and then he became one of the most loved Indian actors.
Apart from acting and dancing, he was a champion of science, space, and technology.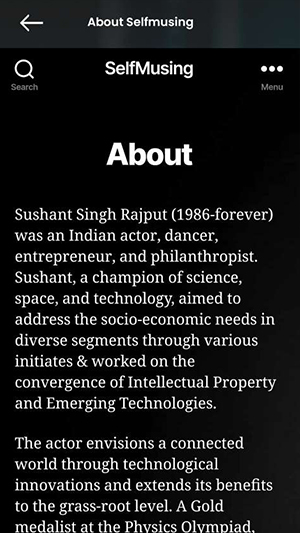 He always dreamed of addressing the socio-economic needs in diverse segments through various initiates & worked on the convergence of Intellectual Property and Emerging Technologies. He was a Gold medallist at the Physics Olympiad. He had a great passion for a wide range of scientific disciplines including polymath, quantum physics, trigonometry, aeronautics, astrophysics, and so on. Recently, he completed his training at NASA (National Aeronautics and Space Administration) and has started a campaign for education sUSHAnt4education.
How can users install and use the 'Self Musing' app?
The 'self musing' app is available for Android users. To install the app users, need to go into an Android's app store and search for the 'Self Musing' app. After finding the app, users need to click on the install button. After, installing the app users can use the app.
What are some unknown facts about 'Sushant Singh Rajput'?
Here, we have the following unknown facts about 'Sushant Singh Rajput' that you must know:
Sushant Singh Rajput was born in Patna, and his father is a government official.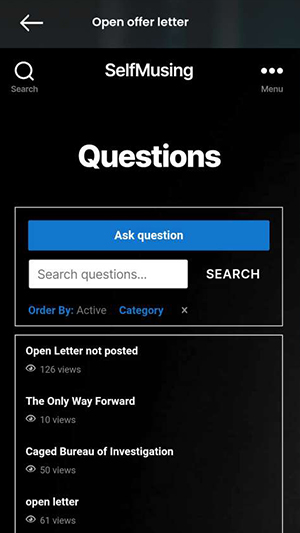 He was one of the most talented students in his school days, and in 2003, he ranked 7th position in AIEEE exams.
'Pavitra Rishta' wasn't his first show. He started his career with the serial 'Kis Desh Mein Hai Dil Mera'.
In 2014, he won screen cine award for the best male debut category for the film 'Kai Po Che', directed by Abhishek Kapoor.
He and Ankita Lokhande were in a live-in relationship for six years and got separated in the year 2015.
What are the features of Self Musing app?
Here, are some of the following top features of the Self Musing app that you must know:
Dreams by SSR: The first and most exciting feature of the Self Musing app is the 'dreams by SSR'. With this feature, users can know about all the dreams of SSR that might surprise them. For instance, one of his goals was to spend a whole night in the graveyard. This feature includes his more such dreams that no one knows about him except some of his close ones.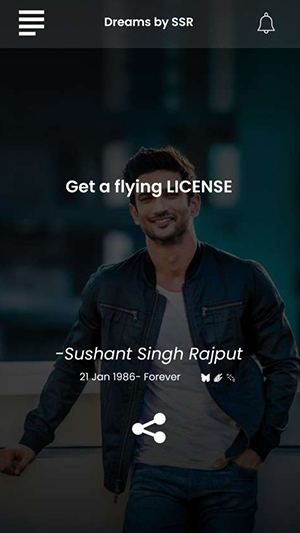 Book Loved by SSR: Another exciting feature is 'book loved by SSR'. In this feature, users can see all the favourite books of SSR. As SSR was so much passionate about new books so, his fans love to know about all his favourite books.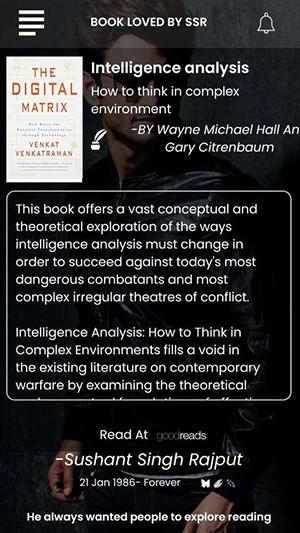 Push Notification: Push notification is an essential feature that always attracts the attention of the users. With this feature, users can get notifications about every new update and information of SSR in their app.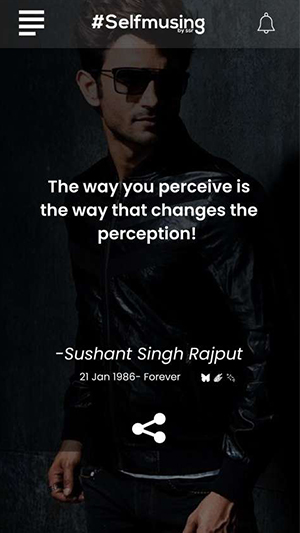 Final words
Entertainment apps are so much in demand all across the globe. In the challenging time of the pandemic, no wonder, entertainment apps are an excellent idea for your start-ups. If you have any idea or looking to create such an entertainment app then, you can contact Mobulous, India. We are one of the world's leading mobile app development company expertise in making the best quality apps in various domains, including entertainment, healthcare, and many more.
If you have any doubts or queries, contact our expert team right now. We are available 24*7 to our clients.
Live Links:
Android App Link: https://play.google.com/store/apps/details?id=com.ssr_book
Get in Touch with our Sales Team for Similar or innovative App Development Enquiry: sales@mobulous.com