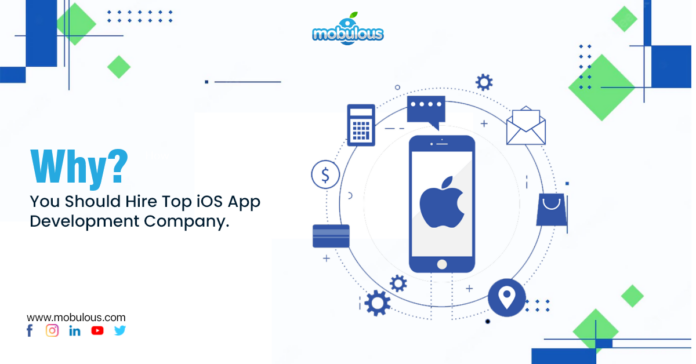 Mobile phones are an extremely essential requirement of today's life, which comes with the cordial availability of many apps. These mobile apps are software designed for mobile phones. These applications are used by people of every profession and for various purposes like teaching, business, shopping, banking, travel etc. The availability of mobile apps has successfully leveraged the increased business opportunities for various organizations. Also, these apps are highly efficient and user friendly as it makes the world and services just a touch away from the user.
In the vast maze of phone and tablet brands available in the post-2000s market; Apple phones are one of the best and highly desirable phone brands in India. Apple iPhones and iPads are aiming to reach around 10 million users in the Indian market by the end of 2018. We, at Mobulous, an iPhone application development company, specialize in creating tailor-made mobile applications. Apps are the channel between the service provider and the consumer that comes with the need to make these apps entertaining, updated, functional 24/7 and captivate the senses. In the new era of new ideas and entrepreneurial ventures emerging every day, apps creating app-based interactions and services availability have become a non-negotiable requirement. Hence, we help our customers enhance their business experience by leveraging custom iOS app development.
The app developers in this iPad app development company are highly trained and have at least three years of app development experience. Their design aims to enhance the user experience keeping the welfare of the service providers in mind by creating attractive advertisements and regular updates to ensure repeat visits. An active correspondence between enterprise and customer is what we call the golden rule of successful business.
Our application developers follow a step by step process to understand the specifications and interests of the enterprise. These are designed by the best UI and UX designers, fully tested feedback courses and demos to ensure seamless interaction between customers and enterprises. We also provide a free promotional video for our customers and their users to get the best possible market experience.
Why hire iPhone app developer from Mobulous?
Custom apps are the best available choice in the market these days as it ensures the performativity. It also enhances the chance of improvement and development as the needs of enterprise changes or takes any shift over the tie period. Though, an iPad application development company may sound fancy and costly but, the cost becomes bootless as our services meet their deadlines in unprecedented time period. Our association also provides three months of free support from our highly skilled developers and technicians. To know more about this company, feel free to visit their website. Their professional developers and designers will help you to create the best application for your business. They always strive to expend their client expectation and satisfaction. So, what are you waiting for? Contact them today.