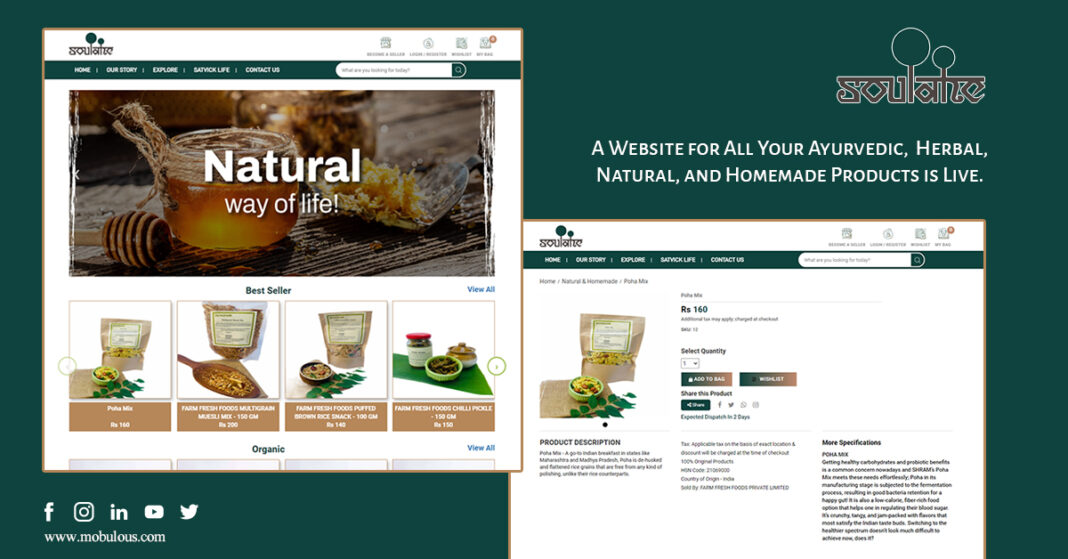 We feel glad to announce that we recently created an ayurvedic website, Soulahe, for one of our reputed clients. The website is fantastic and can help users get the best products related to ayurvedic, herbal, natural, and homemade organic products. The website's main motto is to provide users with nature-inspired and innovative chemical-free products to meet their daily needs.
You can get numerous products, including Essentials, Cosmetics, Clothing, and Wellness, from multiple sellers across the country on the website.
Are you eager to know about our recently launched website, 'Soulahe'? We know you want to know so, read our blog carefully.
Introduction of 'Soulahe' Website:
As we all know, Covid-19 is one of the biggest threats that we have ever witnessed. And the only hope to fight against the coronavirus is our immunity system. Our body fights better when we have a robust immunity system.
The idea of the 'Soulahe' comes in the middle of the COVID-19 pandemic. The team of Soulahe believes nature has all the power to boost the immunity system of humankind. So, with the help of five elements of nature, called the Pancha Mahabhutas, the team decided to create some unique ayurvedic, herbal, natural, and homemade products for users to help boost their immune systems.
At the Soulahe website, you can quickly get a wide range of eco-friendly products such as organic food & kitchen items, Ayurvedic healthcare products, herbal cosmetics, and sustainably produced & handwoven apparel. The website allows users to shop for every organic, Ayurvedic, herbal, and natural & homemade product under one platform.
Some Advance Features that we have integrated into the 'Soulahe' Website: 
Multivendor Platform
The "Soulahe" website has a multivendor platform feature that allows numerous vendors to list their product and become a seller quickly.
Services All Across India
The Ayurvedic 'Soulahe' eCommerce website provides services all over India. No matter whichever part of India you live in, you can purchase a product and get the delivery instantly to your doorstep.
Ayurveda Education
The website includes education for Ayurveda, Yoga, Teaching Lessons, and many more for users & Sellers.
Shop Wide Range of Products
At Soulahe, users can shop a wide range of products, including organic staples and ayurvedic cosmetics to herbal wellness and natural products.
Here are the General Features that we have integrated into the 'Soulahe' Website:
Features For Admin To Sell Products
Easy login or Registration
We have integrated easy login or registration features into our website.
Admin can also enter into a website by integrating their social media account.
We allow you to upload your products on the website through the self-serve tool. We also help you put together an attractive catalog by connecting you with industry experts.
We allow an accessible dashboard facility for admin to maximize online sales.
Promotion and Advertisement
We help you to promote your products among your target users.
Fastest Payments Settlements in the Industry
Make use of the host of services that we offer and earn more. Our payments process is the fastest in the industry – get your payments within 7-15 days of sales!
Features For Users
Easy Login or Registration
The 'Soulahe' website has an easy and smooth registration feature for your users. Users can quickly login into the website by adding their email or phone number.
Moreover, users can quickly login into the website by integrating their social media profiles such as Facebook, Twitter, Google, and so on.
We integrate an easy search feature to provide users a smooth experience when purchasing from our online website.
With this feature, users can easily search every product from the website.
We integrate multiple options to pay for users on our website. Some payment options that we include on our website are net banking, credit card, debit card, PayPal, Paytm, and many more. With this feature, users can quickly pay according to their choice.
As we have already mentioned so many times, push notification is an essential feature. We have integrated the push notification feature into our website. This feature helps users to notify about various offers and discounts.
We have integrated rating and feedback features into our website. With this feature, users can give ratings and feedback about the service.
This feature also helps other users to know about the product service.
We have integrated 24*7 customer support features into our website. This feature allows users to connect with the support team. If they face any issues or queries regarding website service, they can contact the support team.
We allow our users to get the delivery of products quickly at their doorstep.
Final Words:
Do you want to create a fantastic e-commerce website like 'Soulahe' for your business? If yes, you can contact the team of Mobulous.
Mobulous has experienced years in designing and developing a website for users. The company offers innovative web marketing solutions to small startups and large enterprises. The company is worth numerous awards and credentials from global guilds.
So, without wasting your time, hire the Website developers of Mobulous right now.
Website Live Link: https://soulahe.com/
Get in Touch with our Sales Team for Similar or innovative App Development Enquiry: sales@mobulous.com
Read Also:
Mobulous – Anniversary Celebration of Completing Successful 8 Years
How to Develop the Best Taxi Booking Apps in the Market?
Snap Picture: Best App for Creating the Perfect Photo Book