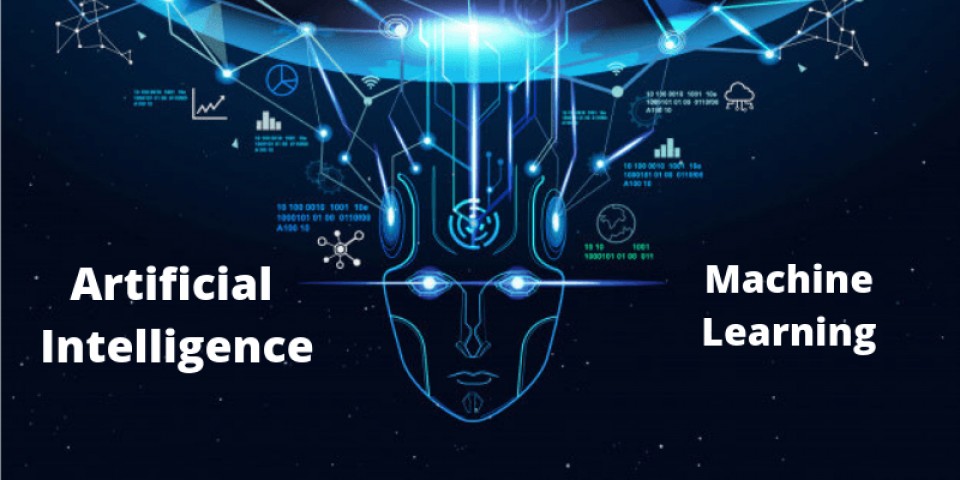 No wonder, Artificial Intelligence, and Machine learning is a tremendous future technology that is used to develop new-age technology. The mobile app development industry is revolutionized and made our lifestyle into a smart lifestyle with AI and ML-driven applications. Hence, numerous smartphones are using at least an app or two with AI and ML features in recent times. From watching your favourite movies on live streaming apps to using different filters on the face in Snapchat, from asking Alexa to order something for you to find your life partner in Tinder, there is an excellent support of AI and ML everywhere.
According to the report, the global artificial intelligence software market is expected to jump in the coming years drastically. And, it is estimated to generate revenues of around 118.6 billion in 2025.
There is excellent competition across all industries, and entrepreneurs strive to meet the customers' ever-changing demands. In such a tough competition, AI and ML can help you attract a huge number of customers to your business through apps. Today, this technology embraces different domains such as Education, Healthcare, Gaming, eCommerce, mobile applications, and many more.
AI & ML Changing the Technology Landscape
Here are the following areas where AI brings changes that will transform the landscape of the future:
Transport
Do you also face problems due to the unpredictability of public transport? I think most of us have gone through that problem at least once in our time. Now, you don't need to worry! With the help of the on-demand travel app (such as Uber and Ola), traveling has now become cheaper, faster, and most importantly, predictable and convenient.
But do you know the reason behind this traveling convenience? Machine Learning algorithms empower transport companies to offer better service to the consumers at very competitive prices (Uber pool or Ola share is the ideal example of how technology like ML and AI is enhancing the inefficiencies in our daily lives).
Moreover, Tesla and other transport giants are bringing out self-driving cars for the general public. No doubt, with the help of AI, most of the transport (be it public or private) will soon run-on algorithms.
Work and Jobs
As Artificial Intelligence technology is rising, many jobs are now performed by machines/algorithms. One such perfect example is Amazon drones that deliver the couriers to the shoppers. The other example is Grammarly that is taking away the job of proof-readers.
The customer service industry is no exception. Customer Support is rapidly changing as they are getting replaced by virtual assistants and chatbots that answer customers' queries on the front end. AI will replace many low-end jobs (such as taxi and truck drivers) assistants in the next 10 years.
Retail Industry
Online stores are using AI and advanced algorithms to understand what a customer might be interested in based on social media behavior, purchase patterns, and demographic data. With advanced data and predictive analytics systems, they can enhance the shopping experience and help companies make data-driven business decisions.
HealthCare
The Healthcare industry is no exception as AI technology is revolutionizing healthcare by empowering hospitals and doctors to deliver better service & care to more patients and with greater speed.
Even ML technology is also taking place in the healthcare industry and is now being used to find a cure for cancer. Automation programs are now started being used to diagnose and treat the sickness of people. These programs are treating patients rapidly with less time. AI tools are now implementing to look out for moles and tumors.
AI/ML Services to Automate and Accelerate Your Business
For those businesses that want to become industry leaders, AI and ML will play a significant role in accelerating their growth rate. At Mobulous Technologies, we help you in your entire project, right from the data preparation, scalable deployment to production. Being one of the best Machine Learning consulting companies, we provide end-to-end AI, ML, Deep Learning, and Data Science services to various industries.
We will offer predictive analysis, monitor & manage the traffic, and automate tasks with artificial intelligence and machine learning capabilities. Our effective data science analysts & engineers will help you develop your product to streamline and support the entire organization's thrive. Our skilled and dedicated AI developers are equipped with diverse skills and robust statistical history with a proven track record of joint success.
Whether you're a start-up or mid or large size enterprise, we will leverage business intelligence and machine learning solutions to automate your business process & decision-making capabilities.
Access Our UI Case Studies: https://www.mobulous.com/blog/case-studies
Get in Touch with our Sales Team: sales@mobulous.com
Read Also:
Flutter vs React Native: Who will Bring Revolution in 2021? Secret Revealed!
How Mobile App Development Process works? A step by step guide 2021
How Wearable Technology Influence the Future of Mobile Applications?
Snap Picture – A Perfect App For Photo Sharing And Creating Photo Book
Android Mobile App Development-Step-by-step Guide 2021
How Mobile Apps Can Bring Tons of Customers to Your Business? | 2021 -2025
Top Advantages of Android App Development for High Return Investment in Business 2021
How can Augmented Reality (AR) help to boost your business?
Top 10 Security Tips For iOS Mobile App Developers