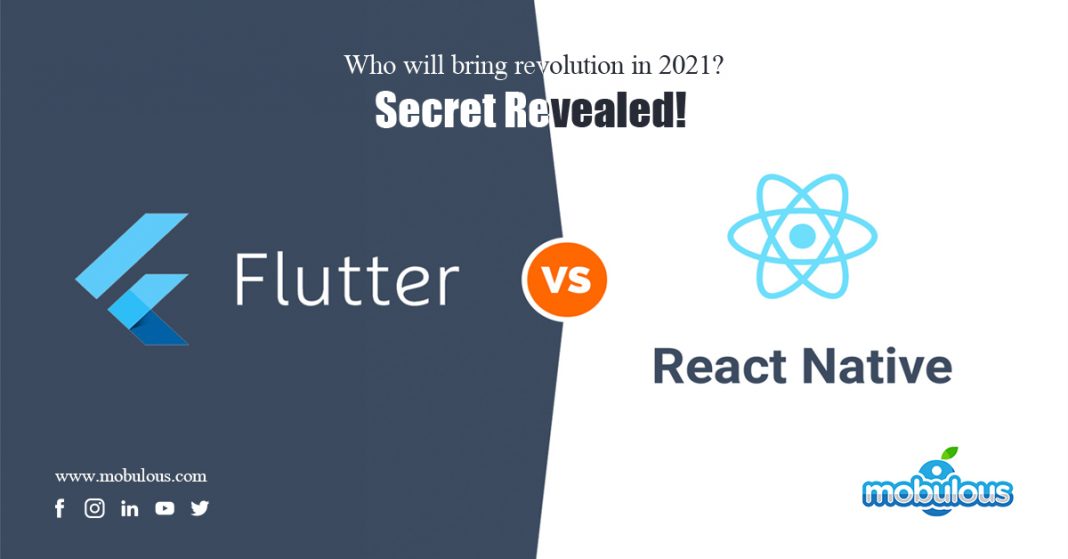 Whenever we are going to develop any software, the first thing that hits the mind is which programming language should be chosen? Yeah! This is indeed one of the most important aspects of software development. The performance and the success of the brand depend on that.
There are various programming languages but here we are going to make a choice between Flutter vs React Native. On the basis of some advantages and disadvantages, we will figure out in Flutter vs React; who will bring revolution in 2021? It's time to reveal the secret!
According to Statista, React Native and Flutter are the most popular technologies for cross-platform software development in recent years. Their adoption rate is increasing with each passing year. Have a look at the graphical representation of this:
Flutter vs React Native: An Overview
Unlike native mobile app development, Flutter and React Native is capable of running smoothly on both platforms like iOS and Android devices. These programming languages require less coding so the software can be developed on a low budget also. This is the reason why these mobile app development technologies became so popular.
React Native Pros
Here are some of the advantages of cross-platform mobile app development with the help of React Native are:
Reusable Code:
The codes are reusable as they can be implemented on multiple platforms from a single codebase.
App Stores:
Another advantage of React Native is that the apps can be published on the app stores.
Performance:
Performance is one of the most important factors while developing any mobile app. React native keeps the ability to merge your apps with the native app which are almost similar to the apps that are developed using native tools. This makes them faster as compared to the hybrid apps.
React Native Cons
There is no doubt that React Native is one of the best cross-platform development tools among other technologies. But still, there are some disadvantages of React Native and that is:
New Technologies:
Learning new technologies in React Native is more complex such as JSX and ECMA and this could take more time as compared to learning technologies like HTML and CSS.
Native UI Components:
React Native UI components are one of the major disadvantages. But still, there are few already-existing components available that make it a good cross-platform development framework.
Flutter Pros
Here are some of the Flutter cross-platform mobile app development advantages. Let's have a look at them:
Cross-platform development from one codebase:
Flutter code is flexible as it is compatible with both iOS and Android platforms. There is no need for a different codebase for another platform that is supported by Flutter. Flutter comes with multiple features and options which are helpful in creating a common for all platforms.
Great app design:
Flutter has its own features which come with multiple designs so, there is no need to use native system components. Flutter is really amazing while talking about the UI which is very user-friendly. As the design of the Flutter is really attractive which becomes the major advantage of Flutter over React Native.
Flutter community and support:
Well, Flutter is a newer platform as compared to React Native so, community support was always an issue with this but with the rapid increase in the popularity of Flutter, it overpassed React Native.
Flutter cons
There is no doubt that Flutter is becoming popular among all cross-platform development tools but still, there are certain parameters that make it imperfect. Here are some of the disadvantages of Flutter are as follows:
Dart language:
Talking about the Dart language, it could be said that it is one of the most strong and thrilling programming languages which was developed with Flutter itself. And if you want to develop an app through Flutter language then you need to first learn Dart language that means how to use and write it. So, this may be counted as a hurdle for lots of users who can easily learn another common language as Javascript if you are creating an app with React Native.
Less Adoption:
Although Flutter is becoming popular and getting good community support, still we can see that not all apps are running in Flutter and only complex apps are running in this language.
App Size:
Well, this is indeed the biggest issue in Flutter that its file size seems to be big as compared to others. But the Flutter community is continuously working on this.
Final Words
I hope you liked the information which is provided in this blog. So after going through the whole blog, I am reaching the conclusion that both React Native and Flutter are having their own advantages and disadvantages.
So, it is hard to say which is the best among both of these but still, I would like to suggest that you can pick any one of them according to the requirements of the project. And for that, you need to take guidance from the best mobile app development company in India.
Our sales team will help you in getting more exciting app ideas. Feel free to reveal your different complexities & obstacles to get a customized mobility solution with our sales team:
Get in Touch with our Sales Team: sales@mobulous.com
Access Our UI Case Studies: https://www.mobulous.com/blog/case-studies