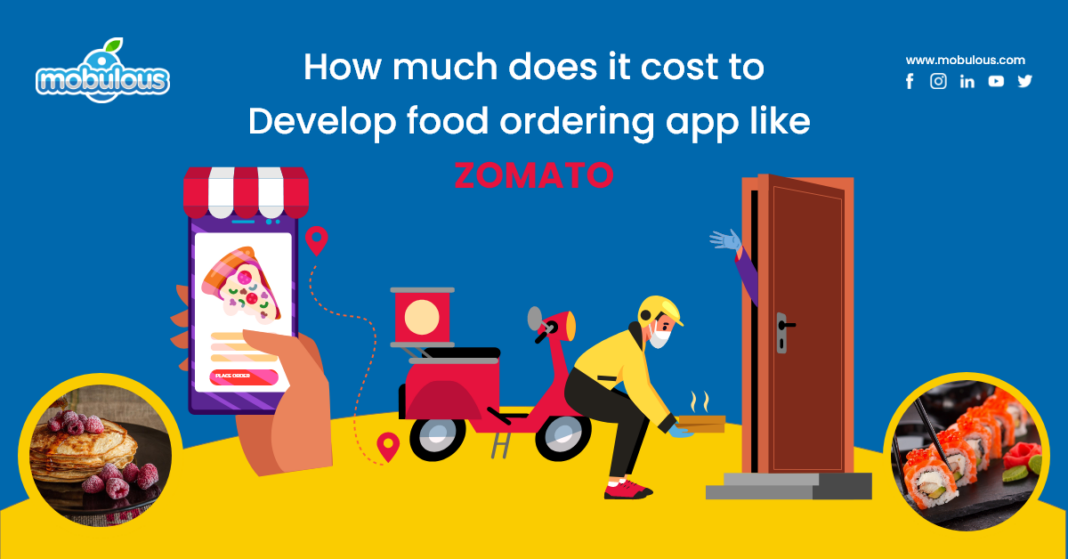 The invention of an on-demand food delivery app is no less than a blessing for restaurants, cafes, and other food stall owners. In the modern era, almost every person is active on smartphones. They use mobile apps for every purpose, including food delivery.
As the desire for healthy food grows, many eateries are springing up worldwide. People globally prefer their meals to be delivered to their homes rather than visiting these eateries. So, creating a food delivery application is indeed a wise decision that can boost your sales immensely.
Looking to Create a Food Delivery App like Zomato, We can help you with that. 
Overview of ZOMATO
Zomato is one of the most popular and widely used food delivery apps, successfully running in 23 nations, including India, the United States, and Australia. The app is fantastic and has numerous advanced features that help users get all the information about the restaurant, including its ratings, reviews, and full menu with the images. Users can also get an estimate for their lunch or dinner.
The app offers cash on delivery, credit card, debit card, and internet banking options for payment. Users can use this app to find restaurants, explore nearby restaurant deals, and have their meals delivered right to their homes. Users can even personalize the cuisine they order.
Business Model of ZOMATO
The key to Zomato's success is its solid business plan.
Zomato is simply an app with a business plan that includes meal delivery, information, user ratings, and menus from partner restaurants.
Here are the following critical elements of the business model Zomato:
Customers can place real-time orders with the app.
Customers can select from a wide range of restaurants and menus and a large fleet of delivery partners that can assist bring meals faster than expected.
How Does Food Delivery App Like Zomato Make Money?
Zomato food delivery app earns money in three ways-
Charging delivery money from customers.
Sharing revenue from restaurants.
Advertising the income (marketing fee) from restaurant partners
Main Features of ZOMATO
So, if you want to create a similar app like Zomato, you need to integrate features like Zomato. Zomato app mainly consists of three panels, including-
User Panel-
Login

 Refined Search

 Location

 Contact Information

 Homepage

 Offers & Discounts

 Menu

 Set Pickup on Map

 Cart Section

 Payment

 Reviews Screen

 Past Orders

 Track Delivery Person
Restaurant Panel
Dashboard

 Manage Restaurant Account

 Accept/Decline Orders

 Payments
Delivery Person Panel
Login

 Push Notifications

 Online Support

 Google Map Navigation

 Order Request

 Order Delivery

 Order History/Logs

 Cash on Delivery

 Wallet/Get Paid Offline

 Chat/Call

 Withdraw Payment

 GPS Tracking

 Transaction history
Advanced Features To Integrate Into A Food Delivery App Like Zomato-
If you want to integrate advanced features like Zomato on your food delivery app, you must contact an Android app development company in India in the beginning. Let's have a look-
Push Notifications is a common feature that you can't afford to miss on your food delivery app like Zomato. The features allow the restaurant and delivery person to notify each other once the order shifts to the right place. Also, they can notify users about the discounts, promos, and coupons and the status of their orders.
To create a website for a Zomato-like application, a CMS is necessary. It assures that the web site's content is user-friendly, correct, and current.
Thanks to CRM functionality, the Zomato-like app can interface with any CRM system deployed in restaurants.
This ensures that all stakeholders, including consumers, restaurants, and delivery personnel, can take advantage of all features and are happy.
Customers can follow the status of their order and the position of the delivery person in real-time with this feature.
Real-time Reporting And Analytics
This feature allows restaurants to examine the status of orders in dashboards and analytic reports in real-time to manage them better.
Coupons, Discounts, Gifts, And Special Offers
This feature is critical since it increases user loyalty to your business and app.
To provide clients with a pleasant surprise, the app should regularly deliver exceptional deals, coupons, discounts, and free presents.
Support For Several Currencies And Languages
Many consumers cannot communicate in English and prefer to place orders in their native tongue.
As a result, multi-language support should be included in apps like Zomato. These apps should also support many currencies for seamless payments.
Using Social Media Accounts To Log in
Because most consumers have profiles on social media sites, a Talabat-like app should allow users to sign in quickly and easily using their social network accounts or email addresses. This will save a lot of time for consumers.
This is a valuable feature since it allows you to learn about your consumers' experiences using your Zomato-like app.
You may use these client evaluations and comments to improve your service quality and even add new features that users demand.
Third-Party Integrations
A third-party API is essential if you want to create a food delivery app like Zomato. You will get numerous benefits by integrating third-party APIs such as-
You can save time and effort.
You get the advantage of a third party.
How Much Will It Cost To Develop A Food Delivery App Like Zomato?
We can estimate the estimated cost of building a Zomato-like food delivery app after examining all the needed basic and advanced features and the number of hours required.
Based on the discussion above, the cost of developing a Zomato-like food delivery app will range from $10,000 to $25,000, depending on the features and functionality you want to add to your app.
This type of app can be created in 12-15 weeks. It is entirely up to you whether you want to publish your app initially on one platform or concurrently on both platforms.
To create such apps, you will require an iOS app development company in India with a dedicated team, including developers, UI, UX designers, business analysts, quality assurance developers, and testers.
Conclusion
So, here in this article, we have discussed all the aspects required to develop a food delivery app like Zomato.
No wonder Zomato has already taken the most prominent space in the online food delivery app market. However, there are still many opportunities for online food delivery apps.
If you want to create a food delivery app like Zomato, you must hire a top mobile app development company like in India. You can consult the professionals and make the best apps for your business.
For more information, hire to reach our Mobulous. Contact: Sales@mobulous.com Call: +91-9650100411, +13025746634, 0120 409 6514
Our Portfolio: https://www.mobulous.com/portfolio
Read Also:
How to Create An App like Uber in 2022: A Complete Breakdown of Cost & Features
Mobulous – Awarded As The Best App Development Company In India by Feather Touch Business Solutions
What is DeFi And How Can It Revolutionize Finance & Banking – 2022
What Are The Steps To Create An Ecommerce App From Scratch – A Complete Breakdown Of Its Features And Characteristics.
https://www.mobulous.com/blog/a-guide-to-android-app-development-for-complete-beginners-in-5-easy-steps/