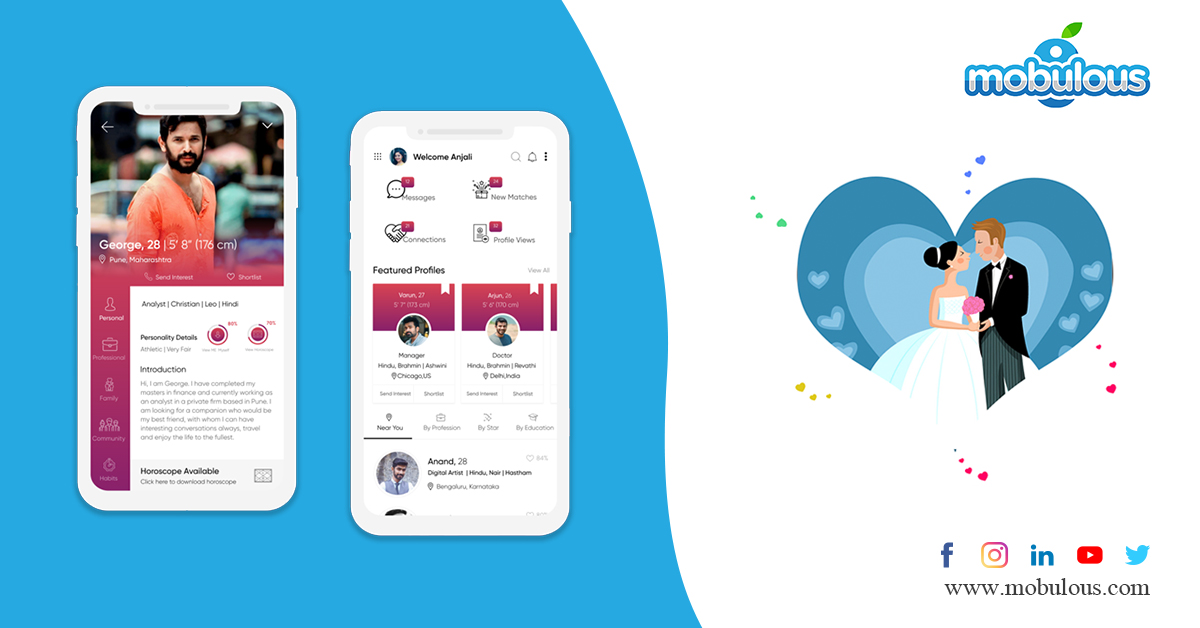 Marriage can be defined as a concept when two people decide to come into a lifetime relationship according to their own will. No wonder marriage is an inevitable part of every human's life.
Gone are the days when people used to hire an agent to find a life partner or marriage partner. These days, everything is adopting the medium of technology, so are marriages. With the help of technology, people can find their life partners without hiring an agent. The matrimonial apps and websites save a considerable amount of people's money and energy. These apps come with all the details that help people to find their soulmate. These apps are easy to use and provide numerous options under one roof. These apps have made the complex task of finding a perfect partner a lot easier.
Matrimonial Mobile App – Market Size and Statistics
According to reports from studies of trusted institutes, including Frost and Sullivan, it was revealed that in India alone, over five million marriages are performed through online matrimonial, which was accounted for $250 million last year itself. These stats attract a vast number of investors to invest in this area of business.
Another report suggests that online matrimonial sees a growth of 20-30% every year. Millennials and Gen Z people are finding it extremely helpful.
Hence, if you are planning to invest in a matrimonial app and website, it will be a wise decision for hiring the best mobile app development company mobulous.
Benefits of Matrimonial Apps
There are numerous benefits of the matrimony app, but we will focus on the most important ones. Matrimony apps can ease the process of finding a life partner for users. By easily registering into the app, users can get access to the various available profiles. They can find a partner according to their choice.
The benefits of creating such apps are as follows:
Users can find their partners within their religion and community.
Apps provide a better source of advertising and marketing.
Complete security and privacy are provided to the uploaded profiles.
You can attract a vast audience.
What are the features that you must include in a matrimonial app?
Here are some basic features that you must include in Matrimonial apps:
The app's platform must be easy and convenient.
After registration, the users must get access to all the various features of the app.
The interface in the app must be intuitive.
Some Advanced features that you must include in a Matrimonial app:
log in or Sign up
This feature allows the users to sign up in the app. They can enter the app by adding an email address, phone number, or other login credentials details. They can also integrate the app with their social media to register in the app quickly.
In-app Chat
Chat integration features allow users to chat with other users to know them nicely.
Geolocation Tracking
The geolocation feature helps users to find relevant matches near their location through city search. This feature is essential in helping out users for matches inside and outside their city.
Push Notification
Push notification is an essential feature that updates users about discounts, latest offers, special offers, rewards, and new users or profiles of their likes updated in the profile.
Upload Horoscope
Many users believe in the horoscope or Kundli matching, so you must include the horoscope feature in your matrimony app. The Horoscope feature allows users to match their kundali with their desirable profile.
Biodata Generator
You can integrate a third-party API in the app that helps users create biodata online within the app. The users need to provide their essential information, and it transforms that information into well-structured data.
Add photos from the Gallery
This feature allows users to upload their desired or favorite pictures from the gallery on their profile. Additionally, they can also share those photos with interested users.
Search and Filter
This feature allows users to search for the match according to their likings, such as interests, location, community, occupation, and many others.
User privacy and User Blocking
Providing privacy and security to app users is the most vital thing. The users must allow blocking the other user profile, which might be creating unnecessary problems for them.
Pin Favorite
This feature allows users to save their desirable profiles to access them for further procedure easily.
Multiple Payment Modes
This feature allows users to make an easy payment by integrating multiple modes of payments such as Braintree, Stripe, Credit/Debit cards, PayPal, UPI, and various others.
CMS Integration
Content Management System (CMS) feature allows users to view the entire digital content on the matrimonial platform.
Final Words
So, if you have an idea to create a matrimonial app or website for your startups, you must contact Mobulous. Our team is expertise in building apps on various domains, including Matrimonial, Healthcare, Education, and many more.