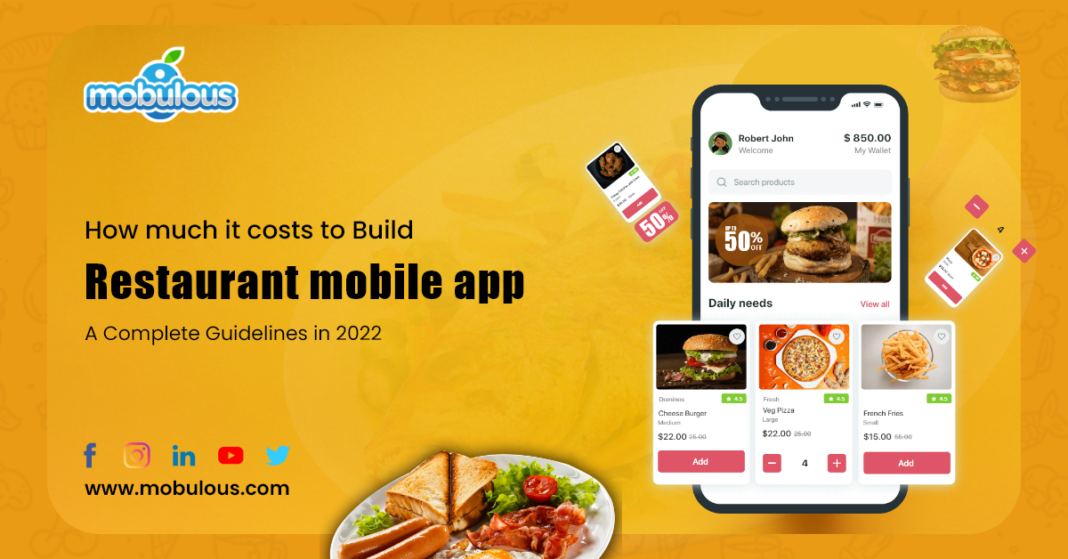 Restaurant Mobile App Development Cost- A Complete Guidelines 2022
If you look around, you will find everything has become digitized. People prefer to use smartphones and mobile websites in the modern digital world. Nowadays, more individuals choose to make reservations and make purchases online. The majority of people use smartphones because they are time and money efficient.
Thanks to technology, the food industry has become one of the most trending and profitable sectors. Technology integration has made things super easy for users. They can easily reserve a table online or have food delivered to their house or office. They can get the delivery of their favorite food or eateries directly to their home.
So, Do you want to create a restaurant mobile app? The first thing that hits your mind is the restaurant mobile app development cost. So, here in this article, we will discuss the restaurant mobile app development cost and many more.
Table of Content:
* Current Market Stats on Restaurant Mobile App
* Types of Restaurant Apps-
* What Factors Affect The Restaurant Mobile App Development Costs?
* Advanced Features That Affecting The Cost of Restaurant Mobile App Development-
* Creating A Restaurant Mobile App Step-by-Step
* The Cost of Mobile App Development For Restaurants
* How Can Mobulous Help Your Business with Restaurant App Development?
Current Market Stats on Restaurant Mobile App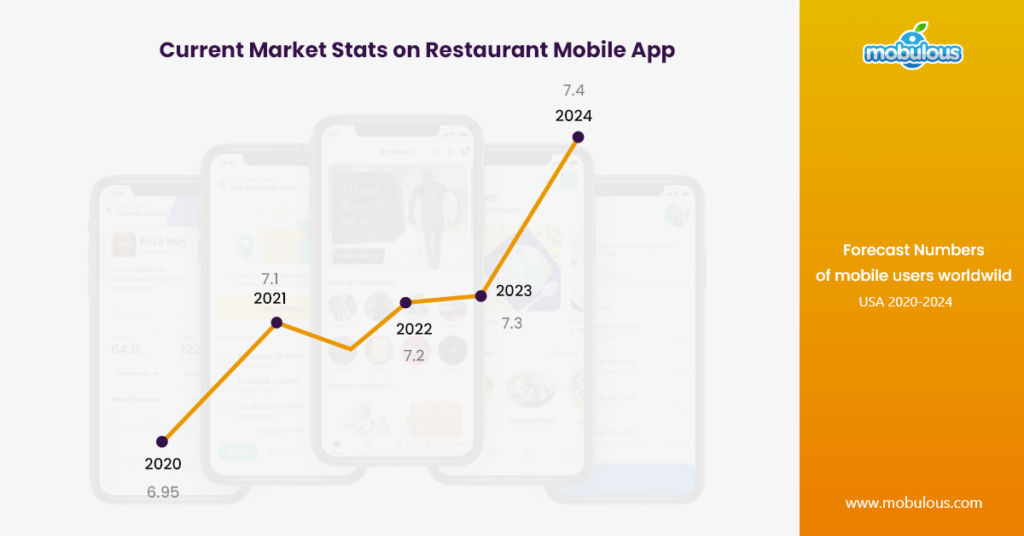 Before discussing the price of a mobile restaurant app, you must know about the current market stats. Here presenting some of the top market stats-
According to the report, the food delivery segment's revenue amounted to US $51,239 million in 2018, which is supposed to increase even more in the upcoming years.
90% of eateries have fewer than 50 staff overall.
Sadly, five out of every hundred restaurant operators have a smartphone app.
The cost of purchasing the food items that the restaurant business provides consumes more than 50% of the average household budget.
 If we believe the report, approximately 80% of customers prefer to explore a restaurant or eatery place via mobile apps.
These stats clearly show there is a tremendous demand for mobile restaurant apps. If you invest in a mobile restaurant app, it can benefit you greatly.
Types of Restaurant Apps
The cost of the restaurant mobile app development majorly depends on the type of restaurant app you want to create. Here, we have some of the popular kinds of mobile restaurant apps-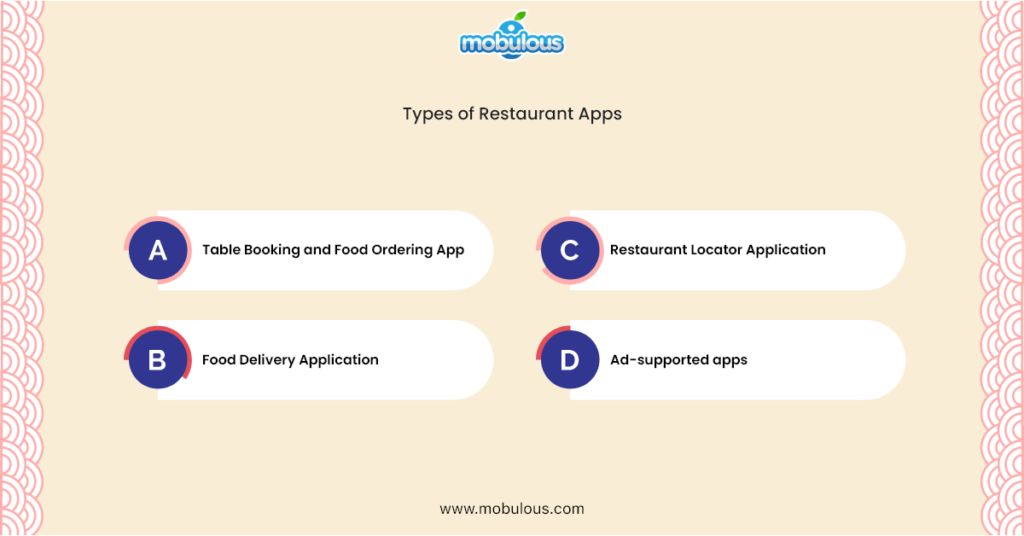 Table Booking and Food Ordering App
This is one of the most popular restaurant apps. With the app, customers can reserve a table online and place their food and drink orders in advance when they want to visit their favorite cafe.
These applications help enhance the dining experience, shorten wait times, and arrange fuller tables.
Food Delivery Application
The most demanding app is the food delivery app. Several restaurants' orders can be delivered via specialist food delivery apps like Uber Eats or DoorDash.
However, various restaurants or eateries prefer to provide food delivery services independently to guarantee service quality and provide more reasonable terms.
Restaurant Locator Application
This kind of app displays eateries near a specific place. Looking through pictures, menus, reviews, and other details helps consumers choose a bar or cafe.
Also, It provides a phone number and directions to the restaurants. The cost of this mobile restaurant app will be lower.
Restaurants offer their consumers special deals and discounts to increase business.
A mobile application is ideal for sharing these promotional efforts with a target audience. You can also incorporate a referral program, rewards, and loyalty scheme to enable users to receive additional advantages.
What Factors Affect The Restaurant Mobile App Development Costs?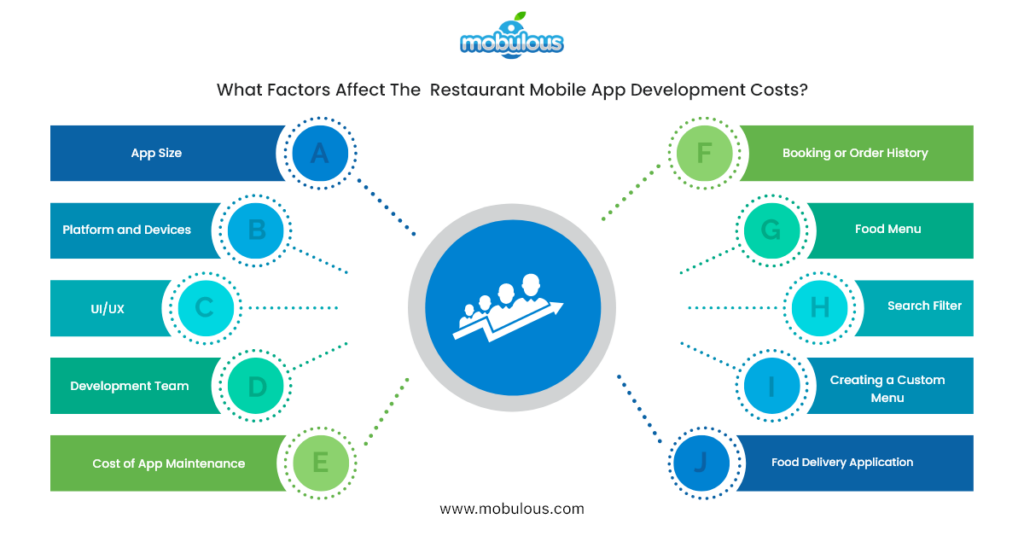 Another factor affecting the restaurant mobile app development cost is the list of advanced factors you want to integrate into your mobile app. Let's know some of the top features-
The app size is one of the significant factors affecting the restaurant mobile app cost. If your business is of large scale, the price will be higher. Depending on the size of the firm, the app's size changes, and the price also changes.
The app platform and the device of choice are other essential elements that significantly impact the restaurant mobile app development cost.
Knowing the cost of creating a single platform will be less expensive than the cost of making multiple platforms is crucial.
The cost will increase if you plan to create a restaurant mobile app that works on both iOS and Android platforms.
Features and Functionalities
Other factors that affect the cost of creating a restaurant mobile app include features and functionality. However, to receive a precise estimate of features, you must work with a mobile app development company, which can give you a general notion of price.
If you integrate more features and functions, it will affect the development costs.
It is an additional element affecting the price of developing a mobile restaurant app. UI/UX design is essential in drawing consumers to a mobile app. It's crucial to create the best and most user-friendly UI/UX possible so it can function right away.
You must engage a mobile app developer if you cannot decide what should be included in your UI/UX.
The development team is another factor that affects restaurant mobile app development prices. Remember that factors like team size and hourly rates are quite important.
The hourly development cost will be used to estimate the entire restaurant mobile app development cost.
Many firms believe that maintenance and support expenses are not included in development costs. But it's essential to be aware that app maintenance can affect the price of restaurant mobile app development.
Every app needs regular maintenance. So, we suggest you prepare a budget for the app maintenance too.
Advanced Features Affecting  Cost of Restaurant Mobile App Development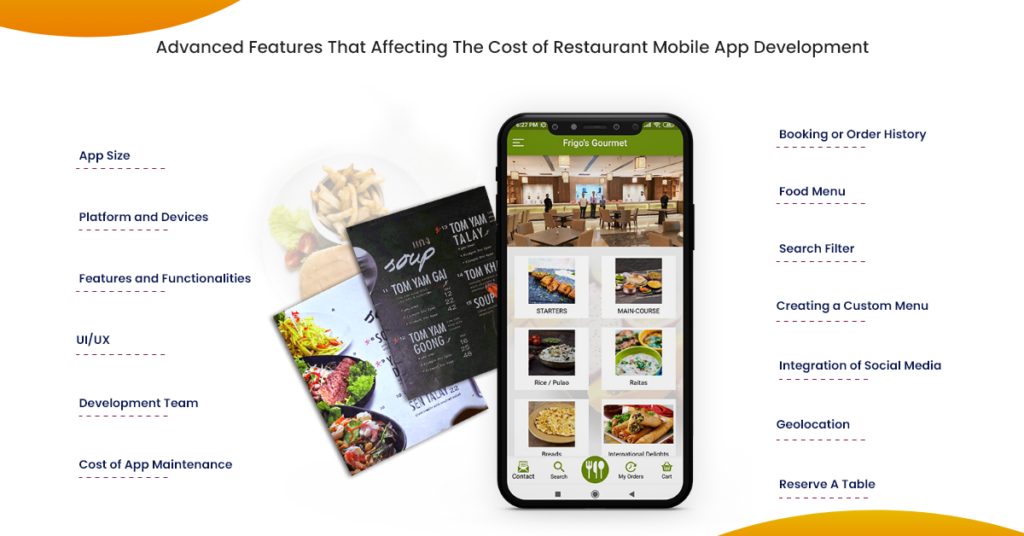 The price of restaurant mobile app development is affected by numerous factors. Features and functionality are considered top factors affecting the restaurant mobile app cost. Let's know some of the leading features-
It is one of the essential features that a mobile restaurant app must have. Not everyone is capable of recalling their booking and order history. You must provide this feature to provide clients with comfort when using restaurant mobile apps. It will offer details about recent or past bookings and order history.
The mobile restaurant app must include a list of various food alternatives organized by category. The categories must be listed with precise images and price information.
You must include this feature to categorize each dish into various groups and subgroups to make ordering easier for customers and assist them in choosing their favorite meal.
You should be aware that searching entails more than only entering the name of a specific restaurant. Date, time, number of persons, and cuisine must all be available as search criteria in a mobile restaurant app.
Let users of your mobile app search for restaurants using criteria other than those close by would be great. It will help you get more potential users.
There are many different food preferences. You should incorporate the custom menu features into your mobile restaurant app to provide consumers with specialized menus that meet their demands. Some people look for a place to accommodate their specific dietary needs and preferences.
Allow consumers to add or remove ingredients as per their diet.
A customized menu will attract several health-conscious clients who avoid eating outside.
Integration of Social Media
Users must be able to join up or register on the mobile restaurant app using their other social media accounts.
They can publish their photographs on many websites and register more rapidly through social media integration.
It is crucial to be aware that this function will let users publish reviews that will be seen on various sites and used correctly.
You must include AI-powered chat assistance to provide your users with constant support. Your customers can ask for help from the chatbot regarding any restaurant owner or management queries. This is one of the best features that help customers greatly.
These features enable users to choose whether to reserve a table before leaving home. The mobile restaurant app offers consumers a table booking tool to ease the burden of figuring out whether a restaurant has seating available at that moment.
Your restaurant app must include a geolocation feature.
It is an essential feature that is helpful for users.
Offering services in multiple locations can help you promote your company. The restaurant employs a cutting-edge tactic to entice new customers and retain existing ones.
The push notification feature is essential since it provides consumers with information on anything that is pertinent to them or may be advantageous to them in some way.
They get access to all the details regarding meal delivery orders, pickup orders, and reservations for tables, as well as enticing deals, discounts, and offers.
Ensure to include rating and review features in your mobile restaurant app so your clients can rate restaurants and the services they obtained and leave comments and reviews.
The comments can also help other customers who are thinking about ordering food.
Creating A Restaurant Mobile App Step-by-Step
Here are the steps you need to follow to create a fantastic restaurant mobile app:-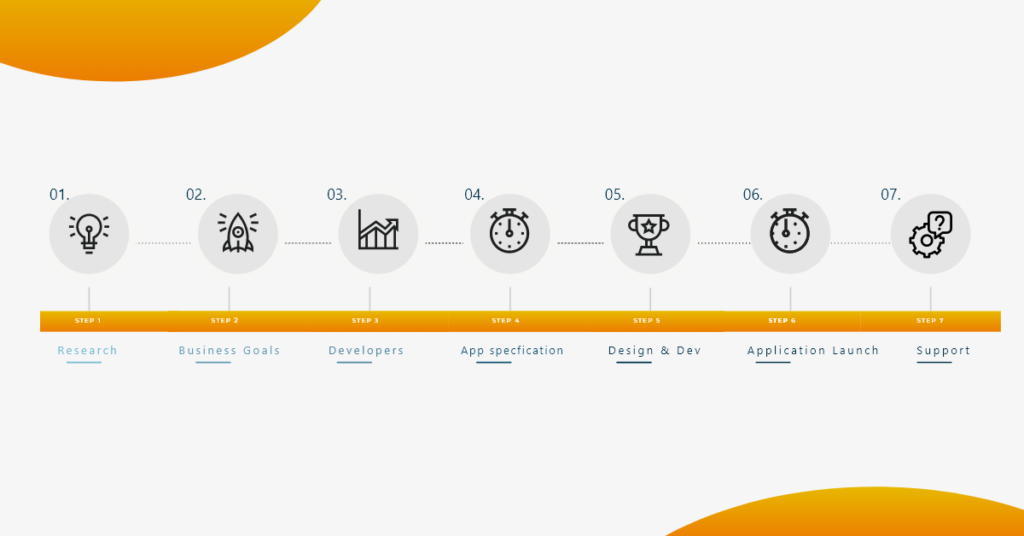 See whether any of your rivals have mobile applications, download them, test them out, and assess their features, usability, performance, and other factors.
Consider using mobile apps from leading companies in the sector to find restaurants with comparable offerings and cultures to your own.
Establish your company's primary KPIs and goals.
Specify which of these and how your upcoming mobile application will contribute to.
Step 3: Search for a Development Partner
Pay attention to outsourced development firms with good standing, relevant experience, and a client-focused ethos.
Step 4: Specify the application
It's time to discuss every aspect with your potential restaurant app developers.
Clearly describe your preferences for design, a list of features, any integrations with external systems, and technical details.
Development engineers will determine the task scope, select the best technologies, and set up the necessary environment based on these specifics.
Step 5: Development and Design
Restaurant mobile app development involves the following stages:
Prototyping UI/UX
Graphic design and branding
Designing UI/UX
Front-end development
Backend development
Testing and deployment
Step 6: Launch the App to the Market
Launch marketing campaigns and be ready to expose your mobile restaurant app to the public.
Your customers now have access to a mobile app that works.
You can begin gathering comments and examining use data concurrently.
Step 7: Continued App Support and Improvements
Your mobile restaurant app needs to support the latest version.
To keep up with the times and reflect your company's developments, you might also want to add some new features in the future, alter the design, or make other improvements. Ensure to provide continuous app support and enhancements.
The Cost of Mobile App Development For Restaurants-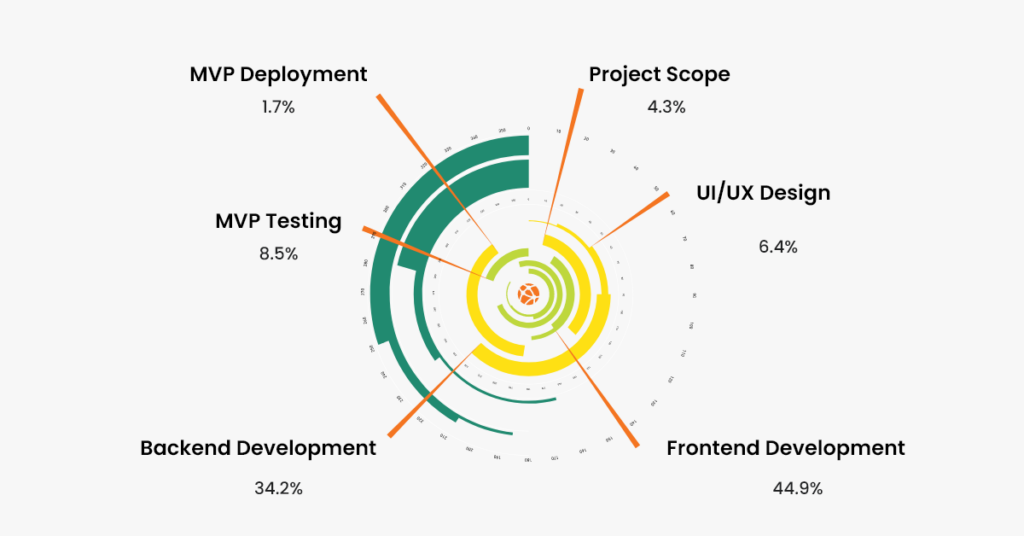 The development's overall budget will vary significantly depending on your selected strategy. To use native mobile development, you must make a different app version for each platform (iOS, Android, Windows Mobile). Creating a mobile app for restaurants utilizing cross-platform tools like React Native is an additional choice.
For instance, We are creating a native mobile app for Android and iOS. Typically, the iOS version runs 30% to 35% faster than the Android version. The functionality chosen will also affect the project's budget and timetable.
Please have a look at how long it takes to build an MVP for a mobile restaurant app-
To develop a mobile restaurant app, you will require specialists, including iOS developers, Android developers, Backend developers, Designers, Frontend developers, and QA specialists.
We suggest you hire a mobile app development company to develop your mobile restaurant app. On average, creating a mobile restaurant app will cost around $20,000- $40,000.
How Can Mobulous Help Your Business with Restaurant App Development?
No doubt, the restaurant app market is so competitive. However, you can create the best restaurant app with an original idea, a strong project vision, and a trustworthy on-demand restaurant mobile app development company. You can incorporate the above elements to make the most excellent restaurant mobile app.
You can contact us if you face any questions about restaurant mobile app development costs or anything else. We are available to help you at all times. Please share your project concept with us, and we'll do all possible to make it a reality. We are a top mobile app development company that can build the best restaurant mobile apps for you.