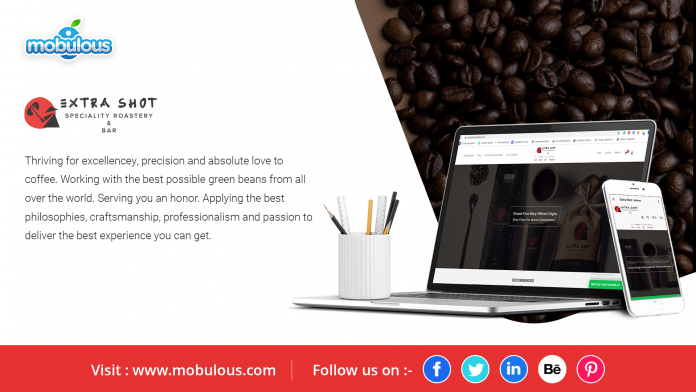 Mobulous Technologies is excited to unveil our new wonder in developing an artistic website for our valued client – Extra Shot, where art can be tasted. The website is freshly-designed with an easy-to-use web store. Start your day with a great cup of coffee with Extrashot's latest collection of coffee, preparation tools, bundles, brew rituals and much more.
About Extra Shot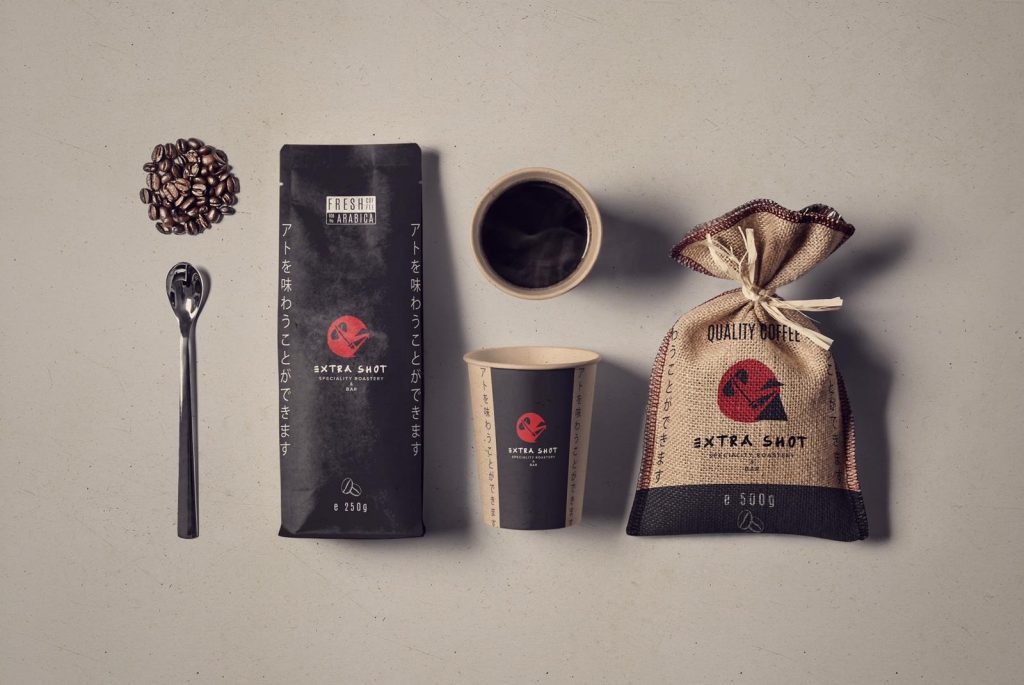 Extra Shot has officially launched its freshly-brewed website, which is a potential paradise for coffee lovers as it offers high-quality, freshly roasted coffee along with a wide-covering assortment of fine coffees, brew kits, preparation tools and a lot more. The website also offers coffee-curious information and insight into coffee origins and preparation techniques, and brew rituals and interesting courses. This website just may be your cup of coffee!
Art Can Be Tasted
Extra Shots believes that coffee is a kind of art that speaks for itself, and hence the website proud to showcase coffees that exemplify the art. Under the motto "Art Can Be Tasted," Extra Shot offers the most excellent serving single-origin and blended speciality coffees.
Extra Shot works with the best producers of green beans from all over the world, giving every origin several days of trays and tastes to bring out the best of it, with a delicate, natural sweetness and its exceptional balance. Extra Shot pours in craftsmanship, professionalism and passion in every sip of the high-quality coffee it offers.
In addition to selling rich-quality and freshly roasted coffees from their online "gallery," Extra Shot also provides the best recipes, subscription for wholesale and retail and much more. Moreover, they take ownership of sharing responsibility with farmers, customers and the world.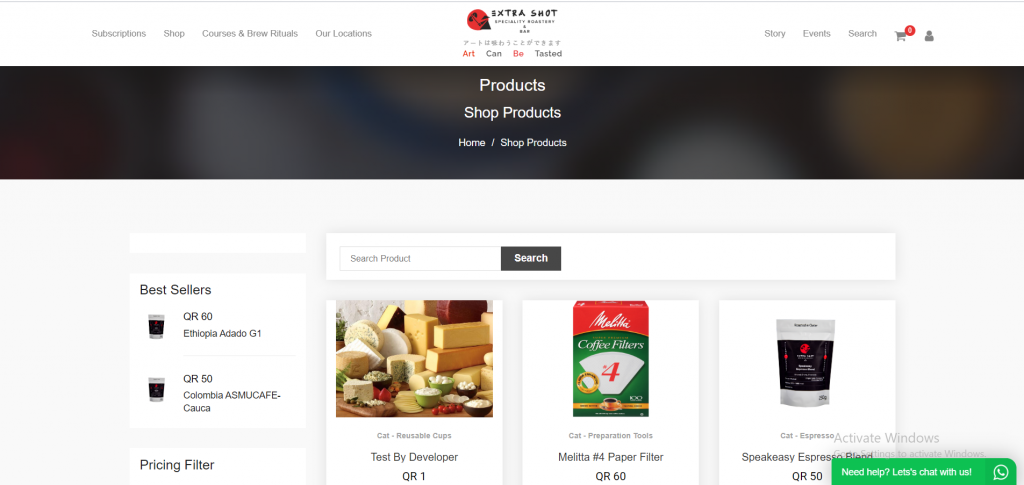 About Extra Shot's Extra-Ordinary Website
Extra Shot endeavours to deliver much more than just high-quality coffee, that's why the website furnishes worthy tools to assist you to level up your speciality coffee experience and enhance your love for coffee. Extra Shot's organized website design presents customers with an improved coffee purchasing experience. The site is simple, tidy, and user-friendly for comfortable shopping.
For all the coffee aficionados who visit Extra Shot, you will have access to a comprehensive catalogue of the speciality coffee supplies that you need to stock your at-home brew bar! Our vast assortment gives you access all of the trusted products and valuable information. So whether you are in exploration of coffee recipe ideas or exploring new brewing methods, you will find all informative, engaging content in the website to lead you.
The categorization of the site is well-organized, based on different categories, namely shopping for all types of coffee brewing kits, preparation tools and bundles to explore. The site has products customers will fall for, with options to search by their preferred type such as filter, espresso, decaf, blend, etc.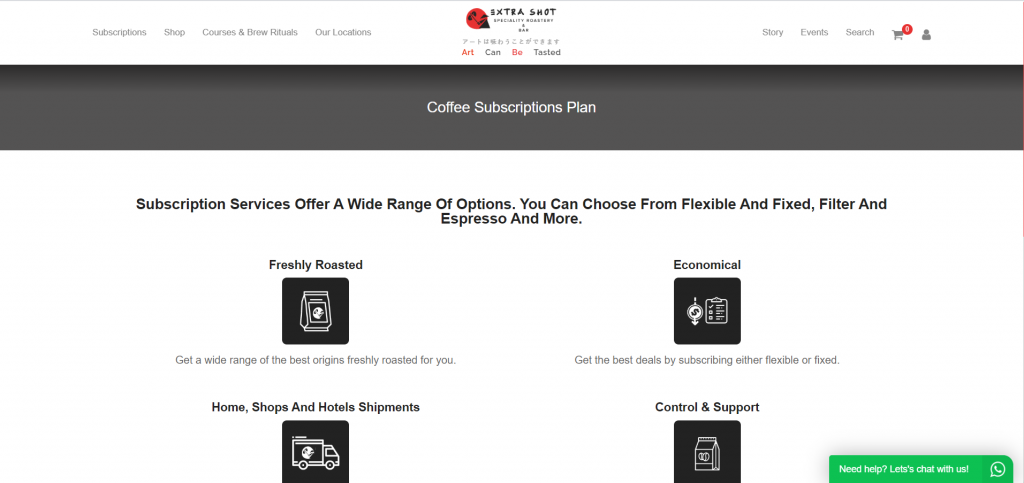 Besides shopping, the site furnishes information on sustainability, events, product announcements, promotional campaigns, and news. Customers and coffee aficionados can also find drink recipes, latest post photos and most importantly you can subscribe for wholesale and retail services and get the best deals depending upon your subscription which can be either flexible or fixed. Simply choose your subscription option, enter a few details and make the purchase. Isn't that super easy?
Extra Shot's Extra-Ordinary Services
Extra Shot not only masters the art of taste, but the art of extraordinary shipping and customer service. Orders are processed quickly, typically ship same day. With multiple locations, we can provide service anywhere in the (location) with amazingly short transit times – For orders placed before 2 PM you order will be delivered the next working day. For orders placed after 2 PM, Extra Shot ships it the next day, if in case it doesn't reach you, you will definitely receive it the next working day.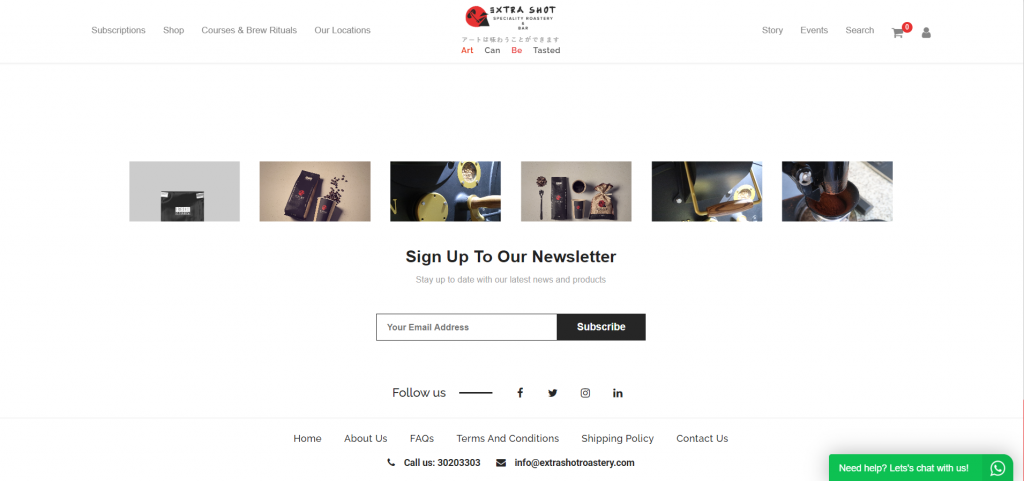 Extra Shot is truly master in art of shipping. Moreover, its response time is as fast as its shipping. The company is always at your service, round the clock, 24/7, 365 days. You can directly chat with their agents by visiting the website or call on their contact number to get assistance about the status of your delivery, to book subscription, enquire about a new order, and give feedback and appreciation. You can alternatively email them on the email id furnished on their website.

Extra Shot is available on diverse social media platforms. You can follow Extra Shot and stay updated with freshly brewed content and information about their latest arrivals and posts.
Developing your dream website is like drinking coffee with Mobulous
Mobulous is a leading app and website development company that is redefining app development services with a touch of creativity. We cater to diverse sectors like e-commerce, healthcare, education, real-estate, and much more with a global vision and reach.
We have a team of skilled ace developers for web and mobile app development across all platforms, who are dedicated and go the extra mile to provide holistic development services. We are proud to have a huge base of successful clients. Contact Mobulous for the most cost-effective, hassle-free, and holistic and futuristic app and web development services.
Need to create an extra-ordinary website just like Extra-Shot? Look no more, your search ends here.
Reach us today and sit back and relax! www.mobulous.com
Live Links:
Live Website: https://bit.ly/2YVnBGG
Get in Touch with our Sales Team for Similar or innovative web Development Enquiry: sales@mobulous.com