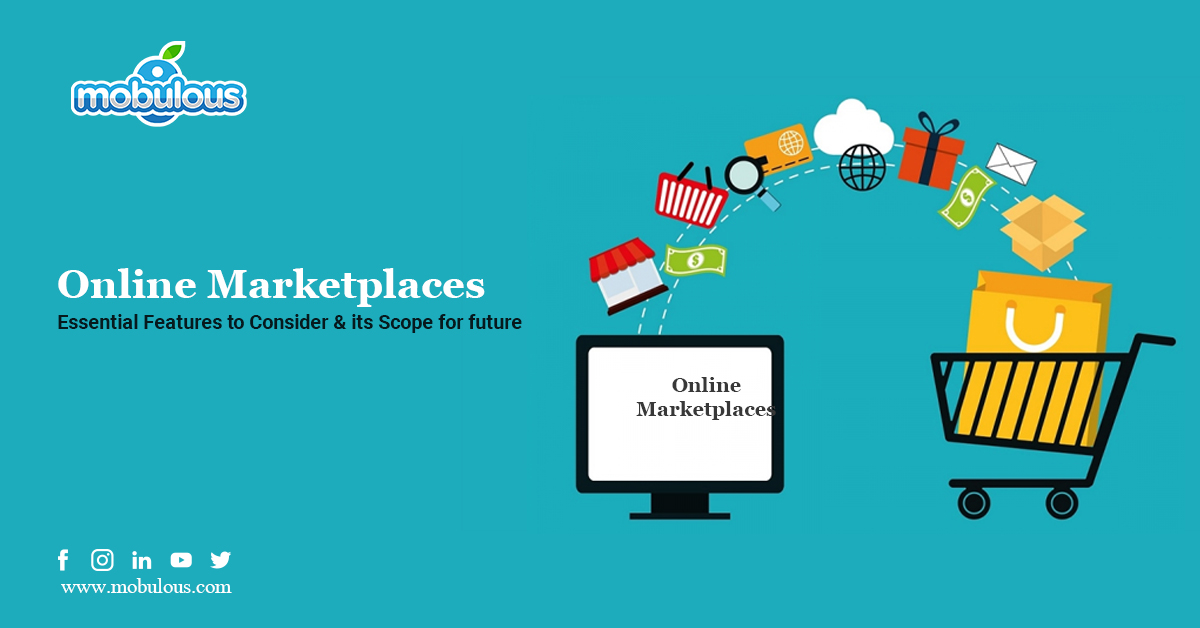 How to create an online marketplace? What are the top features that you must include in your online marketplace? Why should you make an online marketplace for your start-ups? So many questions, here we have all your answers.
Scope of an Online Marketplace
The online marketplace has a great scope all across the globe. On the basis of current eCommerce statistics, the online marketplace's scope is vast and is supposed to increase even more in the upcoming times. With the evolution of technology and smartphone usage, online shopping has become an essential part of people's life to meet their daily requirements. With the times, the online marketplace has evolved dramatically.
If we believe the current data, about 40% of internet users have shopped online through mobile devices, desktops, tablets, and so on. Another report suggests that eCommerce retail sales worldwide are assumed to cross the $4.9 trillion mark by the end of 2021.
If you want to create an online marketplace for your start-ups, you should not wait for more. The online marketplace is a great way to establish an almost mandatory online presence and access you with a much larger customer base.
Some of the big names that have established themselves and are the top marketplaces globally include Amazon, eBay, Alibaba, Walmart, Myntra, and so on.
What are the top features to include in an online marketplace that will delight your users?
If you want to succeed and earn the target customers' loyalty, you must provide the best. For that, you need to include the top features in your online marketplace. Here is a list of the most popular ones:
Easy registration process
Creating an account is the first thing your users will do when they use your online marketplace. You must provide users with a simple way of registration. You should allow users to sign up or register through their social media accounts such as Facebook, Twitter, and Instagram.
If you don't provide an easy registration process to customers, then there are high chances that customers uninstall your marketplace app. Make sure you create the registration as easy as possible so that you keep visitors into potential customers.
Homepage
A great homepage always provides users with a fantastic experience. Customers want to see a clear navigation system (from price range to location etc.) Here are a few tips that will help you to make the homepage unique:
You must provide users with simple navigation, a personalized search box, and a beautiful image on the web.
Include last seen products to help customers buy faster.
Another adds a list of popular products.
Or, testimonial section telling to develop trust among the visitor.
Integrate payment methods
One of the top features that most customers love about marketplace apps is multiple payment method integrations. Make sure you provide users with the availability of numerous payment options so that they can pay according to their convenience.
Moreover, ensuring several ways to pay helps ensure fewer cart abandonment numbers and automatically increased conversions in e-commerce marketplaces.
Customers Review systems
In business, if you have loyal customers then, you have everything. If you include the customer review system feature in your marketplace app, it will show that you are not afraid of customers' opinions on your website's products. According to the report, approximately 70 percent of people trusted the opinion of other consumers posted online. Other reports suggest that approximately 68 percent of consumers trust reviews more when they see good and bad scores.
No wonder allowing customers to review the products on your website helps you in numerous ways. Satisfied customers' reviews improved the credibility of the products.
Mobile compatibility
These days, people are using mobile phones more than a desktop for using any app. Make sure you provide users with a mobile-friendly website and a marketplace app. According to the report by Statista, shopping tops the list of actions performed on smartphones.
Messaging
Messaging is an essential feature that you must include in an online marketplace app. With the help of the messaging feature, users can easily communicate each other. If users need to ask sellers for some product details, delivery, costs, and payment-related questions, they can use the messaging feature.
Final Thoughts
An online marketplace provides great benefits to the business owners and the large number of e-commerce communities that are evolved in buying and selling. Detailed planning, well-researched approach, market analysis, best solutions, ensuring excellent customer experiences are all ingredients for the concoction that is an eCommerce marketplace.
If you are planning to create an online marketplace, then you can contact Mobulous, India. We are one of India's top leading mobile app development companies with tremendous experiences in many fields, including e-commerce, car-sharing platform, health care, Livestream, and many more.
Read Also:
How to boost your e-commerce conversion rate?
Make the trade easy with the help of E-commerce app development
Five amazing marketing ideas for Shopify apps
Mobile App Development: Helping You to Make Your Business Easy – Mobulous
Access Our UI E-Commerce Case Studies: 
Our Portfolio: https://www.mobulous.com/portfolio
Get in Touch with our Sales Team: sales@mobulous.com