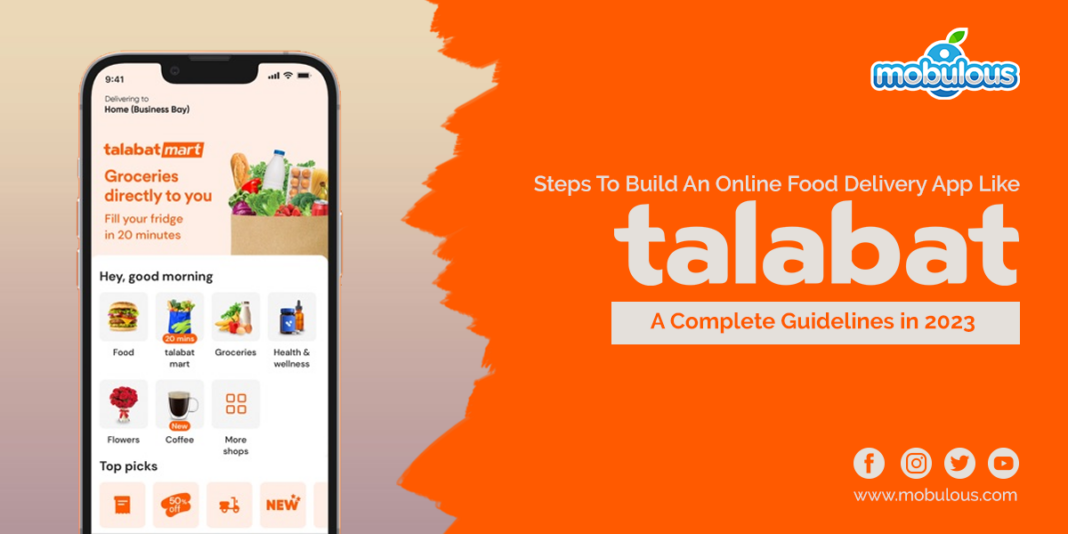 With the continuous advancement in technology, the food industry is revolutionizing completely. By 2026, there are expected to be 5.5 million meal delivery users in the Middle East, up from a penetration rate of 44.5% in 2022.
In the modern era, tech-savvy users prefer to order food online. That's why the demand for food delivery apps is growing significantly. Talabat is a fantastic food delivery app in UAE that has become very popular all across the globe because of its excellent functionality and features.
With the increasing demand for Tabalat, investors have shown great interest in investing in such food delivery mobile apps. If you want to build an online food delivery app like Tabalat, this is the right time. Here, we will tell you all the essential steps to build an online food delivery app like Tabalat.
Let's have a look at stats and facts about food delivery apps like Tabalat
One MENA-based online meal delivery service, Talabat, has the most significant restaurant fleet with over 12,000 registered suppliers.
By 2023, the internet meal delivery sector will produce more than $161 billion.
Online food delivery apps like Tabaat are becoming increasingly popular, and by 2029, their global sales are predicted to reach $320 billion.
Based on reports, The market for on-demand food delivery is anticipated to expand from $126.91 billion to $192.16 billion between 2021 and 2025.
According to another estimate, the online meal delivery market in the United States is forecast to reach $24.461 billion in 2023 and have more than 124.4 million customers.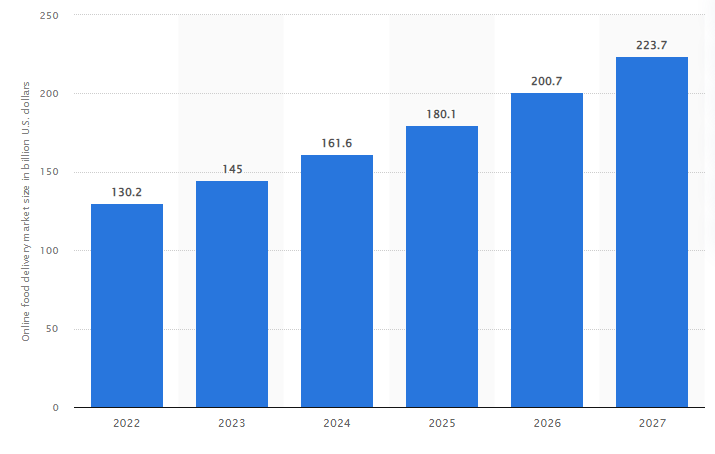 So, these statistics clearly show that developing a food delivery app for your startup or restaurant business will be a great move. Numerous criteria, including the types of apps, features, and functionality, as well as the location of the food delivery app development company, must be considered when determining the price to design a meal delivery app.
Steps to build an online food delivery app like Talabat-
Step 1: Market Research
Step 2: Decide the Niche
Step 3: Select The Revenue Model
Step 4: Choose the Budget
Step 5: Select the Food Delivery App Development Partner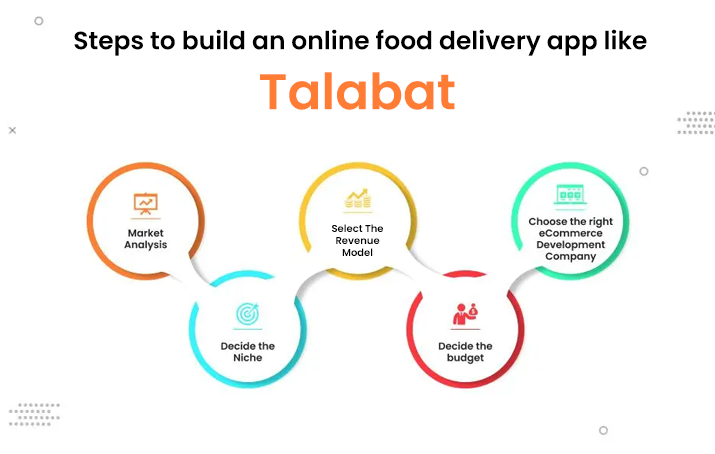 How to build an online food delivery app like Talabat In Details
First step: Market Research
You must work on gathering knowledge about the market before developing a food delivery app similar to Talabat. Every successful mobile application has unique features that meet user needs.
That means you must connect with the users you want to provide your services. If you can fulfill the demands of your target audience, you can start your mobile app development journey.
Second Step: Decide the Niche
With a niche, you can customize your app for a particular audience. It is essential to determine the motive for your food delivery app. It could depend on the type of cuisine (vegan, ethnic, express delivery, etc.), the speed of delivery, or the degree of service (luxury restaurants).
Ensure to choose the niche carefully based on the target market's characteristics, such as age, geography, tastes, and behavior.
Third Step: Select The Revenue Model
The third step to build an online food delivery app like Tabalat is to finalize how you can make money from the app. You can generate money from various sources. Developers must choose the monetization model according to clients' requirements.
Commissions, advertising, subscription and membership fees, restaurant sponsorship, and other revenue streams are examples of monetization strategies.
Fourth step: Choose the Budget
The most challenging part is to decide the budget for your food delivery app. Creating a feature-rich, unique and robust
Food delivery apps like Talabat can be unaffordable for small startups.
Planning your budget guarantees you have enough money to handle every stage of mobile app development. You should look for different things based on your budget.
Here are some other costs that must be considered:
Costs associated with development:
Calculate the costs associated with frontend and backend programming, UI/UX design, testing, and quality control.
Marketing and launch costs.
Budget for pre-launch marketing, app store optimization, and launch campaigns to get early traction.
Operational Costs
Consider recurring costs like server hosting, customer support, and app maintenance.
Remember to not compromise the app's quality due to a short budget. However, you should avoid going overboard with your spending because it will cause issues later.
Fifth Step: Select the Food Delivery App Development Partner
When you finalize everything about the app, the final step to build an online food delivery app like Tabalat is to select a reliable app development company.
Here are the things you must see in food delivery app development:
Consider Experience
Look for an app development company with a track record of developing food-delivery apps. Examine their client testimonials and portfolio.
Technical Experience
Verify the organization knows the technologies needed for your project's front, back and specialized aspects.
Communication
Select a group that is capable of good communication and welcomes collaboration. It is crucial to provide frequent updates and feedback loops.
Depending on the size and cost of your project, the company will present you with a range of terms from which you can choose.
Features of Popular Online food delivery app, Talabat!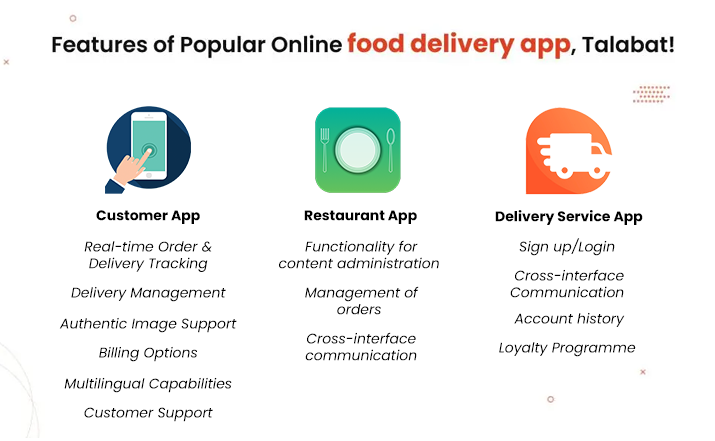 Features of the Customer App like Talabat
Users will use your food delivery app more than others if it offers a pleasant user experience and intuitive navigation. Here is the list of features that you must add to your app when creating a similar app like Tabalat:
 Real-time Order & Delivery Tracking
Restaurant owners can update the order status instantly with the real-time tracking feature. This feature helps a delivery person to get a complete update of the order.
Additionally, customers can also track their order status. They can know when their order will exactly arrive.
Managing all the deliveries is one of the most challenging tasks. The app's delivery management feature is crucial for the online food delivery business to work and carry out order deliveries smoothly.
The admin and restaurant owners can use this feature to assign delivery orders to delivery staff. Additionally, the capability allows the delivery person to accept or reject the request based on availability.
Customers are pretty concerned when they order food from restaurants. They want to know entirely about the location and sanitary standards of the restaurant they are calling from.
So, you must include restaurant and food photographs, address, and menu.
Your food delivery mobile app should offer a variety of payment choices, such as debit cards, net banking, and credit cards, as well as several payment gateways that allow for prompt billing.
Moreover, ensure your food delivery service app is safe and secure.
Multilingual Capabilities
It needs to be multilingual to expand its restaurant business in different locations. In regions where several languages are spoken, users must be able to utilize the app in their native tongue.
If users face any inconvenience, someone must be reachable. Any needs must have access to a help desk. You can use the input from these questions and complaints to improve your services.
Features of the Restaurants App like Talabat-
Here are the elements that must be included in the restaurant-focused app:
Functionality for content administration
Your app's content, including your menu, ingredients, photographs, prices, special offers, and other crucial data, should be simple to manage.
Employees at your restaurant should be able to view incoming orders and modify order statuses. Enable real-time alerts for orders that have been finished, canceled, and are on their way to delivery.
Cross-interface communication
Cross-interface communication involves letting the client or the courier know when an order is available for pickup or on the way.
Features of the Delivery Service App Like Talabat-
Here are the features that you must include in the delivery service app-
Make it simple for couriers to create an account by providing a login and password or other means of identification.
Cross-interface Communication
Couriers should be able to update the order's status to inform the customer or restaurant that they are on their way to pick it up or deliver it.
Allows couriers and drivers to review completed deliveries and record customer information.
Give couriers and drivers bonuses, or thank them when they suggest customers to the app or sign up as drivers. This is a fantastic approach to increase brand exposure and secure customer loyalty.

Required Design and Technology To Create a Food Delivery App like Talabat-
Customers, delivery services, and restaurant partners should all be accommodated by the application's architecture, which should be user-friendly from each partner's standpoint and easily expandable as the company expands.
The architecture should be created considering server capacity, integrated APIs, and parsers to guarantee that data exchanges proceed without errors or hiccups and that the services are automated.
The methods mentioned above and the specifications of your program make it crucial that the application runs flawlessly on Android and iOS. ReactNative and Flutter are two frameworks to build your app because they are scalable, adaptable, and best suited for cross-platform applications.
| | | |
| --- | --- | --- |
| S.No | Feature/Interface/Functionality | Programming Language/Tool |
| 1 | Restaurant Listing | FourSquare API or GrubHub API |
| 2 | Analytics | Google Analytics |
| 3 | Payment | Braintree, Square API, PayPal & Stripe |
| 4 | Cloud | Azure, AWS |
| 5 | Finds user's location | Google Places API, Core Location |
| 6 | Storage | Amazon Cloud Storage |
| 7 | Find directions | Mapkit, Google Maps |
| 8 | App registration | Facebook SDK login |
Cost of developing a food delivery app like Talabat-
Several variables affect how much it will cost to create a food delivery app, affecting the overall service cost. We will discuss all the factors in this blog.
The average price range for a simple food delivery app with basic features is between $10,000 and $40,000. While sophisticated software with many features can cost you $50,000 or more.
Factors that affect the food delivery app development cost like Talabat
Any app development is a long process, including food delivery apps. It involves numerous phases that affect the cost of food delivery app development. Additionally, as was already noted, the steps after the development process significantly impact the cost of the food delivery app. All these factors must be considered when estimating the price of constructing a food delivery cost. Let's see the complete guide on app development expenses:
An essential factor in determining how much an app will cost you to produce is the category of the app you choose and the scope of that category to survive in the market. The platform that you choose will impact the food delivery app development cost.
The prices will also vary depending on whether you want a native or a cross-platform app.
| | |
| --- | --- |
| Type of App | Average Cost |
| Native apps (Android & iOS) | $15,000 to $30,000 |
| Cross-platform apps | $15,000 to $30,000 |
| Web apps | $10,000 to $30,000 |
| Hybrid apps | $8,000 to $15,000 |
Generally, developers charge for food delivery apps based on the time they put into the development process. For them, the price of creating a food delivery app will be directly correlated with the quantity of work put in. In addition, the amount of time required depends on the number of features incorporated, the platform type, the developer's level of experience, etc. Apps for food delivery are known to require 550–800 hours of development time.
| | |
| --- | --- |
| Stage of Food Delivery App Development | Cost  |
| Discovery | $2,000 – $5,000 |
| UI and UX design | $10,000 – $15,000 |
| Back-end and Front-end development | $15,000 – $30,000 |
| API integration: | $5,000 – $8,000 |
| Testing | $5,000 – $20,000 |
| Deployment and Launch | $1000 – Depending on your contract |
The place where you plan to develop a food delivery app significantly affects the overall development costs. Apps for food delivery can't run online. A connection to the actual, physical world is required to obtain food for the clients. Thus, the price you have to pay will depend on where these real-world dynamics and complexity are occurring.
Additionally, developers from various nations frequently charge different amounts for the same service and product delivery. Make sure you conduct in-depth research to determine which region will assist you in cutting expenses and is the finest to employ developers from.
| | |
| --- | --- |
| Region | App Development Cost |
| India | $10-30/hr |
| United States | $60-140/hr |
| Ukraine | $20-50/hr |
| Australia | $60-150/hr |
| Russia | $40-120/hr |
Tools and tech stack utilized:
The technology and tools used to construct the app are essential in determining how much it will cost to develop a food delivery app. For a food delivery service to effectively fulfill the users' needs, it needs a solid backend architecture, an analytics board, and a powerful admin panel. The development cost also considers elements like cloud services, databases, maps, GPS systems, and cost calculators necessary for a foodl delivery app.
The more intricately designed an app, the more expensive it will be. You have to pay more as additional features are introduced. But if you choose wisely and consider your clients' demands, all those costs can be worthwhile. You can succeed if you take it a step further, consider the gaps in the apps currently in use, and develop something highly desired by the clients.
App Complexity
Level of Complexity
Average Timeline
Average Cost
Simple app
●                    Minimum basic features

●                    Simple design

1-2 months
$5,000-$20,000
Medium Complex app
●                    Advanced features

●                    Custom design

3-6 months
$5,000- $40,000
Highly complex app
●                    Top level features

●                    Advanced design

●                    Two platforms

6-9 months
$10,000 to $80,000
Investing in app security is essential for the organization's and the customer's perception of safety when using the app. Customers these days are less confident in the protection of their data. Therefore, it is the responsibility of the business to own the app so that its security is carefully managed and never compromised. You can take precautions like end-to-end encryption.
Related Article – How much does it cost to create a food delivery application like Zomato?
Why should you develop a Talabat-like app for food delivery?
It is essential to ascertain the benefits of entering the market before devoting time and resources to developing an on-demand food delivery software. In other words, it is preferable to understand why you are entering this industry and the advantages of creating a platform for food delivery similar to Talabat.
Market growth is quite promising.
If we talk about the demand for food delivery apps like Tabalat, it is growing amazingly. As mentioned above, the market in this industry is expected to reach $161 billion by 2023.
Openness and convenience for owners and clients
The advantage customers get from the food delivery app is clear. They receive better services and more options. The owners will benefit significantly if they quickly understand users' requirements and provide appropriate solutions.
Find and stay in touch with your target audience.
An on-demand delivery app is a great way to interact with your target audience, connect with them, and receive their feedback. Connecting with as many potential customers as possible is the key to running a successful business. If you develop Talabat-like software that appeals to many people simultaneously, you will witness an increase in recurring business.
Types of online food delivery apps:
There are three types of on-demand food delivery applications that you will find while developing a food delivery app. You can decide on the option that best suits your needs: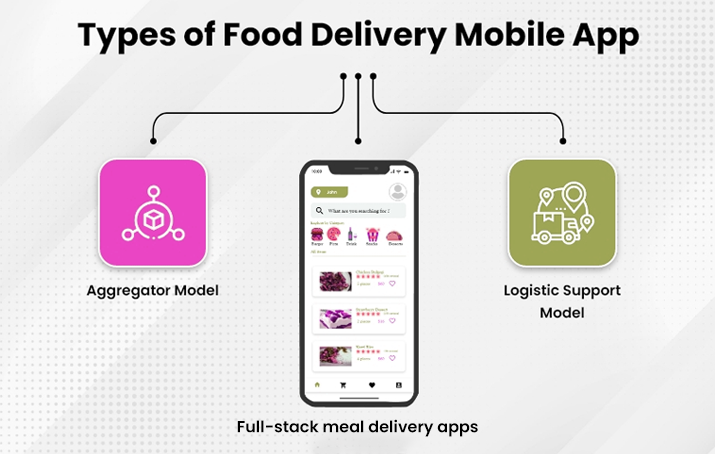 These applications serve as a middleman between customers and eateries. These apps make it simple for users to place orders from the restaurant with one-click payment and real-time tracking.
Full-stack meal delivery apps
Companies that use these apps have complete control over logistics and cooking.
These applications help restaurant owners with logistics. The only functional difference between these apps and an aggregator is how the content is delivered.
How can Mobulous support the development of a successful food delivery application?
Here is a comprehensive guide on the essential steps to develop an online food delivery app like Tabalat, including its features and the associated development costs. Growing an app like Talabat can help you interact with your clients and offer a more immersive experience in the rapidly expanding online food delivery market.
You must find ways to give your customers additional value and features that make the app simpler while ensuring an intuitive browsing experience and best-in-class customer service if you want to invest in creating an on-demand food delivery app.
Mobulous is a top mobile app development company you should connect to when developing a custom food delivery app like Tabalat. We can assist you in creating a top food delivery app with our years of experience and talented team.
Our team understands users' requirements by conducting the market and working on developing the top food delivery apps.
So, please send us a message the next time you consider how to develop an application like Talabat.
FAQs for Build An Online Food Delivery App Like Talabat
Ques 1: What is the price of the Talabat-like app?
Answer: Depending on the features and functionalities the app needs, the resources needed to construct it, and the level of optimization and operability that it requires, the cost to make an app like Talabat might range from $10,000 to $30,000 in total. If you develop a dedicated website in addition to an app, the cost from ideation to launch may increase to $40k or $50k.
Ques 2: How long does it take to create a Talabat-like app?
Answer: Depending on the features and functionalities that must be incorporated into the app, it should take between 8 and 10 weeks with a team of enthusiastic and experienced mobile app developers.
Ques 3: How to make a food delivery app unique from others?
Answer: You can enhance the user experience or provide distinctive features other apps don't have (such as exclusive restaurant partnerships or individualized suggestions).