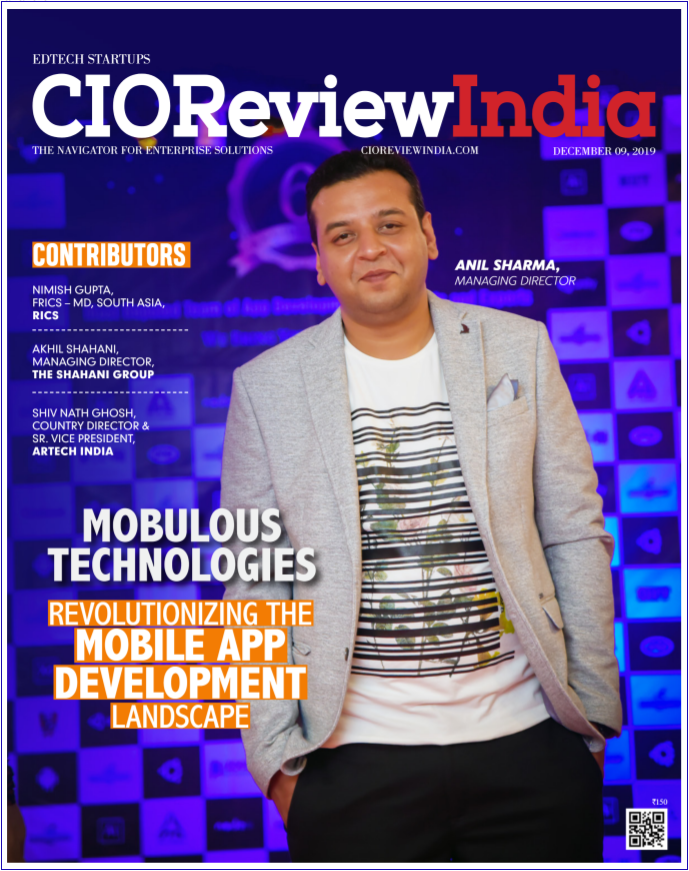 Mobulous, a Mobile Application Development Platform company, announced today it was featured one of CIO Review's "20 Most Promising Enterprise Mobility Companies 2019." CIO Review panel includes CEOs, CIOs, Industry Analysts, VCs, and its editorial board has analyzed and selected the leading Mobile App Development Companies globally.
With the increasing demand for mobile app solutions and a growing no. of the population using sophisticated mobile devices, CIO Review has identified mobility solutions as a high growth needs in this digital space. Based on thorough and in-depth research and C-Level and Analyst input, they have reviewed hundreds of companies and compiled the list of 20 mobile app development companies winning over CIOs and revolutionizing the mobile app development market.
"We feel highly blessed to make CIO Review's list of 20 most promising mobile app development companies 2019," said Anil Sharma, CEO of Mobulous Company. Anil Sharma added, "Mobile App solutions from Mobulous technologies incorporate every essential feature as per the business requirement to ensure great ROI. Our mobile app solutions and services can be customized to meet the bizarre demands of each client. We offer mobile services for varied industry verticals across the globe.
The recognition that we gain has been a rippling effect of the consistent hard work we put into accomplishing our goals, empowering SMEs, and large enterprises through disruptive mobile app development.
Our aim and mission to bring and add value to our clients' business have been the primary fountain of our continuous success.
CIOReviewindia is our fourth recognition in recent times that validates our position as the leading mobile application development company globally.
At the back of our Application Development Services Ranging from Android, IPad & iOS App Development, AR/VR App Development, and many other services, several well-reputed platforms like Appfutura, Goodfirms, and Clutch have also recognized our performances & declared us as one of the leading mobile app development company.
About CIOReviewindia
In today's digital world, there is an excellent requirement for organizations to respond instantly to changes. CIOReviewindia, which is one of the top leading technology magazines, always guides organizations towards today's leading innovators and innovations. It provides enterprise solutions that can help businesses in achieving their target goals. Published from Fremont, California, CIO Review is an excellent platform for the enterprise to showcase its innovative solution.
Click on the link to read the full article here:
Live Magazine Url: https://www.cioreviewindia.com/magazines/edtech-startups-december-2019/
PDF Form of Magazine: 
https://drive.google.com/file/d/1exS6SWPN9OAiM9CiYYt6eRFmvaCEZl4a/view?usp=sharing