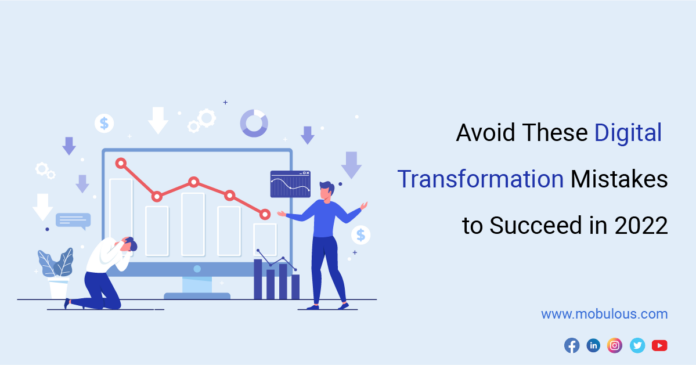 The evolving nature of digital transformation proved to be a mandatory solution for companies and several industries to ace the digital-first world. Digitization brings new opportunities to engage with employees and customers, optimize operations, expand production, and many other benefits. However, things have become a little complicated in the year 2020. The year has taught businesses the value of digital transformation and adapting to changing consumer needs. 
There has been a drastic shift of consumers towards online channels, and companies are developing digital transformation strategies to stay in the game. However, recent research reveals that 70% of all the initiatives still need to reach their goals. Now, you might have thought of these two questions-
–                     Why do most transformations fail?
–                     What can business leaders do to improve the odds of success?
Let's dive into some of the standard digital transformation mistakes companies should avoid sustaining in the future:
1- Lack of Skilled Professionals and Proper Strategy _ Businesses must find out the right capabilities, tools, and talent for effective digital transformation in the long run. But hiring the right people to execute the process is a critical decision. More than half of global organizations identified that a lack of skilled professionals hampers their ability to complete transformational initiatives.
Sometimes, technical professionals can get stuck in finalizing each software product and may introduce new complexities to the digital transformation plan. Therefore, it is vital to building a diverse workforce, involve every employee in this digital process, and make a strategy based on their ideas.
2 – Adopting Technology Without Research _ Embracing new technologies and processes can lead to painful decisions for the future. Some companies adopt new tech because it's in trend. On the other hand, some of them follow the digital transformation paths of their opponents, but this will never work. It will impact your business, so you must be specific and clear.
As mentioned earlier, creating a firm strategy that will lessen business risks and intelligently streamline your organization is better. The best way to start is by answering a few questions, such as
                    Is your helpful idea?

                    Will it improve the productivity of your business?

                    What metrics are you trying to lead?

                    How will it impact customers?
3- Not Utilizing Data-Driven Approach_ Companies worldwide collect data and metrics regularly but need to include these data in their digital transformation strategy. A data-driven approach will help you convert raw data into valuable insights, improving your business process.
You can merge insights from the data collected offline and online to support your decision-making. With this, you will also get a strong competitive edge by creating products, following specific marketing processes, and modifying your customer service.
4- A Short-term Growth Mind-set _ Executives and owners often think they will see benefits just a few months after implementing and learning digital technologies. However, technologies alone create no value. It is important to note that technology enables a company to change how it operates, but the execution depends on how you follow it.
Executives must alter their mindset to approach digital transformation as a journey. It is an essential element to success. Unlike transformation initiatives of the past, digital transformation is not an event that happens – instead, it is a journey of change that will occur over three to five years or even longer.