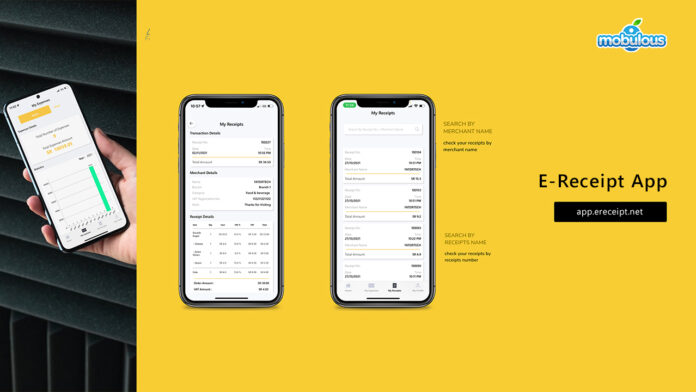 In the modern era, You will find numerous apps for almost everything. These apps make human lives convenient in every aspect. It's a pretty time-consuming and tiresome task to manage receipts and keep a track record of all the little or big expenditures.
So, what if an app can solve this issue? It will be so helpful for you. E-Receipt is such an app that can easily manage all your receipts and save you considerable time.
As you know, Mobulous keeps converting users' dream app ideas into reality. So, recently we have created a E-Receipt app for one of our clients. The app has excellent features and will offer you a fantastic user experience.
Are you excited to know about our newly launched app? Well, here in this article, we will let you know everything about the E-Receipt app.
E-Receipt App- Introduction
E-Receipt is an app that allows you to manage the receipt and keep track of all your expenditures. The E-Receipt app provides digitized receipts by partnering with leading POS systems providers to transform paper receipts to E-receipts at retail stores and restaurants.
The app allows users to create a dedicated account. With the dedicated account, users can conveniently view their receipts and keep track of their expenditures. The app reduces paper waste and offers free insights to app users.
Let's Know Some of The Top Features That We have Integrated into the E-Receipt App-
It's time to reduce the use of paper and excel spreadsheets to record all your online transactions.
The app offers excel sheets to handle all the expenditures.
See Your Purchased items.
You don't need to create another app to see the list of your purchased items. We have integrated expense software into the app.
The app will track purchased items and their expenses. You can see your purchased list easily.
The app allows you to search your expenses list. The app will work as an eCommerce solution also. This is indeed one of the great features of the app to track all your expenses.
Track Your Total Expenses By Date
In a busy schedule, it's not easy to remember every expense. The app offers you to track your expenses by date.
You can't always find the cash and digital payment made by you. And, this is indeed one of the top reasons to track expenditure.
So, in the E-Receipt app, we have integrated an E-receipt solution. The E-receipt solution stores all your receipts by clicking their images.
As the images are stored on the app so you won't lose any of those images.
How to install and use the E-Receipt app?
The E-Receipt app is available on all the major platforms, including Android and iOS. That means, No matter if you own an Android smartphone or iPhone, you will get the service of the E-Receipt app.
Here are the steps that you need to follow to install or use the E-Receipt app-
First, you need to go to the Apple's App Store or Google's Play Store then search for the E-Receipt app.
Once you find the app, you need to click on the install button.
Now, you need to wait for a few seconds to install the app on your home screen.
Then, you will find the app on your home screen.
Now open the app, create an account and enjoy the services.
Final Words:
E-Receipt app is indeed one of the top apps that can help to manage your receipt and expenditure. The app has already gained massive popularity among users. If you also want to create an app like E-Receipt, you can hire developers from Mobulous.
We are a top mobile app development company known for creating feature-rich, robust, and user-friendly apps for users all across the globe. Our android & iOS Developers teams are highly dedicated and enthusiastic, have gained in-depth knowledge of many emerging technologies, including React Native, AngularJs, Xamarin, and many more.
For more information reach us at +91-9650100411, 0120 409 6514 or mail at sales@mobuous.com right away.
Our Portfolio: https://www.mobulous.com/portfolio
Mail: sales@mobulous.com    Phone: +1-3025746634 ; +91-9650100411
Read Also:
StreetTak: A Social Connect App to Express Yourself Fearlessly or Without Being Censored
PaginAzul and PaginAzul Driver: Delivering business to consumer's doorstep
HygieneForAll: One-stop Solution to Buy Essential Products at the Lowest Price
YouPick: Helping you to find the perfect places to Eat, Drink, & Explore
Zimble – An interesting platform to teach your children about financial management